9 Sales Tools You Never Knew You Always Needed
9 Sales Tools You Never Knew You Always Needed
October 8, 2019
11 min read
Sales make the world go round
While the biggest asset of your sales team is people, you need to remember to armour them with proper resources and tools. And though they can't replace your sales team, nor building strong business relations and closing deals face to face, tools can automate many tedious and time-consuming tasks that your team can struggle with on a daily basis.
Even if tools are very often associated with costs, you should consider them as an investment, not an expense. Using tools can quickly pay off and make your salespeople work better in a breeze. Below, you can find a list of tools that can support your everyday efforts and help you drive better sales performance.
Ready to rumble (and get yourself some new tools)? Let's check them out.
CloudTalk is an inbound & outbound call center management software.
How does it help your sales team?
Your sales team can benefit from using CloudTalk when handling inbound and outbound calls with clients or potential customers. Also, your customer service team may shout out a big "thank you" if you provide them with this tool. And why is that?
CloudTalk allows you to track the performance of your team and analyze calls to identify potential problems and obstacles. With features like call recording, call analytics and call tagging, as well as Power Dialer and Open API, you can take care of all calls flowing through your organization.
What differs it from other solutions? Better quality of calls and a dedicated onboarding manager. It offers many integrations with existing CRM and sales software, including Zendesk, Salesforce and Pipedrive, to name just a few. There is a considerable likelihood that your sales team uses those tools already, so it can be a win-win for your company. With integrations, you can transfer data between tools and combine them into a huge package, so your sales team stays informed about clients.
Venngage is an intuitive infographics maker.
How does it help your sales team?
While the tool itself stands out to be an infographics one, your sales team can prepare many business materials thanks to Venngage. Of course, in many cases, it would be better to use a bit of help from someone more advanced in terms of graphics. However, it is not always the case: graphic designers can be busy or even non-existent in some organizations. This is why it is always an essential asset if your salespeople can create smart graphics themselves.
Venngage can help create presentations, business cards, infographics, mindmaps or brochures. Your salespeople can use it for daily contact with clients, preparing deal-breaking offers or designing spellbinding materials for upcoming fairs you are going to be an exhibitor at. Venngage offers an impressive collection of templates that are ready to be used and sparkle.
It all happens in minutes, without involving anyone, in a very user-friendly drag&drop editor.
Speaking of drag&drop editors, there is one more tool that can help you with sales processes and lead generation. We wouldn't be ourselves if we didn't mention…
Landingi is a landing page creator.
How does it help your sales team?
If your sales team is responsible not only for customer service and actually sealing the deal, but also for generating leads, then they should really befriend Landingi. Creating a smart and simple landing page, thanks to the aforementioned drag&drop editor, is extremely quick. Many built-in elements, templates and a vast collection of stock photos and icons help rookies create their first pages, or help those who already know a thing or two about landing pages to create even better ones.
If you prepare a lot of offers and deals or produce a lot of content to distribute, or you need to generate leads quickly whilst communicating your values, Landingi may be the tool you never knew you always needed. You also can manage your leads afterwards to turn them into deals quicker and more effectively. No more asking your graphic designers for some templates, no more pretending you can code (or begging web developers to help you). Now salespeople are in full force.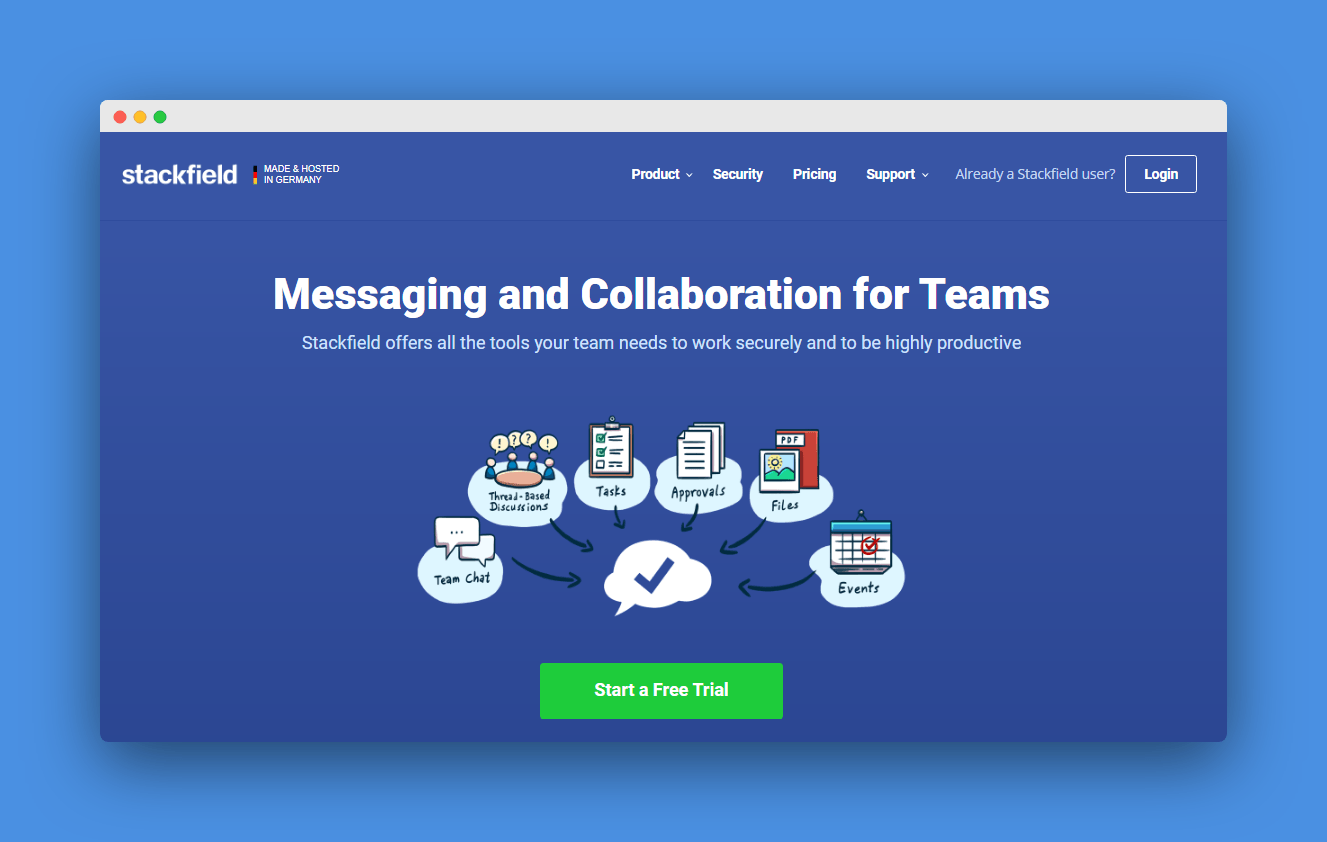 Stackfield is a project management & collaboration tool.
How does it help your sales team?
Communication plays a significant role in every company. If communication channels between the sales team and stakeholders or the marketing team do not work well, then the flow of information is disturbed and can lead to many unpleasant situations. That is why you need a reliable solution to handle daily chats and discussions within projects.
If you have ever used Slack or Asana, this tool is like the offspring of them. It is also extremely secure, going way beyond GDPR with end-to-end encryption and two-factor authentication. Since you can divide your processes into rooms and projects, you can keep everything on track, complete your tasks and communicate with colleagues.
Salespeople often need quick info or updates on the project. Instead of using e-mails and risking not getting an answer, they can use a dedicated channel to get the necessary details in a heartbeat. They can also send a short but sweet update to the whole team after a completed meeting. What's more, users can upload and download assets that they may need for presentations, conferences, calls or meetings.
LiveSession is a session replay analytics software.
How does it help your sales team?
Both marketing and sales teams can benefit from using LiveSession. With this tool, you can watch and analyze users' behaviour on your website. Without understanding your customers' actions, you may be unable to provide them with the best CX – customer experience.
There may be a reason why your potential clients abandon shopping carts, there may be a reason why they don't buy your services, and there may be a reason why they do not convert. Instead of being frustrated and annoyed, your sales team can do their best to find those reasons. They may be hidden behind non-working buttons, unattractive CTAs, terrible sales copies or just a lack of payment options or other features. Instead of guessing, just take some session replays under the magnifying glass and find out why you can't sell.
Of course, you can't treat LiveSession as the perfect cure for flaws in your sales team, but it can be a good start for eliminating things that definitely do not make sales a breeze. Since you can filter sessions by devices, location, users, type of interactions or source, you can come out outstanding the conclusions for your further activities.
Harmonizely is a tool for setting up online meetings.
How does it help your sales team?
Your sales team likely needs to manage many meetings. To save some time and money, some of them can be conducted online, but to really master the art of meetings, you need a reliable solution to sort it all out.
Harmonizely integrates all calendars, not only the most mainstream ones, so your sales team can have everything in the same place. This way, they won't miss a meeting, or they won't have any clashes in their calendars. Better meeting management can result in higher conversion and closing more deals. And this is what every sales team dreams of, isn't it?
Kontentino is a social media management platform.
How does it help your sales team?
You might have thought that social media management platforms may not help your sales team at all. However, if you look at this from a very extraordinary perspective, you may be surprised how much it can help for sales.
First of all, with Kontentino, you can seamlessly schedule many posts on various social media platforms, which can result in more prominent visibility and brand recognition. By achieving this, contact with a potential client can be more natural, since they can recognize the brand already.
Secondly, Kontentino can be used for internal collaboration, so the sales team knows what is going to be published on official channels of the brand. They can adjust it accordingly or plan some personal activities around these posts. Example? Let's say that a company is attending some fairs and making a campaign around it. Salespeople can share this piece of content on their social media profiles, showing that they are around that conference too and that attenders can easily approach them.
The third reason is that Kontentino helps you scale your social media efforts and get more happy clients on board with its feature of clients' approval directly on the platform.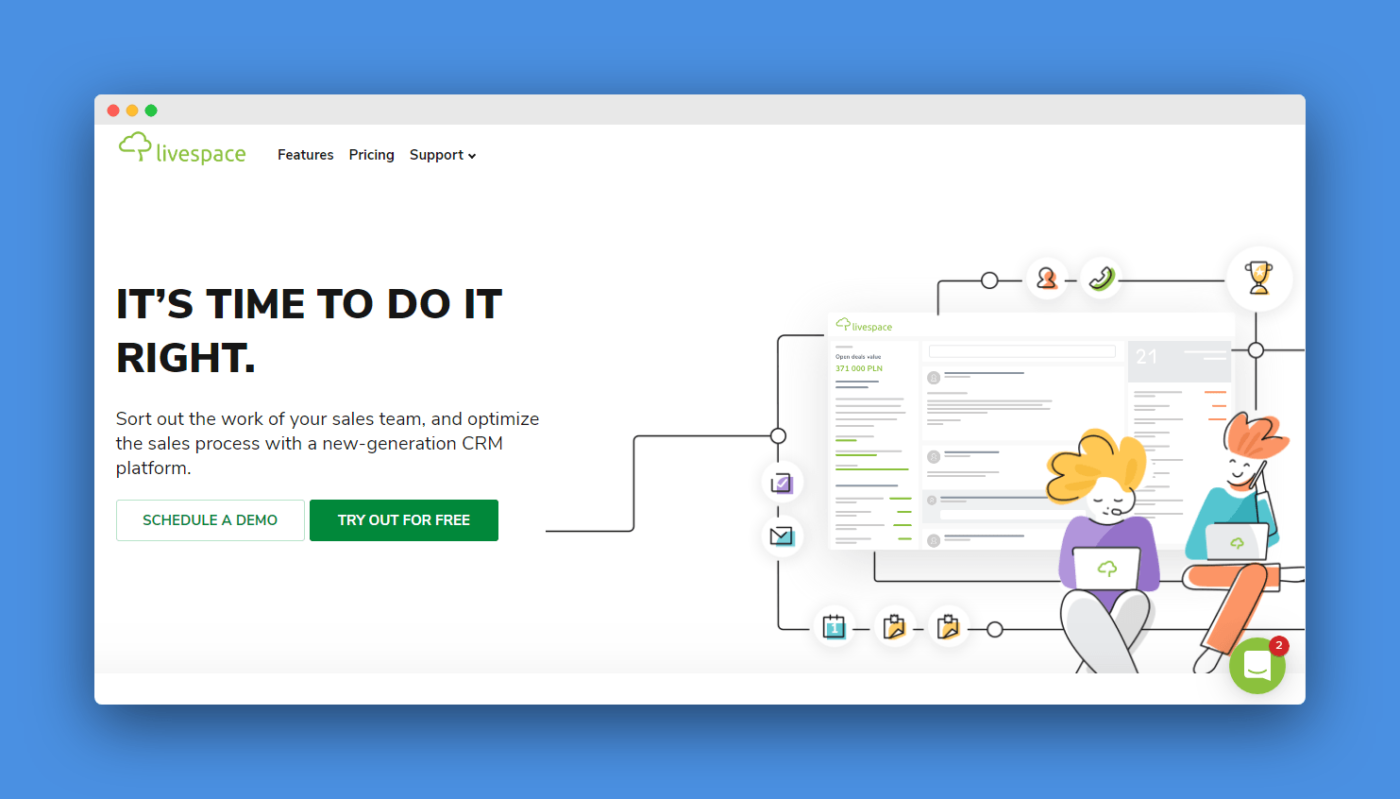 Livespace is an intuitive, modern CRM software.
How does it help your sales team?
Each sales team needs a great CRM. Without customer relations management software, it can be hard to be up to date with the latest news on your clients and their needs.
CRM is needed to take care of the whole sales process: analyze and optimize the performance of salespeople and help increase conversion at every stage of sales. With the right tool, your sales team can work wonders again with a full overview of the process, and you can make better business decisions.
Livespace is intuitive and user-friendly, so it shouldn't cause much trouble with your sales team learning how to use it. Instead of spending an hour on tons of tedious tasks, they can focus on building relations with clients while accessing all of the necessary data directly in the CRM. If you want to generate more leads and close more deals, Livespace may be a good shout.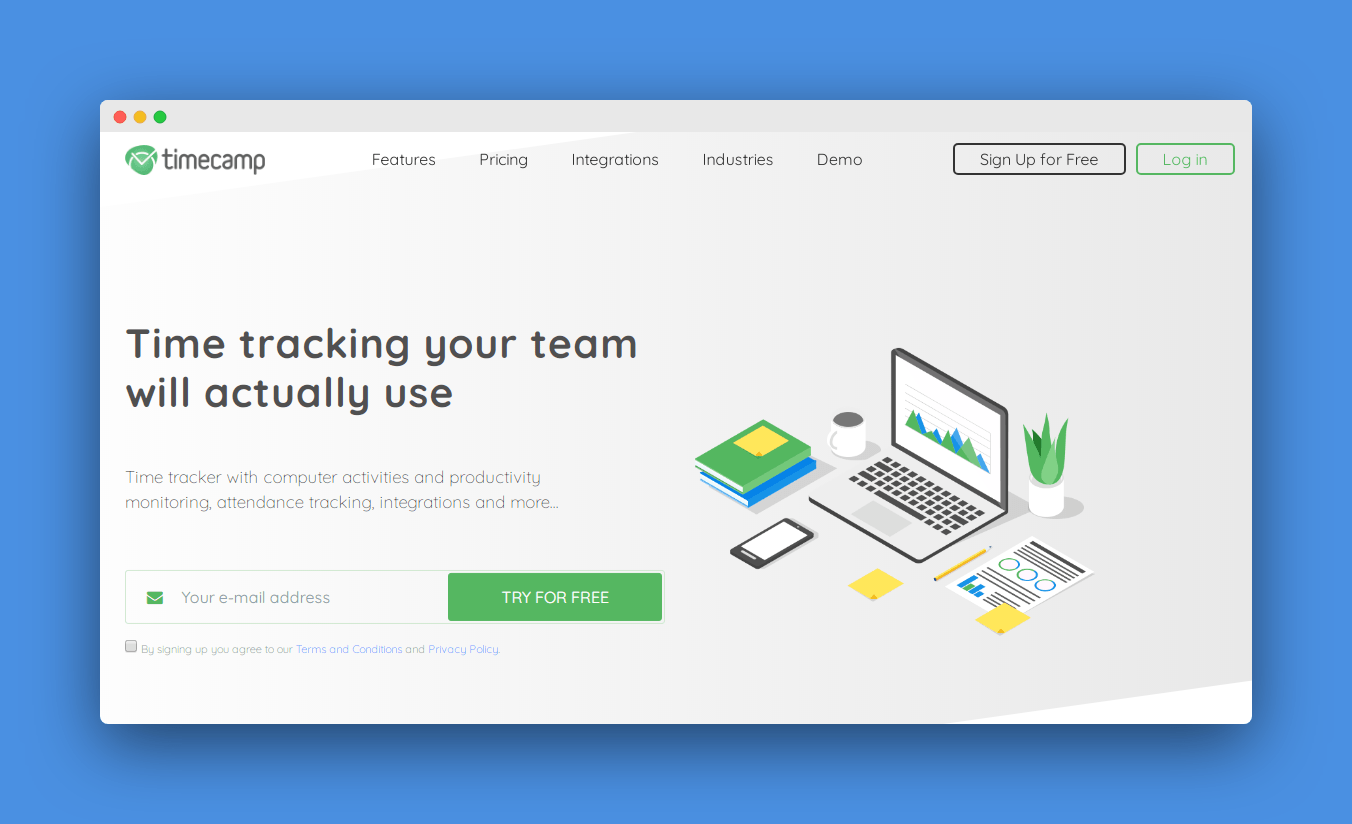 TimeCamp is a time tracker for teams.
How does it help your sales team?
Don't get us wrong: no one likes micro-management — absolutely nobody. However, with tools like TimeCamp, your sales team can take over control.
You can integrate it with some common task management applications to track the time each team member spends on their designated tasks. You also can use this knowledge to evaluate the task workflow, find out some potential bottlenecks in existing processes and recognize which of your team members do their jobs right and on time. It is not for penalizing others. It is instead for showing the path to follow to work most efficiently.
If you want your salespeople to be more involved in project management and task management, and keep an eye on their tasks and the time of their execution, TimeCamp is a solution to test out.
To wrap-up
Living without sales tools is possible, but if you can automate so many tasks and do so many things that can help you sell more and sell better, then why wouldn't you give some tools a try? They can make sales a breeze, they can make your team happier and work more efficiently, and they can simply make your organization healthier. It may be hard at first to persuade yourself to put a few dimes in the jukebox. However, if you think of how much time and effort you can save by using tools, and how much better results you can drive, then expenses become an investment and money spent can become money earned. We only gave you a list of a few great tools you can use for boosting your sales, but we always happy to hear more of your suggestions!
Did you like the enlisted tools? Try one of them for free!