A landing page is a powerful selling tool, but it's up to you how effective it will be for your business. You need to give visitors a strong reason to buy the product or service you offer. How do you create a landing page that sells?
The first thing you need to do is define your audience. You need to know whom you're talking to on your landing page. When you identify the target audience, know their expectations and needs. It will be much easier to create attractive content. Lead visitors through a process from an explanation and persuasive elements to a strong CTA. All of this will get visitors to take the action you want.
Let it speak for itself.
A landing page is what your potential customers see right after clicking on your ad or email, so first impressions really matter. And The main goal is a specific action made by visitors.
What else?
Put navigation away
Yes, it's about making a powerful first impression, but there's something else to consider. You can't afford to just put random elements on your page. Every section should be well-thought-out, and keeping the navigation on your sales page is not a good idea.
A landing page is not one of the elements of your website, but a separate page with the main goal to reach (in this case it is selling a product or service). If you put the website's navigation on the sales page, you're giving visitors an incentive to leave.
Note that when people have too many options they don't know what they should do. They click on various website elements and could leave your site without buying anything.
So remember: don't make the landing page cluttered with information.
Keep it simple
The quality of every element of your page could affect your conversion. Did you also know your landing page layout, with fonts, colors, and the logo should be kept consistent and relevant to the ad which a visitor clicks from?
Keep the design simple and delete all distractions, such as unnecessary or broken links, multiple social icons, extra buttons or irrelevant information.
Focus on one thing and create a simple path for your visitors to reach the goal. Leave only the links and buttons that support the overall goal, which is selling a product or service.
When you create a landing page, remember that the layout and various elements should all fit together. This does not only include fonts or buttons, but also forms that your visitors fill in. When you add payments to your landing page, choose the solution that lets you design it your way.
Speaking of payment forms, keep in mind they should be as short as possible. Consider what information you need to complete the purchase. Did you know that removing the cardholder name field increases conversion? In all, three fields are enough: card details, expiration date, and CVV.
Use relevant content
It's always a good idea to provide high quality and unique content on your landing page. It should be relevant with the ad copy and feature your product's benefits, but not in a pushy way. Visitors should see at a glance how your product or service could change their lives. Great content provides value to your potential customers and Google as well.
The truth is that you have just a few seconds to attract your potential customers. If they find what they are looking for, they will stay longer on your website (and the chances they complete the purchase increases).
Great copy can also drive customers to make the desired action. Direct calls-to-action, such as "Buy now", "Start for free", "Try it now", are better than the ones with misleading buzzwords, e.g. "Do the magic" or "Go on!" Make buttons big and visible (with a contrasting color) to attract a visitor's eye and convince them to make the action.
Another way to attract visitors is by using images, animated GIFs or videos. Images are visually appealing and build trust. But only, when are relevant to the product you sell.
Note: When you put a video on your sales landing page, feature product benefits not only in your animated story but also on the page. Why? Because not everyone wants to watch a video so it's better to add a short, complementary text to it.
Visitors usually aren't familiar with your product so provide them with some information to let them understand it better. Give a detailed overview of the product and its features. Be concise and show the value proposition.
And what about the headline?
A headline is an element visitor's first see when landing on your page. You have just a few seconds to keep their interest and attention. In short, a headline should be effective and benefit oriented as well.
Visitors usually just scan the page, without reading the full copy. Place important elements above the fold and provide all important details about the product or service.
Show you care
One important detail that should be on your page is the value of your product. How do you know what's best for your potential customers? First, identify the problem they have and offer a solution. Show them the uniqueness of a product or service.
Benefits are an important part of a landing page, but you should also have a value proposition. This tells visitors why they should buy a product or service. Show customers what they can get when they choose your product or service. It could be a list of benefits or showing a real use case of the product. Focus on the users.
You can also mention what your visitors may lose if they don't buy the product. The pain of losing something could be a stronger motivation than the pleasure of gaining something of equal value. Show visitors how you can reduce their pain.
Keep in mind that people often need some motivation. An extra offer is something you can give visitors in exchange for taking an action you want them to do. You can offer free samples, free shipping or something that would encourage them to buy your product. Also, give them a guarantee. It's up to you to decide what it will be. For instance, you can give customers a guarantee of money back or even a "100% Satisfaction Guarantee."
Create trust
Ask your customers for testimonials to show future clients that your product or service is really worth paying for. These need to be testimonials from real people (not fabricated stock-based clients), most relevant to your target group. Show what other people think of your product, service or company.
Also, remember that transparency is also important. Be clear about how you handle private information or how sensitive data is collected when your customers pay for the product. Use security badges to make visitors trust you more.
Sell on the go
Don't forget about mobile users. Create a landing page with their needs in mind and make it easy for them to navigate the page and pay for the product on any device they want.
Choose a payment solution that lets you easily add payments and customise the payment form the way you want. You also want to choose one that doesn't redirect to 3rd party payment services to make it as simple as possible for your customers to pay.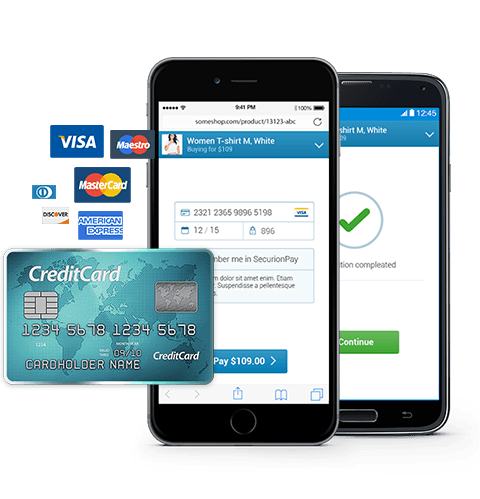 Keep in mind that mobile payments should have bigger input fields and ask for just the essential information (card number, expiration date, CVV). You also want to use auto-fill and autocomplete wherever possible. The more convenient it is for your customers to pay, the more completed sales you will have on your mobile landing page.
A perfectly designed and a customer-friendly page with forms adapted to mobile, lessen the abandonment rate. Give visitors mobile-ready page and watch your business grow. It's as simple as that.
Test what works better
With landing pages, it's easy to run A/B tests so you can learn what works best for a specific audience. It's good to make at least two alternative versions of your landing page, run the test, measure the performance and improve it.
And last but not least, should you have a long or short landing page? The answer is the ever-annoying: it depends. Usually, when you sell something, a longer page (with longer copy) performs better.
It can also depend on the price of your product. If it's cheap enough, it's OK to sell the product directly via a landing page, but when you offer e.g. a software, it's better to give visitors a free trial first. You need to convince people to buy and ensure them they're making the best decision possible.
Conclusion
Generally speaking, there is no one standard method to create a landing page that converts the most. You have to know your audience, their needs and expectations. This will allow you to create a page to present your product benefits and values for potential customers. There are many differentiating factors, such as a certain goal, specific audience, product or service, etc.
Now you know the essentials that are key to building your landing page that sells. When you put it all together, it could work wonders. Now it's your turn.
Want to add some suggestions or ideas?