Integrations for Landingi you had no clue about
Integrations for Landingi you had no clue about
October 5, 2017
5 min read
Creating a landing page is a challenge, that's for sure! But if you already stepped into this world and built your first landing page, you can now think further – about some more new and exciting possibilities. One of them? Integrations with external systems offered by Landingi. Over 30 various integrations within the platform, helping you reach your business goal and make the most of your landing page. Are you ready to find out what awaits you and what integrations for Landingi you can find?
Why do integrations for Landingi really matter?
they enhance the potential of your landing page – thanks to integrations your offer is more attractive and you get more possibilities for lead generation
thanks to combining some integrations, a database is kept in one place and gives a lot of opportunities for further usage and analysing
appropriate integrations can make your landing page a nice replacement of a website and plays its role for your audience and customers
these kinds of integrations don't require your IT department efforts and very often can be done in a heartbeat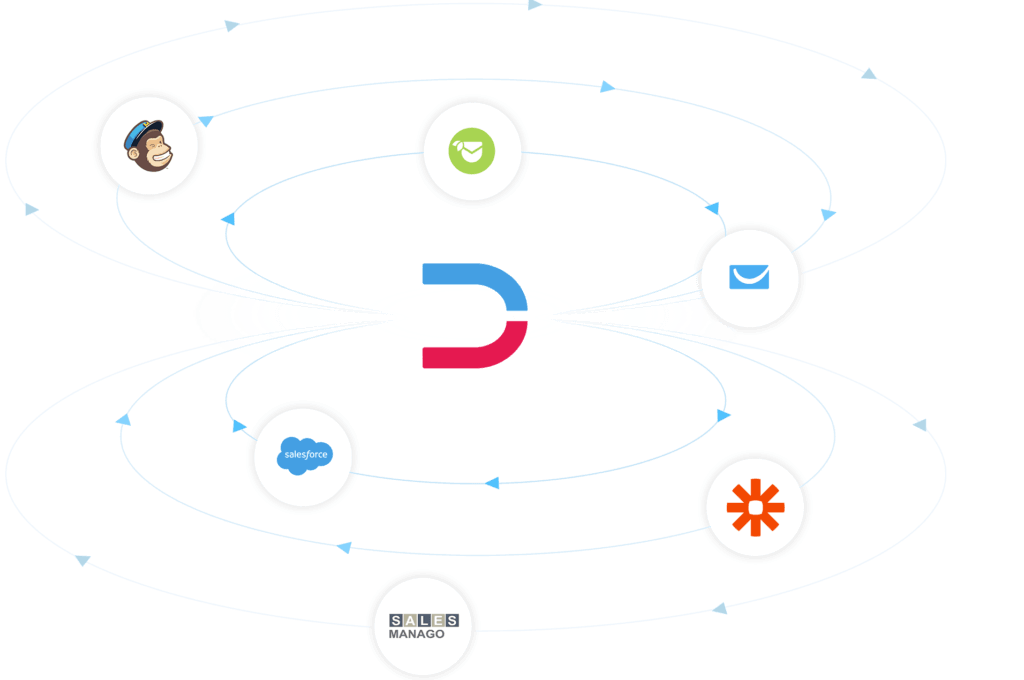 Lack of integration is lack of potential! Just see what integrations you can implement at Landingi:
E-mail marketing
thanks to integrating popular mailing systems with our tool, in a quick and easy way you'll manage leads generated by activities on your landing page.
What does this integration give you?
managing contacts and immediately using them in e-mail marketing campaigns
improved measurement of your e-mail marketing activities
keeping up interest thanks to automated campaigns
another usage of existing e-mail marketing lists
building sales funnels
better customer service and clients' segmentation
Platforms that you can integrate with Landingi:
– ActiveCampaign
– AWeber
– Campaign Monitor
– E-Goi
– FreshMail
– GetResponse
– impleBOT
– MailChimp
– MailerLite
– Optivo
– Sare
– UniSender
CRM
CRM (customer relation management) systems allow you to manage a customer database in an effective way and to close the sales process. Thanks to integration with Landingi, you can improve your sales funnels.
What does this integration give you?
sending leads gathered in Landingi immediately to campaigns in external tools
improving the effectiveness or your sales team thanks to better activities
higher chances of closing sales
adjusting marketing and sales
predicting sales and income
tracking users behaviour for delivering them the most attractive content
automated sending of leads to your sales reps
automating the remainder of the sales processes
built-in tracking of e-mail correspondence
better organisation and process controlling at every stage of sales
Platforms you can integrate with Landingi:
Salesforce
HubSpot
Livespace
Bitrix24
Base
Pipedrive
ZOHO CRM
Communication
make the most of your visitors and contact them in a real time before they even decide to leave some contact info. Thanks to integration with popular solutions, your activities can be more effective.
What does this integration give you?
delivering immediate help to your customers
making a quick and initial interaction
better measurement or customer service effectiveness
the possibility of preparing a personalized welcome message
getting information about customers and their behaviour within a site
the possibility of phone call made by sales reps within 28 seconds
Platforms you can integrate Landingi with:
CallPage
Zendesk Chat
LiveChat
Intercom
Create landing pages without programming skills!
Analytics and tracking
even the most beautiful activities may turn out to be ineffective if they are not measured, optimized and don't deliver desirable results. Analysing and tracking traffic and users behaviour on your website is essential. Thanks to several integrations for Landingi you can measure the effect of your activities in a quick and easy way.
What does this integration give you?
watching some recorded users sessions
generating and analysing heat maps of a particular landing page as well as getting to know your visitor's behaviour
advances analysis of forms
deep analysing of website traffic
more information about customers that can bring about a higher ROI
more data to be analysed and adjusted to your activities
the possibility of using remarketing
measuring events on your landing page
adding and editing tags on website
better delivering your business results
Platforms you can integrate with Landingi:
Google Analytics
Facebook Pixel
Google Tag Manager
Kissmetrics
AdWords remarketing pixel
Mixpanel
Heap Analytics
Yandex Metrica
Piwik
MARKETING AUTOMATION
you can get it done with automated marketing activities! Thanks to SALESmanago your marketing campaigns can deliver better results. Such an integration you'll find in Landingi.
What does this integration give you?
the possibility of identifying your website visitors
focusing on the most prospective contacts
delivering personalized offers to your potential customers
OTHER INTEGRATIONS
it's not the end of the list of integrations for Landingi yet! What else can you integrate in Landingi?
Zapier – thanks to this integration, your Landing page can be integrated with more than 750 tools, apps and systems. This extension of possibilities allows you almost unlimited opportunities to make the most of it.
your own server – integrating your page with your own domain and server is quick, hassle-free and intuitive even for those who are not IT-literate
WebHook – allows you to send data from a particular landing page to any place
PayPal – one of the most popular online payment systems ready to be implemented on your landing page
online payment systems on your landing pages (Przelewy24 or tPay) that help you make and receive payments smoothly
Facebook Tab – use the possibilities of increasing conversion on Facebook
Opportunities of integrations for Landingi are huge, but the choice is up to you. What will you add to your recipe for a perfect landing page to make it work wonders for your brand?