What is a lead generation process?
What is a lead generation process?
How would you define "lead"? Is it a customer? Or maybe a potential one? Or perhaps not a customer at all but just a visitor of your landing page or business website? Which of these explanations seems to be the most correct?
The term "lead" has been used so widely in the digital marketing world that it has slightly lost meaning. Marketing gurus tout about leads and the lead generation process all the time, and sometimes even they interchange "customers" and "leads", which doesn't really do justice.
Nevertheless, leads and the lead generation process have a significant impact on your business performance and they both determine being or not-being of your business.
Once you read this article you will learn:
What is a lead?
Before we move to the point, let's start from basics and unreveal the true meaning of a lead. Frankly speaking, there are two perspectives from which you can look at this term. One is more common and the other is used specifically in the digital marketing world. The difference between them is not enormous but the details always matter.
The common definition of a lead states it is a person potentially interested in your product who can afford purchasing it. However, the other one, used in digital marketing, perceives leads as visitors of your landing page or homepage who have left personal data and contact information or have signed up for your newsletter.
In various articles you may come across both meanings. However, when it comes to lead generation process, it is centered around the digital marketing definition which is the core of this concept.
What is lead generation process?
As mentioned, for digital marketing purposes a lead is a person who leaves some personal data about themselves on your page. And all the activities that result in, or just aim at gathering information (personal data and contact details) from visitors of your sites (being also customers-to-be) is called a lead generation process (in short: lead gen process).  It enables you to boost conversions for your online business.
Since the lead generation process has quite a prestige in the digital marketing world, there are already plenty of ideas, tools and tricks to inspire you to perfect your lead generation marketing. Nevertheless, it is crucial to have in mind that you aim at converting valuable leads for your business, and by "valuable" I mean "highly prone to purchasing from you", it is significantly better for your online business to convert 10 valuable leads than 100 random visitors.
What lead generation process comprises of:

Source: https://www.business2community.com/sales-management/3-hot-tips-managers-improve-lead-generation-process-0632360
There are four steps in lead generation process:
attracting,
converting,
closing,
delighting.
Step 1: Attracting leads-to-be
First, complete strangers need to discover your business. When they do, they may turn into regular visitors of your site. Therefore, you need to adjust all your marketing channels properly in order to get noticed and to get interest from Internet users.
In this phase you should primarily, among other methods, focus your efforts on:
content marketing – blog posts or video content marketing,
SEO-optimization – proper keywords on your homepage or landing page,
social media presence and engaging posts,
advertising.
Make your business visible and present it everywhere in order to facilitate the right people to reach you.
Step 2: Converting visitors into leads
In order to encourage visitors to leave their personal data on your site, you can use:
Note that converting a random visitor may be not that simple. They probably come across your site for the first time, so they need to trust you before they leave personal information. Or you need to slightly encourage them by offering something extra in exchange for subscribing for your list. See below for your options:
coupons,
free ebooks,
worksheets,
challenge calendars,
demo versions of your product (truly helpful for sales lead generation).
All of the above are called lead magnets and they can increase the probability of conversion up to 85%. Use them wisely and along with them try to show the subscribers the value of your work as this will make you look more reliable and trustworthy.
Step 3: Closing
After you manage to convert visitors into leads, it is about time to make them your customers. Your competitive advantage is the fact that you already have a list of potentially interested people who just need a little trigger to purchase from you.
In this step you need to use an email marketing platform wisely in order to send highly personalized emails with valuable and useful personalized content. In order to make the process as effective as possible, it is advisable to segment your audience into alike groups to increase the chances of converting.
Along with the right content send them an appropriate promotional offer with a CTA button. It will facilitate the purchasing process for them. If both content and offer will be targeted properly, you may easily turn your leads into customers.
Step 4: Delighting
Step 3 could be the ending of lead generation process. You have already converted leads into customers, haven't you? However, you should also take advantage of your satisfied clients, and encourage them to spread into the world how awesome your products or services are.
Word-of-mouth marketing is old but gold. It is still one of the most effective marketing tactics, because people tend to trust their relatives and friends rather than companies that market their services on Facebook.
Therefore, you should:
maintain email communication with your customers,
inform customers about new offers,
create engaging social media posts and encourage followers to share them,
prepare special offers for customers, like for example, "bring friends and get 30% discount".
Never underestimate follow-up emails and maintaining relationships with your existing customers, as it is 5 times cheaper to make your customer purchase again than to get a new one.
As you can see, the lead generation process is all about customers, and the more effort you put into it, the more effective it turns out. Since lead generation process has a significant impact on your business performance, it is advisable to act upon it with utmost care. It is not an easy job, so no wonder there is such a large number of companies offering lead generation services these days.
Is it value for money to invest in lead generation companies?
Luckily – if you feel that you prefer to focus your mind on other business activities, you can easily find online businesses offering lead generation services and thus ensure continuous inflow of leads for your business.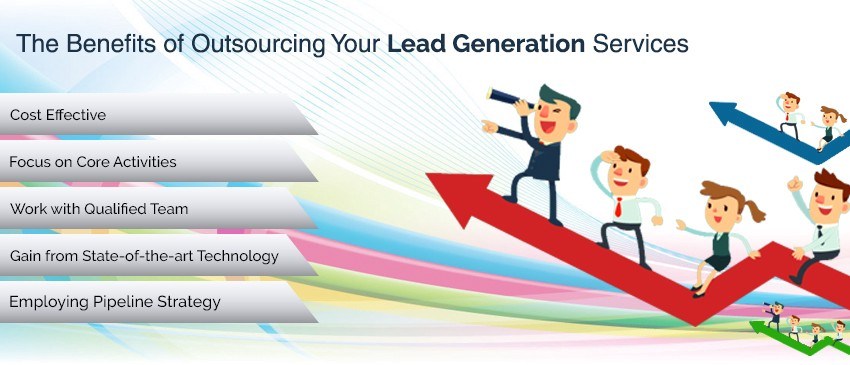 Source: https://medium.com/@TechOctopus/the-benefits-of-outsourcing-your-lead-generation-services-4f11ef71fc5f
Outsourcing lead generation services not only ensures you obtain valuable leads on regular basis but comes along with benefits such as:
reducing costs – even though lead generation services are not free of charge, investing in them can actually help you save money you would otherwise spend on uneffective tools or software if you are a newbie in the lead generation concept,
focusing on other core activities – as mentioned, you are able to take care of other aspects of business management such as elaborating new strategies, improving marketing campaigns or training new employees,
qualified team – your lead generation process will be completely managed by lead generation experts. Thus, you can be sure they know their craft and bring the right people to your business,
access to state-of-the-art tools – lead generation companies are fully equipped with the latest software, tools and up to date with the hottest trends,
employment of pipeline strategy meaning you will have to take care of the final steps of the lead generation process only (partially closing and delighting).
Purchasing lead generation services comes with a pretty decent number of advantages for your business. Nevertheless, if you feel you are able to manage your lead generation process yourself, you should just follow the steps mentioned and go ahead with it. Outsourcing lead generation is a highly secure option… but no risk no fun, right?
Collect leads with landing pages