My own templates
My own templates
Last updated: January 20, 2021
If you are the owner of Agency or Agency Pro account, you have the ability to prepare your own templates that you can use to create your landing page and give access to that custom templates to your users on subaccounts.
This option is disabled by default  – if you want to activate it, let us know via chat.
IMPORTANT:
Your subaccounts may have access to either the default library of templates or your own templates – these options are disjunctive. It is not possible to provide all kinds of templates on the subaccounts at once.
Step 1.
Log in to your Landingi account as an owner and go to the Templates tab.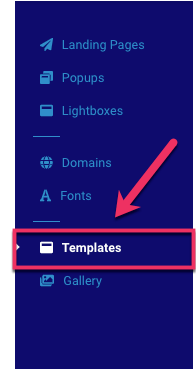 Step 2.
Click on the button Create new template.

Step 3.
Name your new template.

Step 4.
After creating the template, it will appear on the list of all templates in Templates tab. By default the template is empty – click on more and then Edit to open the editor.
Creating a template is similar to editing a landing page.
From now on, your clients on subaccounts when creating a landing page will be able to choose a template only from those made by you.