Landingi platform changed its look – we provided a new interface in Labs (Beta features). You can enable and test it. New users will have a new UI switch on by default.
To make your work more intuitive and smooth, we moved account management options to the new topbar and left on the sidebar only main functionalities related to building landing pages, popups, and lightboxes.
What changed in the interface?
Refreshed sidebar
In the menu on the sidebar (A) we left tabs related to main functionalities of our platform: creating and publishing landing pages, popups, and lightboxes, along with adding custom domains and fonts.

New topbar
Currently, we separated account management from options related to building landing pages or popups and moved them to the new topbar (B).
If you have an agency account, on the left side of the topbar you will find subaccount switch. After clicking on your subaccount/main account name (C) where you are currently logged in you will be able to switch between available subaccounts.
By clicking on your profile name you will open drop-down menu (1), where you will find, among others, Settings, Invoices and Beta Features (old Labs).
Available options can vary depends on user type or plan.
In the topbar, next to your profile name, you will find Knowledge Base along with System Status under the icon of the question mark (2) and Product Updates under the megaphone icon (3).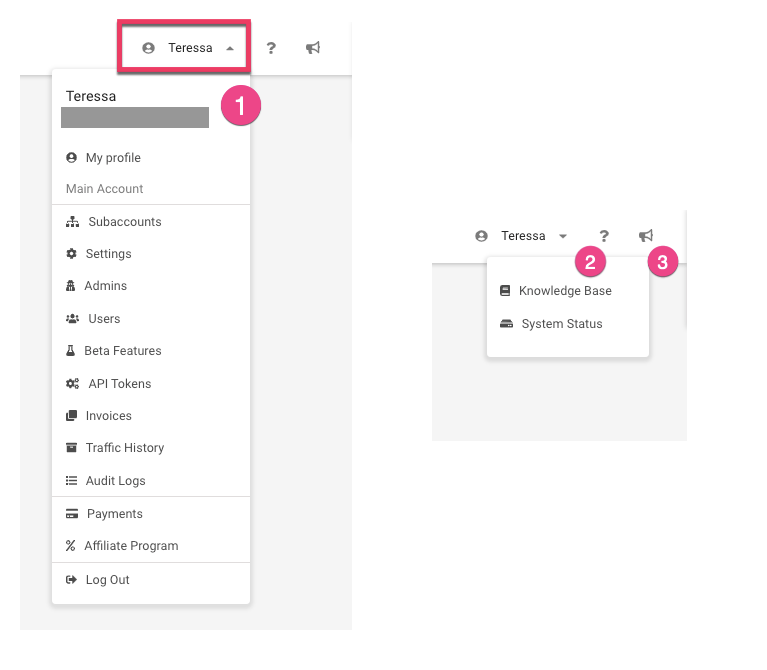 If you want to learn more and navigate the platform efficiently, check the article Landingi platform overview.