11 tools for B2B digital marketing
11 tools for B2B digital marketing
Last updated: November 14, 2023
Are you aware of the fact that 98% of B2B marketers agree that marketing automation plays a crucial role in making their business successful?
Truth be told, the appropriate B2B digital marketing tools can assist you in improving your B2B acquisition marketing strategy.
Once you read this article, you will know what are the best B2B digital marketing tools for:
Table of contents
show
hide
Email marketing
Email marketing is an essential element of B2B digital marketing.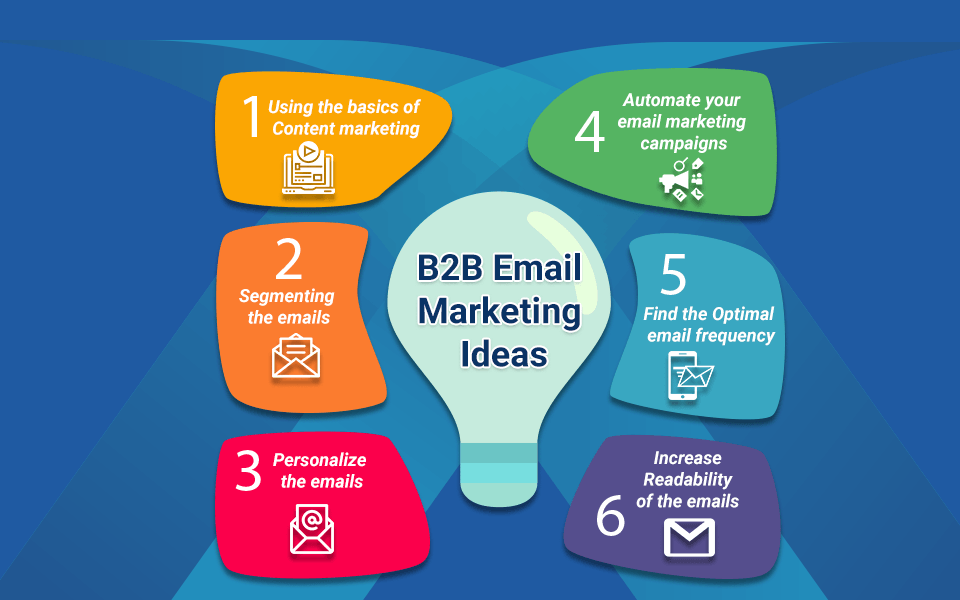 Source: https://blimx.com/b2b-email-marketing-ideas/
Mailchimp
Mailchimp turns out to be a very popular email marketing platform, known especially for its affordable price (you can use it for free providing you have less than 2,000 subscribers).
Another useful features of the platform are:
Once you choose a paid version, you are also granted possibility to A/B test landing pages and to and get advanced audience insights.
Hubspot
Unlike Mailchimp, Hubspot is not strictly an email marketing platform, as it offers other digital marketing services as well. Nevertheless, their email marketing offer is one of the most interesting ones to be found online – and it's free of charge.
Hubspot email marketing platform provides you with goal-based email designs, drag and drop editor, and features enabling you to personalize emails or analyse your audience's behaviour.
Tools for content marketing ideas
Content marketing is said to be the center of every top-notch digital marketing strategy. Attractive and engaging content is essential if you wish to reach a wide audience, and attract new customers to your business.
The Content Marketing Institute study from 2020 proved that "69% of successful B2B marketers have a documented content strategy".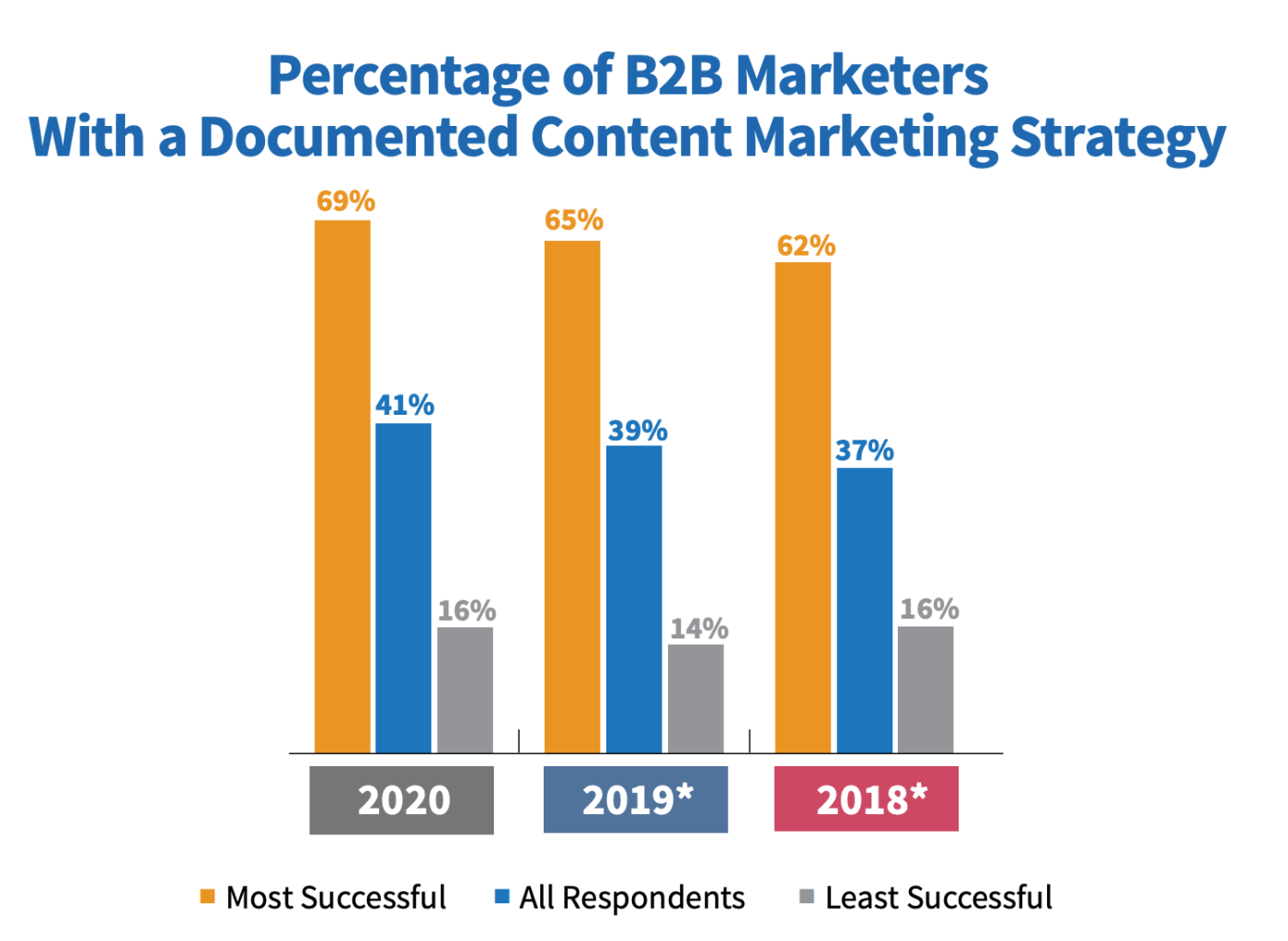 Source: https://www.elisedopson.co.uk/blog/b2b-content-marketing-statistics/
Therefore, if you want to be ahead of your competitors, you should plan your entire cross-channel content marketing strategy beforehand. This way, you can significantly increase your chances of standing out with your content, and attract new clients to your business.
The very essence you should take into consideration while planning the content is your audience and their needs. In order to determine what type of content you should create and what topic you should focus on, you first need to find out what your customers-to-be type into search engines.
In order to easily find out, which topics related to your niche are most frequently searched, make use of accurate SEO tools such as Ahrefs or Answer The Public.
Ahrefs
Ahrefs is one of the top-class SEO and backlinks analysis tools. The tool extracts keywords data from 10 search engines (among others, Google, Youtube, Amazon and Bing). It provides you with information about:
keywords search volume,
keywords difficulty,
backlinks growth or decline,
SERP (search engine results page) history.
Unfortunately – Ahrefs doesn't offer a free trial-period. You can test it only by purchasing a 7-day trial for $7.
Answer The Public
On the other hand, Answer The Public is a free of charge SEO analysis tool which works slightly differently than Ahrefs. For every keyword you type in, the tool presents various combinations based on Google searches. It allows you to understand how Internet users search around topics, what problems they have, and helps you to address them accordingly.
Social media marketing
Social media marketing brings to mind B2C promotion rather than B2B one. For unknown reasons, a significant number of B2B companies deny to tap into social media marketing campaigns. B2B companies are more prone to implement traditional tricks like cold calling or hosting business networking lunches. Nevertheless, such forms of marketing won't replace the power of social media.
LinkedIn turns out to be the most popular social platform among B2B marketers. According to the Hushly study, "70% of B2B marketers plan to boost their organic LinkedIn marketing efforts". Stil, Facebook, Instagram or Twitter promotion may bring fruits for B2B business as well.
According to the Hushly study, 70% of B2B marketers plan to boost their organic LinkedIn marketing efforts.
In order to design your B2B social media strategy, you should use a high quality social business platform that allows you to plan, analyse, publish, review and get insights from your social media actions – like, for example, Sprout Social or Hootsuite.
Sprout Social
The Sprout platform is a social media management platform enabling you to:
discover trends from social data,
plan, schedule and organise content,
improve responsiveness,
measure performance.
The platform offers a free trial in a standard, professional and advanced plans.
Hootsuite
Hootsuite is a social media management dashboard that allows you to:
schedule and manage social posts,
report on social media content,
measure social media results,
integrate various platforms.
To check out the tool, you can sign up or a 30-day free trial for a professional (1 user only) or a team plan (up to 3 users).
Infographics
In B2B marketing, infographics turn out especially strong, as they ease the long and arduous process of customer journey. In order to be powerful, infographics need to be neatly designed and informative for your target audience. To create such ones, you can tap into tools like Infogram or Easel.ly.
Infogram
Infogram is a visualization tool allowing you to create visual content such as infographics, charts or various social media graphics.
Infogram provides you with:
stellar content templates,
possibility of creating interactive content,
measurement of your content effectiveness,
mobile optimization.
Easel.ly
Easel.ly is a simple infographics creator enabling to visualize any kind of information such as:
reports,
presentations,
resumes,
comparisons,
timelines etc.
The tool provides you with numerous professionally-designed templates, and allows you to easily share the creations with your audience.
Easel.ly offers a risk-free 7-day money-back version which gives you a secure possibility to try out its features without wasting your money.
Landing page creation
According to Source study, "getting landing pages built and tested is one of the top five challenges faced by B2B marketers".
There is still a lot of confusion in regards to landing pages optimization and design. Luckily, if you tap into appropriate software, the process of B2B landing page creation can turn out simple and carefree.
Landingi
And – as you probably guessed – one of the tools to take advantage of is a landing page builder offered by Landingi, which you can test during a 14-day trial. The most important features of the builder are:
over 200 landing page templates,
user friendly and carefree landing page creation process (with a drag and drop function),
no programming skills needed,
the possibility of A/B testing,
integrations with other platforms (Google Analytics etc.).
Site analysis
In order to check the performance of your landing page or website, you need to choose an appropriate reporting tool. It will equip you with valuable data assisting in improving the performance of your sites.
Google Analytics
Google Analytics is probably the most popular website traffic reporting tool both for B2B and B2C companies. It's free of charge, simple to use and can be easily integrated with other platforms.
It offers you a wide scope of site analytics such as:
traffic on your pages,
traffic on your landing pages,
average number of pages per visit (on a site within a session),
channels (for example, organic search).
By using the tool properly, you are able to improve your B2B marketing strategy and increase conversions.
Test my site
Test my site is yet another free tool offered by Google. It provides you with the information about page speed of your website, landing page or other sites.
According to Hosting Tribunal study, "1 second delay eats away 7% of the coveted conversion rate". Consequently, page speed is extremely important when it comes to user experience and conversions. Therefore, it needs to be taken care of properly.
Test my site not only scores your page speed, but also provides you with reasons behind a poor page performance and example solutions that should be implemented.
All in all – you have a deep pool of possibilities when it comes to using online B2B marketing tools. In B2B, world values such as consistency, honesty and expertise are highly appreciated. By using appropriate B2B digital marketing tools you turn your visitors into prospects.
Ready to grow? Let's get started!
Join us and create the best-converting landing pages