PageInsider™ and Bizmoni: Case Study
PageInsider™ and Bizmoni: Case Study
Last updated: October 18, 2021
8min read
Businesses look for optimizations and savings in all areas of activity, and that includes landing pages, too. The preparation of high-converting creations is one of the staples of successful campaigns. One of the things that plenty of business owners, marketers, and agencies want to know is whether their work draws the attention of the visitors to the appropriate extent.
Optimizing for clarity can make a big difference, but every improvement is a balancing act. The benefits must be juxtaposed against various costs. The financial aspect is one thing, but time and human resources also need to be considered before making a decision to implement a solution.
With all of these issues in mind, we have launched a new tool that aims to help businesses make better marketing decisions without spending extra money or waiting for results for a long time.
Say Hello to PageInsider™
Our latest feature analyzes your landing pages and predicts which parts will users focus on while browsing. The process is completely automated, which is possible thanks to the use of Artificial Intelligence. The tool had analyzed thousands of pages and images, which is why it can now anticipate the behavior of users for the first few seconds of viewing the page with high accuracy – 90% for pages and 94% for images.
PageInsider™ is part of the Landingi platform, so you won't need to buy, install, or integrate anything – it's already built-in, available in the Automate plan. Budget-friendly? Check.
Speaking of budgets, every PPC campaign is a battle between spending and gains/profits. When you publish a landing page and connect it with an ad, making changes to a version that doesn't convert well means burning through the budget quickly. With PageInsider™, you can optimize your landing page before publishing. Once you have made the analysis, got the right insights, and made the appropriate changes, you can publish the updated page with more confidence.
Digital marketing tools need to be easy to use, and starting a PageInsider™ analysis is a click away, literally. See for yourself:
It does take a few minutes for PageInsider™ to work its magic, but compared to other methods, it's very quick.
But what about the actual data? Is it easy to read? Well, PageInsider has three different areas of focus:
Smart Map: the predictions of users' attention are displayed in the form of a heat map, so you know which parts capture the eyesight;
Percentage of Attention: it will show you how much attention will be paid to the buttons throughout scrolling;
Clarity Score: a four-grade scoring system that lets you know how clear your page is.
If you want to know more about our analyzing trio, check out this blog post.
Of course, our hope of helping our customers is one thing, but only the real-world use of the tool can determine whether it can be of service. That's why user feedback was so important.
The Real-World Test
We asked one of our customers what he thought about PageInsider™ and how it helped him in his everyday marketing endeavors.
Meet Jose Graca, an entrepreneur extraordinaire with over three decades of experience in various branches of business and tons of projects under his belt. His latest enterprise – Bizmoni – is a project that aims to help Millennials and Generation Z to achieve their dreams, get financially independent and learn more about running a successful business. He has been using Landingi to create a landing page for Cook A Business – an e-book that shows future entrepreneurs how to build a business the right way.
Jose has decided to try out PageInsider because he wanted to get better insight into the focus of the visitors of his pages. His ultimate goal is to create "user-friendly pages that convert better", so using PageInisider was the obvious choice.
It's faster, by a lot.
The two main issues he had with his previous methods were time and costs. As he said himself:
When I asked about the specifics, he told me that he would ask a series of questions to 50 people, collect the answers and make changes based on their feedback. One of the issues was that every answer was different, so he had to rely on the standard deviation when analyzing the answers.
Now, Jose can get a reliable approximation of where the user's attention is going to be, and the test is going to take minutes instead of weeks. That kind of difference is simply invaluable to any business.
Repeatability
The road to the perfect landing page is a twisty one, and it requires a lot of attempts and tweaks. In a time when every dollar spent on ads matters, going the route of trial and error on the published example can rack up a lot of spending before the right version sees the light of day.
The thing about PageInsider™ is that you can make those upgrades before you hit "Publish". There is no cap on analysis, so you can test and compare to your heart's content. The repeatability is also important to Jose, especially if you consider the time it takes to complete the analysis of the implemented improvements.
Get Your Insights and Move on
Smart marketers know that there is something like too much of a good thing, which is why checking the results every time a small change is made may not be the most effective use of one's time. There are so many things one has to do to launch a marketing campaign, and, as they say, time is money. That's one of the reasons why being stuck on a single task for too long can be detrimental, rather than beneficial. In the case of PageInsider, using it is different from A/B testing where a single change is the basis of comparison.
Jose knows this, which is why he used PageInsider™ in two stages of his creative process. Once version 1.0 was ready, the tool was used to see where the user's focus will be. This is what it looked like:
It's important to note that "the data" does not only refer to PageInsider's analysis. It's not a miracle solution and there are a lot of other moving parts involved, but the tool played its part in the process. The new and improved version is not finished yet, but as soon as it goes live, the post will be updated.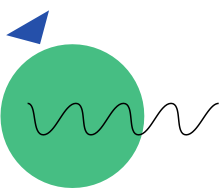 What can we learn from this case study? Firstly, landing page optimization is a key part of every business.
Secondly, using the right tool has multiple benefits: it can save money, time, and headaches, especially if you have the option to get a reliable prediction before publishing your landing page.
Furthermore, a quality tool can provide you with a lot of useful insights.
PageInsider™ ticks all of those boxes. So, if you want to improve the clarity of your landing pages using this tool, sign up for the Automate plan in Landingi and see for yourself how easy it is.