Landing Pages: The Key to Scaling Account Management Efforts
Landing Pages: The Key to Scaling Account Management Efforts
Last updated: September 19, 2023
12min read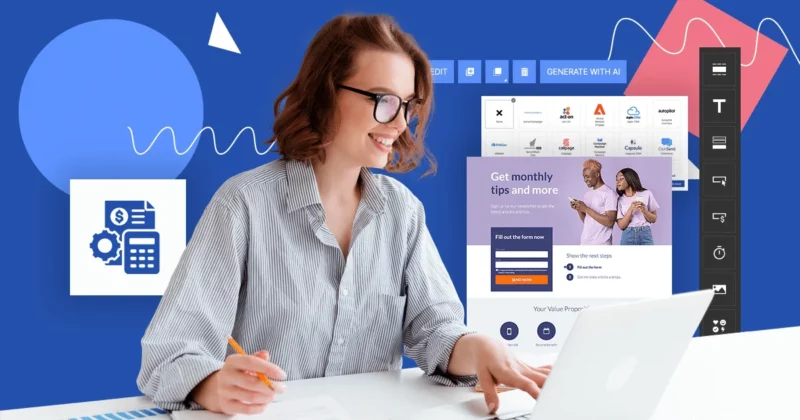 Account management involves building and maintaining relationships with key customers to ensure their satisfaction and maximize the value they receive from a company's products or services. One highly effective strategy for achieving this goal is through the use of landing pages.
In this article, we will delve into the potential of Landingi's features that can prove immensely advantageous for account managers.
Who Is Account Manager?
An account manager is a professional responsible for managing and nurturing relationships between a business or organization and its clients or customers.
The specific duties and responsibilities of an account manager can vary depending on the industry and the company's focus. Generally, those duties include:
client relationship management
client communication
account planning
sales, upselling, and cross-selling
problem solving
contract management
revenue growth
reporting and analysis
Account management is a crucial component of customer relationship management (CRM) and is often used in B2B (business-to-business) or high-value B2C (business-to-consumer) contexts. The primary goal of account management is to foster long-term, mutually beneficial partnerships between a company and its most important customers.
The Benefits of Using Landingi for Account Managers
As with any professional role, an account manager can encounter various problems and challenges on the job. Luckily, Landingi, a platform designed for creating and optimizing landing pages, can offer solutions to many of these issues.
Let's discover the 10 advantages that Landingi and landing pages can provide to account managers:
Ease of Use
Time Efficiency
Customization
A/B Testing
Integrations
Lead Generation
Data Tracking and Analysis
Collaboration
Meeting Sales Targets
Resource Allocation & Content Management
Ease of Use
Landingi's user-friendly drag-and-drop editor doesn't require any coding skills. Therefore, account managers can quickly create and update landing pages without the need for IT or design assistance.
fully customizable and mobile-responsive templates
pre-designed sections and widgets
unlimited digital assets (landing pages, pop-ups, lightboxes)
Time Efficiency
Landingi's real-time editing and pre-designed templates help account managers quickly meet client needs and launch campaigns more efficiently.
streamlined process of publication and campaign launch
ready-made page and section templates
quick changes adoption
teamwork possibilities
Customization
Account managers can use Landingi to create customized landing pages that are tailored to the specific needs of their clients, including campaign objectives and branding guidelines. This helps improve the overall client experience and retention rates.
A/B Testing
Landingi provides A/B testing capabilities, allowing account managers to compare different variations of a landing page to determine which one performs better. This data-driven approach can lead to improved conversion rates.
Integrations
The platform integrates with various marketing and CRM tools, such as email marketing platforms and analytics software. Account managers can seamlessly connect their landing pages to other parts of their marketing stack.
Lead Generation
Landingi includes lead capture forms and tools for lead management. Account managers can collect and organize leads efficiently, helping to nurture and convert prospects into customers.
Data Tracking and Analysis
Account managers need to provide clients with insights into their campaigns' performance. With Landingi, you can track important metrics like page performance and conversion rates to make informed decisions and optimize your campaigns.
Collaboration
The platform allows for collaboration among team members, making it easier for account managers to work with designers, copywriters, and other stakeholders on landing page projects.
Meeting Sales Targets
Account managers can use Landingi to manage products, orders, and payment gateways on landing pages, while identifying opportunities for upselling or cross-selling to clients.
Resource Allocation & Content Management
As an account manager, creating professional landing pages can be a challenge if you lack the necessary expertise or resources. Landingi's user-friendly interface allows easy creation of appealing pages and effortless updating texts, images, and other elements. This ensures that the landing page content remains up-to-date and relevant.
no coding skills required
intuitive interface
easy modifications
editing pages, images, texts etc. on-the-go
Examples and Use Cases
As an account manager, you can make use of Landingi for a variety of purposes that align with your responsibilities and objectives. Here are five examples of landing pages and use cases that can inspire you.
A/B Testing and Optimization
Landing page variants created with a SaaS template
– Improve campaign performance by comparing page variations.
– Generate different versions of your pages to test and optimize various elements such as headlines, visuals, and calls-to-action.
– Use data-driven insights to refine your campaigns and improve their performance.
– Improve the layout, content, and calls-to-action for better results.
– Experiment with different colors and design elements to determine user preferences.
– Continuously improve and optimize your pages based on data-driven insights to maximize ROI.
– Determine the most effective combination of elements by conducting split tests.
Multi-Channel Campaigns
Landing page created by Landingi Design Team, consistent with the client's branding and multi-channel messaging
– Coordinate campaigns across multiple channels, including email marketing, social media, and paid advertising.
– Create landing pages that are consistent with the messaging and branding used in other channels.
– Maintain a cohesive and compelling user experience, leading to improved campaign performance.
– Utilize data to create personalized pages and messages for each channel, enhancing relevance and engagement.
– Conduct A/B tests on landing page elements specific to each channel to optimize conversion rates.
– Ensure that tracking and analytics are consistent across all channels, allowing for a unified view of campaign performance.
Lead Generation and Management
Pop-up and landing page created by Landingi Design Team
– Create high-quality lead capture forms.
– Integrate with email marketing tools for easy collection and management of leads.
– Set up automated email responses and lead nurturing workflows to engage prospects effectively.
– Encourage sign-ups by providing attractive incentives and valuable resources such as e-books or webinars.
– Use thank-you pages to deliver the promised resources and nurture leads.
– Implement lead scoring systems to prioritize and focus efforts on leads that are most likely to convert.
– Gradually gather more information about leads over time, using progressive profiling.
Client Onboarding
Section template created by Landingi Design Team
– Create dedicated landing pages that provide essential information, welcome messages, and links to relevant resources.
– Develop interactive elements on onboarding landing pages, such as guided tours or video tutorials, to enhance the client's understanding of your services.
– Include a section with frequently asked questions or a knowledge base.
– Link to client forums or communities where clients can connect with peers and seek assistance.
Campaign Reporting, Feedback and Surveys
Landing page created by Landingi Design Team that includes a message form
– After running marketing campaigns, use landing pages to present campaign results, including key metrics, charts, and insights.
– Gather feedback from clients through dedicated landing pages.
– Understand client satisfaction, identify areas for improvement, and make data-driven decisions.
– Implement real-time analytics on reporting landing pages to give clients access to up-to-the-minute campaign performance data.
These examples showcase how Landingi can assist you in planning, executing, optimizing, and reporting on successful marketing campaigns. With Landingi's features, numerous aspects of campaign management can be streamlined, allowing you to achieve your goals more efficiently and effectively.
Streamline and Scale
Account management is a multifaceted role crucial for building and nurturing lasting relationships with valued clients. To excel in this field, account managers need tools that empower them to streamline processes, enhance client experiences, and scale their efforts effectively. Landing pages, particularly when harnessed through Landingi's feature-rich platform, emerge as a game-changer.
With Landingi, account managers gain access to a versatile toolkit that addresses their unique challenges head-on. From the user-friendly no-code editor to the seamless integration of marketing and CRM tools, Landingi offers a comprehensive solution for account managers looking to deliver exceptional results.
Ready to grow? Let's get started!
Join us and create the best-converting landing pages