GDPR: Marketing Consent Examples
GDPR: Marketing Consent Examples
Last updated: February 14, 2022
3min read
When it comes to the new law that is coming to fruition on May 25th, there is more to remember than organizational and financial consequences. General Data Protection Regulation (GDPR) brings the necessity to adjust marketing consent that is posted on landing pages in forms. We'll show you some examples.
In the previous blog entry on GDPR we brought you answers to the most frequently asked questions when it comes to this new law. We also pointed out that adjustments in terms of marketing consent are going to be required. Here is how they're supposed to look:
Clause With a Button
A text that works when you need a user's consent for a newsletter signup or ebook download.
By signing up/downloading an ebook, I agree to receive commercial information from ABC LLC. located in Washington, DC, Main Road 1 (Data Administrator). I can withdraw my consent at any time. The data will be processed until the consent is withdrawn.
The administrator processes data following the privacy policy. I have the right to access, rectify, delete or limit processing of the data, the right to object, the right to submit a complaint to the supervisory authority or transfer the data.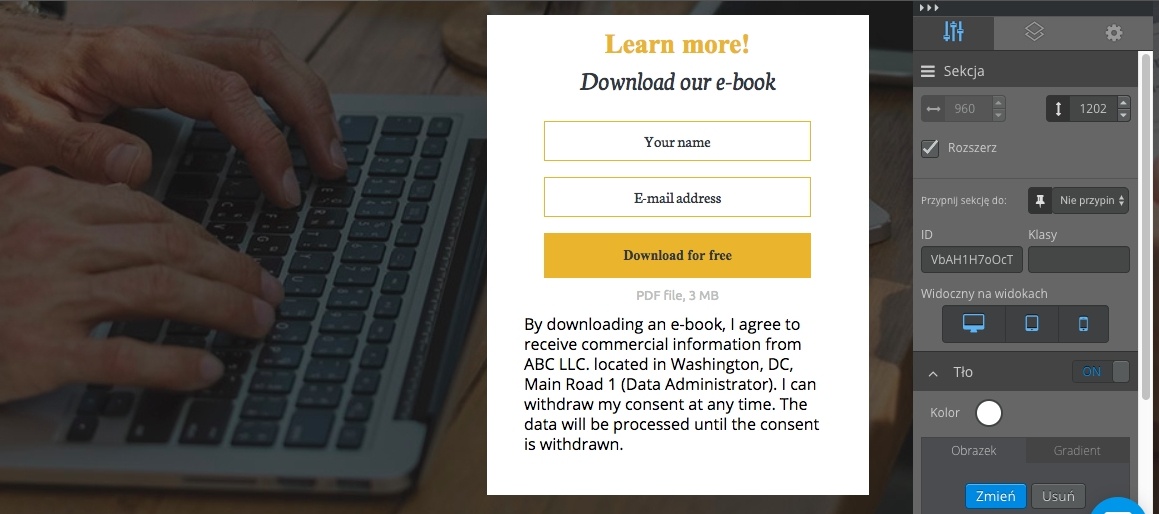 Clause With a Checkbox
A form handy for a checkbox.
[ ] I agree to receive the newsletter and commercial information from Landingi [* read more] [* read more] Consent is voluntary. I have the right to withdraw my consent at any time (data are processed until the withdrawal of consent). I have the right to access, rectify, delete or limit processing of the data, the right to object, the right to submit a complaint to the supervisory authority or transfer the data. The administrator is ABC LLC. located in Washington DC, Main Road 1. The administrator processes data following the Privacy Policy.
What You Have to Remember
In our previous post we told you that the consent should be:
Understandable
Willingly given
Conscious
Concrete
Clear
That's why it's good practice to put a consent on a landing page. You can't bury it, for example in the terms of use, it can't be understood as given by default. Also, do not treat default copy on any of landing page templates as the proper one – a line of text in the template usually serves as example only. It's also worth knowing that:
Content for the consent can't be expressed in complicated legal language. It can be perceived as a way to mislead or to hide a portion of the message
Texts in checkboxes can't be made in fine print (see above)
During the consent gathering process (and before getting it, when making a landing page for example) you have to inform a user about the right to withdraw consent at any given moment
Consent withdrawal should be as easy as giving it. It's unacceptable to use another color, fine print, etc. The deactivation link should be clearly visible
It's unacceptable to link the execution of the consent (for example an ebook download) to the consent for processing personal data for marketing purposes
Keep these tips in mind when making a landing page.