Landingi Insights: Templates tailored for you!
Landingi Insights: Templates tailored for you!
Last updated: November 14, 2023
Just like marketing trends, Landingi keeps changing! We do our best to meet our customer and user expectations. From now on we're going to inform you every time we implement some novelties in our application. We think you should know what's going on at Landingi and how it can improve your everyday work!
We decided to start with an intuitive, more comfortable way of browsing through your landing page templates. We've surpassed 200 templates recently, and the number keeps on growing! This is one of the reasons why we decided to improve our landing page template grid by making it faster, smoother, and more specific.
The user comes first
It's your feedback and opinions that determine how Landingi develops. We analyze every single note left by our customers and we work hard to make our platform easy and pleasant to use. And, of course, to help you make the best landing pages out there.
We've carefully read all the comments, and we've chosen the most frequent objections:
badly displayed template thumbnails
no possibility to search by industry or color
the necessity to select a landing page for a specific goal
no opportunity to switch from a template preview directly to its edition
Experience the improvements yourself
Before…
Let's take a look at our tool before the changes: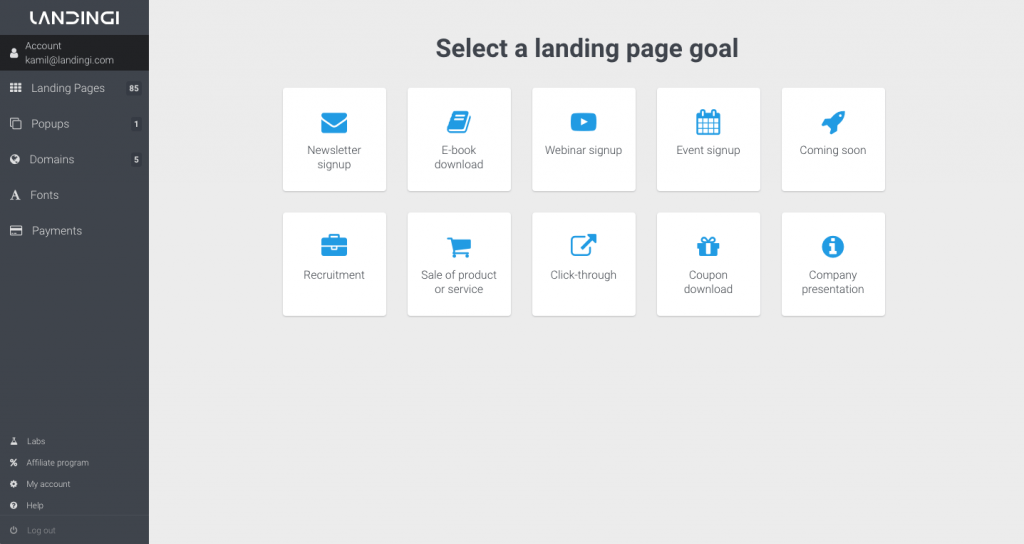 In the beginning, a user had to choose a landing page goal. The tile interface divided templates into the most popular categories, but the choice was limited. Also, it didn't allow one to create a landing page from scratch.
The user couldn't take a closer look at templates and select the carte blanche option until he or she had decided what the purpose of the landing page should be.
User comments encouraged us to take the old look of the template grid and try to improve it. Before we started, we set up some priority goals we'd strive for:
reducing the number of clicks necessary to begin working on a landing page
more detailed categories to quickly browse through templates
immediate access to the whole template database
an instant preview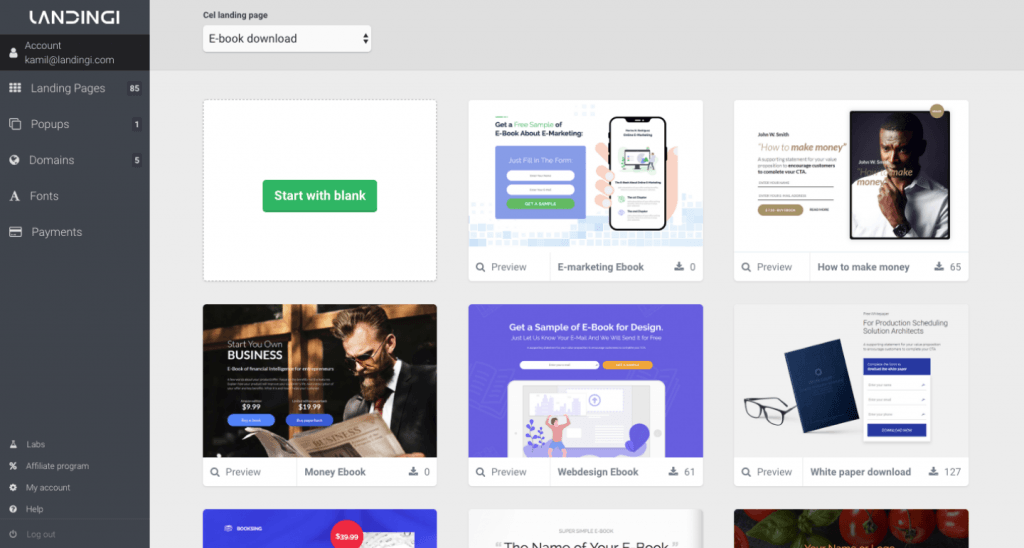 …and after
A customer, designer and programmer co-creation resulted in a brand new landing page template grid. Instead of choosing the goal in the very beginning, you can now freely scroll through all available templates. You can also preview all of it without even clicking. Take a look: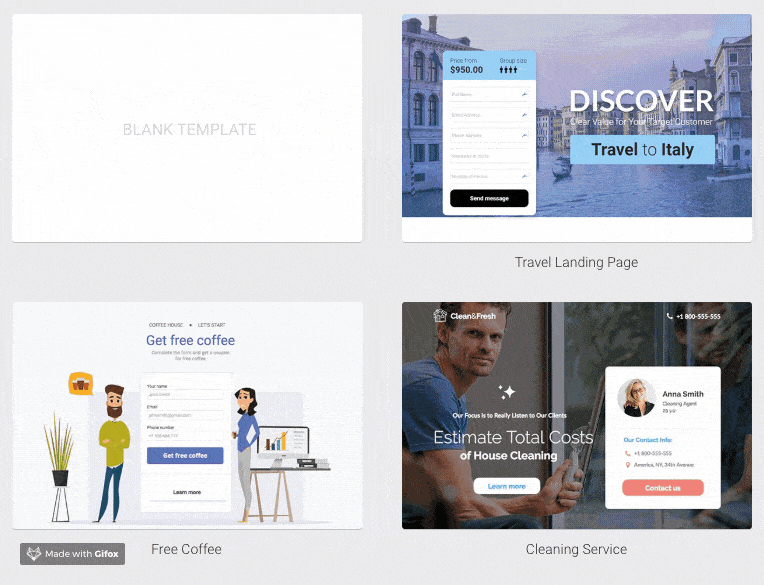 Your landing page purpose and a fresh new option – industry category – are available in a sidebar to the left. Now you can use it anytime without reloading the whole website!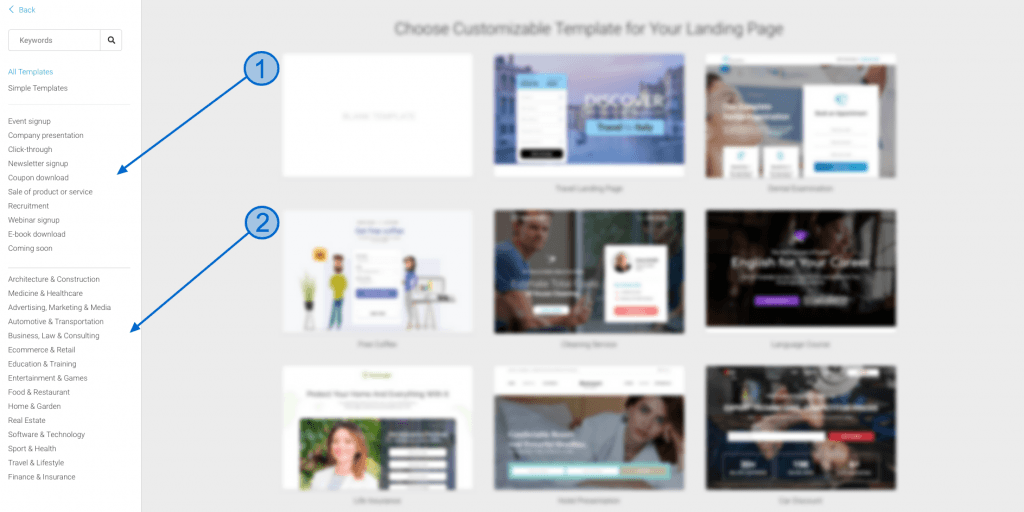 1 – landing page purpose category
2 – industry category
We've got another novelty for you – now every Landingi user can search for a template by entering a keyword. This function gives you the opportunity to find the perfect landing page for a specific color or other element. Enter "blue" or "woman" to see templates in blue or with a picture of a woman. Choose the right one and let's get to work!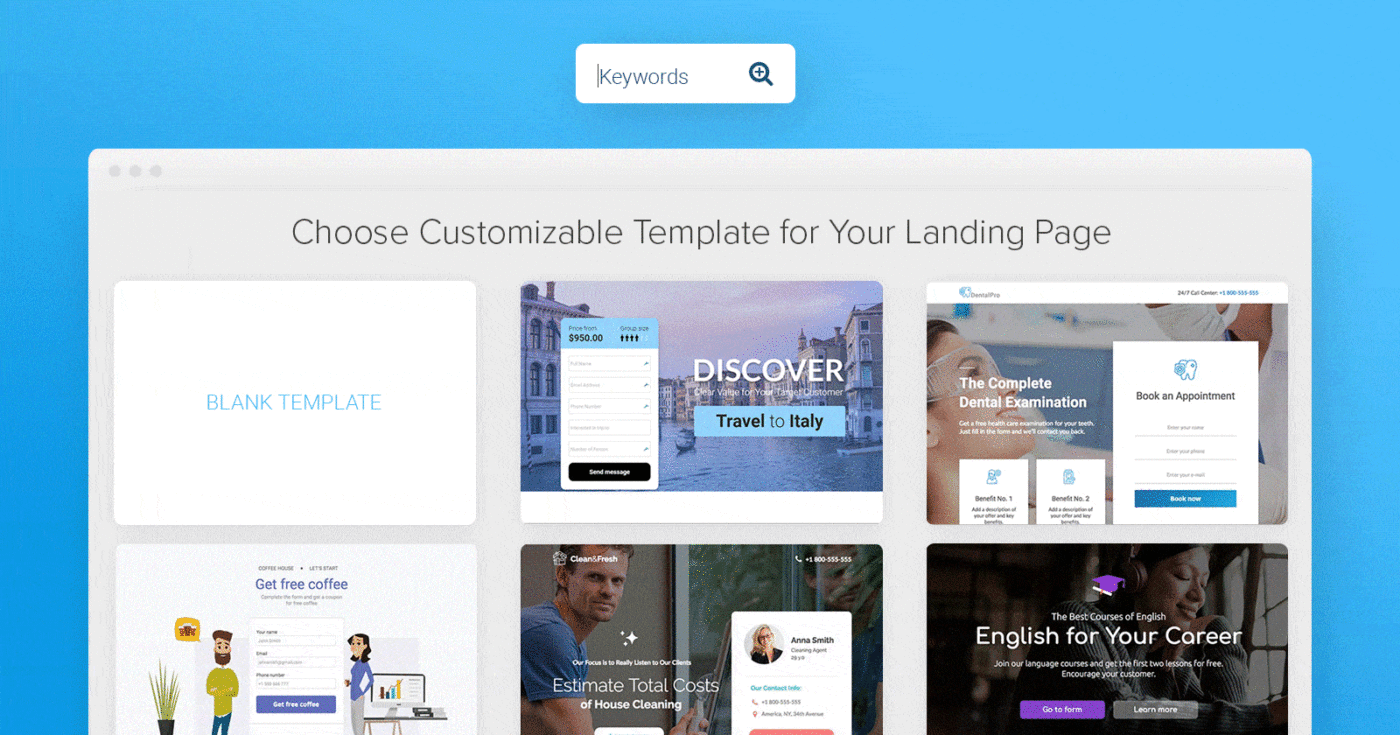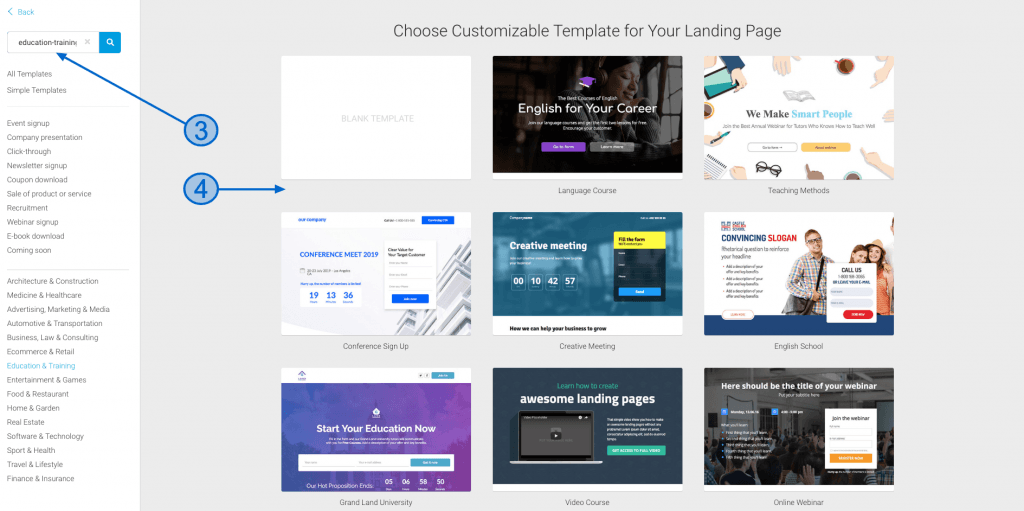 3 – keyword search
4 – ready to use templates
Every available model has two buttons on it: Use a template and Preview. If you choose the latter, you get access to a detailed view of it and an "edit" option.
The winds of change
What do you think about the recent changes? Did we meet your expectations with the new template grid? We look forward to every opinion and suggestion while always working toward building a better version of our app. Soon, we'll debut another Landingi insight – stay tuned!
Check out our discount for Automate plan!