B2B and B2C marketing – learn the difference
B2B and B2C marketing – learn the difference
Last updated: November 17, 2023
Once you try to adopt an appropriate marketing strategy, one of the most essential factors to be taken into consideration is your target audience. Whether you address your marketing message to other companies or to individual consumers, it should have a significant impact on planned marketing actions and channels used.
Companies and individual consumers have different objectives, needs and purposes. Therefore, it would be ill-advised to use the exact same marketing message to both groups. And here is where B2B (business-to business) and B2C (business-to-customer) marketing come into play – two separate types of marketing that you should know in order to run successful marketing campaigns and reach the right people with the right message.
Once you read this article, you will know:
Table of contents
show
hide
What is the main difference between B2B and B2C marketing?
The primary distinction between B2B and B2C marketing is the target audience. B2B targets other companies, while B2C focuses on individual customers. In order to implement a successful digital marketing strategy, you need to know which model aligns with your business.
Another essential difference between B2B and B2C marketing is the fact that their communication objectives are slightly different. B2B is more focused on building long-lasting relationships, B2C is rather centered around quick sales and short relationships.
In B2B, marketing messages emphasize the possibility of saving time, money and other resources – down-to-earth and easily measurable qualities of products or services. On the other hand, B2C is strongly based on emotions and fulfilling needs and desires of individual customers.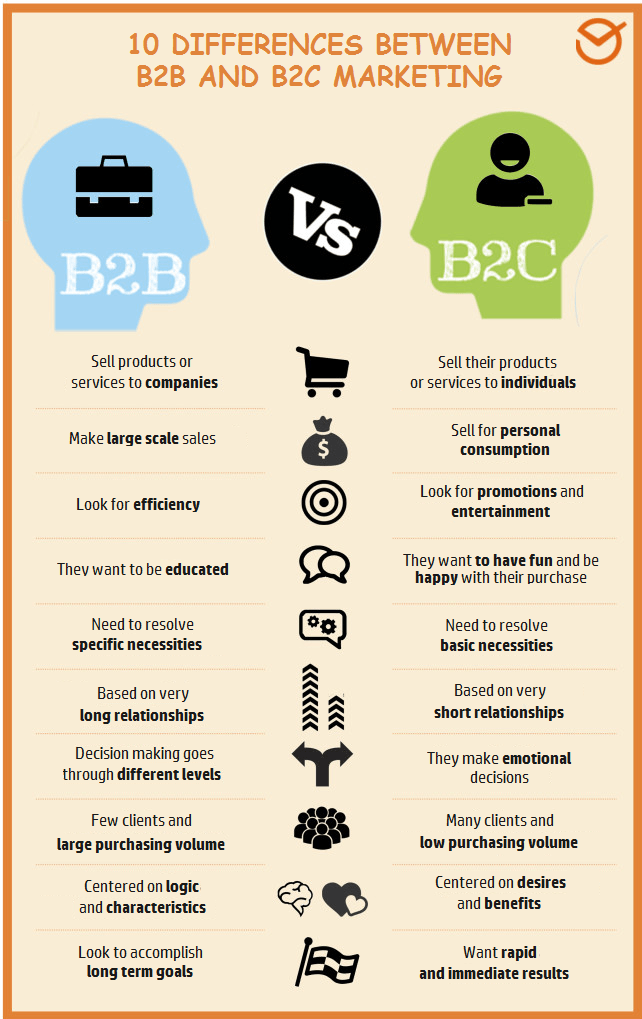 What is more, B2B marketing efforts are aimed at attracting only a few clients but ones that are prone to make large purchases, while B2C marketing approach is to attract a lot of consumers that will make small but numerous purchases. As a consequence, marketing costs in B2B marketing are usually significantly higher.
Nevertheless, what needs to be emphasized is the fact that B2B and B2C marketing share common ground as the success of any marketing campaign depends heavily on whether the values of your company speak to targets. As both groups purchase not only a product or a service but also what your business represents.
What are the focus points in B2B promotion with examples?
Customer education
Once you take care of the detailed explanation of all the features of products and services, the way they work and how they can be beneficial for customers, you have better chances of increasing your customer base and being perceived as an expert in the field.
It can primarily be done by interesting and engaging articles (posted on a blog) containing industry jargon. When it comes to blog articles it is also crucial to use appropriate keywords in order to reach new groups of customers through search engines.
Continuous work on high quality UX
If your website has a poor design and you have not optimized it for UX (user experience), it may be off-putting for potential customers. It is extremely important especially when it comes to B2B marketing as poor UX can make your business be perceived as shaggy and unprofessional.
Make sure that your homepage or landing page is informative, easy to navigate (with navigation path or menu), loads quickly and makes a good first impression. All of this guarantees that you have chances of increasing engagement and the possibility of making a sale.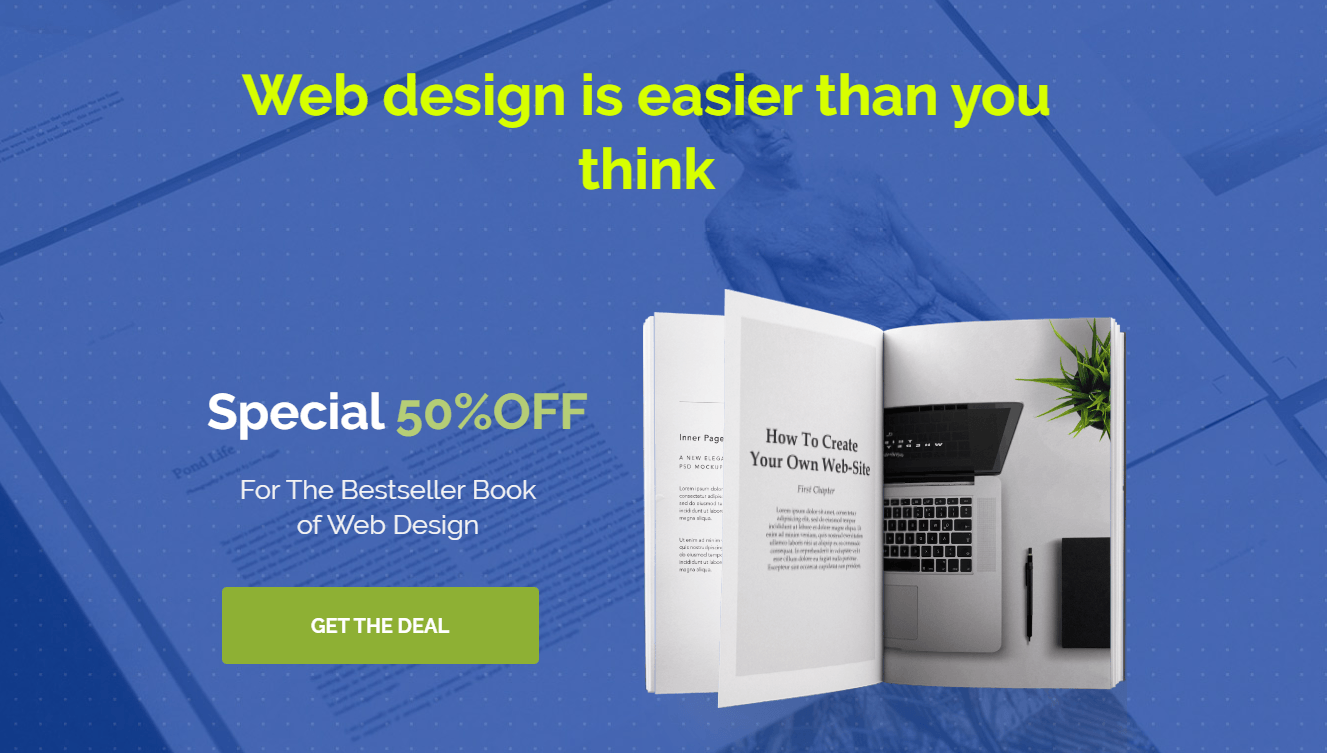 Increasing ROI as a benefit
In the B2B area, customers are focused primarily on efficiency that can be obtained using certain products or services. And the ROI (return on investment) is one of the most widely used indicators of efficiency success.
If you include the possibility of increasing ROI in your marketing message, it can work as a teaser for potential customers as it is a clear and high-quality benefit for their businesses.
Testimonials of other companies
In order to inspire trust and reliability of your products or services in your marketing messages (whether it's on a B2B landing page or directly in a marketing campaign), you should include recommendations and positive testimonials from your customers.
Customers like to feel that they don't purchase a pig in a poke, especially when it comes to more expensive services or products which are usually targeted at B2B businesses. By quoting honest and positive opinions about your solution, you present your business from the best possible perspective and increase the possibility of selling your product or service.
Clear cooperation rules
Another important aspect when it comes to B2B promotion refers to the fact that you should outline cooperation rules clearly. Hiding some features or writing something in small print may be perceived as an unprofessional and sneaky way of conducting business and result in losing potential customers.
What is important here is to use facts, figures and clear rules that speak to logic. In B2B promotion, honesty and quality are highly appreciated values and if you neglect them in your B2B promotion, you may fail.
What are the focus points in B2C marketing with examples?
Delivering entertaining content
Since people are highly invested in their own enjoyment when making a purchase, the simpler the message and the vocabulary used, the better as individual customers may not know the industry terminology.
A great example is using videos in your social media, on a landing page (created with Landingi) or on a website. You can also make use of infographics as they have been getting a lot of attention in the recent months.
Affecting emotions
Nowadays, people purchase with their hearts more often than with their minds. Therefore, your marketing actions should address their needs and desires rather than referring to logic. Show your potential customers that your solution can change their lives by making them easier and more pleasant.
Social media usage
Each year, social media usage grows (in 2019 by 9%!) which makes it an essential part of your digital marketing strategy, especially when it comes to B2C promotion. A great feature of social media platforms is the fact that you are able to make them about your customers, not your company. That, in turn, will assist you in engaging your audience and inspiring trust.
By posting on Facebook, Instagram, making quick tweets or LinkedIn articles, you have a great chance of showing them value that your solution provides them with. It is very easy to interact with your audience on social media and that can be used to increase effectiveness of your marketing actions and promotion.
Easiness of purchase
Another crucial aspect of B2C promotion is easiness and a carefree process of purchasing. It consists of:
accessibility of products – consumers don't like to wait and want to have everything all at once. If they don't purchase from your business, they will go to another one,
easiness of purchasing process – whole purchasing process should be easily done online and the process of payment should be quick and carefree,
easiness of searching in search engine – if you use appropriate keywords to describe your products or services, you have high chances of reaching masses of customers through organic traffic.
Influencer marketing
Since "70% of teens trust influencers more than traditional celebrities" and "86% of Women use social media for purchasing advice" (according to Digital Marketing Institute), you should take advantage of this and use influencer marketing properly.
The most crucial features of influencer marketing are activism, large relationship chain, authority, activity and trendsetting. All of them together enable influencers to inspire trust among their followers and have a great impact on their purchasing decisions. As such, influencers can easily encourage their followers to invest in your products and services.
As you can see, B2B and B2C promotion should be handled slightly differently, but they have a common objective: revenue and selling values. At the end of the day, no matter which side of the B2B or B2C divide you are on, all marketing is P2P (person to person) despite the external differences. And you should always have this in mind.
Get quality leads from all kinds of visitors
Ready to grow? Let's get started!

Join us and create the best-converting landing pages