How email marketing can help your business
How email marketing can help your business
Last updated: November 14, 2023
Email marketing is highly appreciated in the digital marketing world. Its outspoken qualities are easily noticed both by B2B and B2C marketing experts as they are fully aware of the power email marketing has.
According to studies, 81% of small and medium businesses rely on emails as their primary customer acquisition channel and 80% for customer retention. These numbers only prove that business owners already know that email marketing has potential but at times they don't make the most out of it.
'81% of small and medium businesses rely on emails as their primary customer acquisition channel and 80% for customer retention.'
Once you read this article, you will know:
Truth be told – emails are highly converting, economical and simple to use tools. Nevertheless, email marketing can help businesses in many other ways that are easily overlooked.
Table of contents
show
hide
How email marketing helps businesses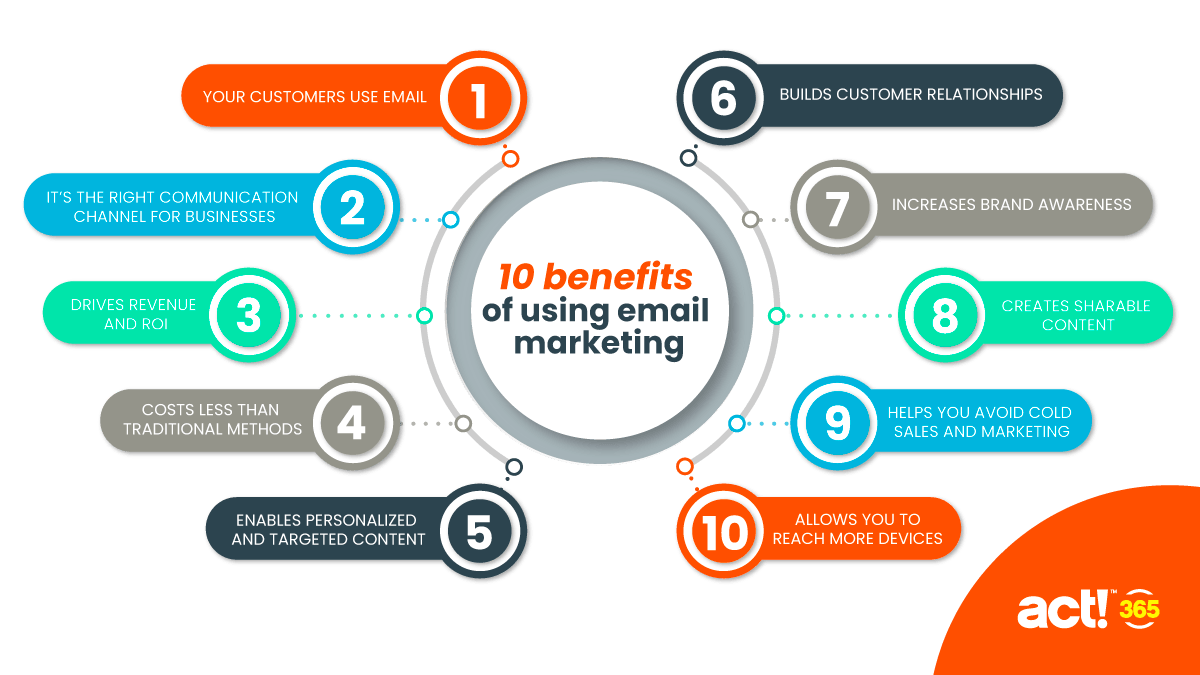 As you can see from the graph, there are numerous ways email marketing can help your business.
The vast majority of your customers use emails on a daily basis (according to Radicati, there are 3,9 billion email users these days) which makes emails a great tool to reach them, build a relationship and increase sales.
The most essential advantages of incorporating email marketing in your digital marketing strategy are:
'More than half of the global population now uses email. Radicati released updated figures early in 2019 that shows the total number of active email users has jumped to 3.9 billion.'
How email marketing improves a business-customer relationship
Once an Internet user visits your professionally crafted landing page (with Landingi page builder) and signs up for a mailing list or a customer purchases your product or service, they leave you a piece of personal information. It can be their name, email address, location or other personal data.
Once you have acquired such information, you are able to send them email messages on a regular basis and establish a promising business-customer relationship.
Getting valuable insights
With emails, you can send your audience meaningful content that will make them perceive your business as more professional and caring.
Nevertheless, you can also use these messages to obtain more valuable information about your potential or existing customers and tailor your offer more accordingly to their needs and preferences.
You can start to analyse, for example:
what their demographic data are (age, gender, location etc.),
what content corresponds to higher open rates,
what links recipients most willingly click,
whether they take part in your email surveys,
what they respond in your email surveys,
what offers they find interesting,
what time they open your emails.
To put it briefly, once you implement an appropriate analysis of demographic, behavioral, transactional and declarative data, you will be able to introduce a lot of efficient improvements to your offer and reach them with a product or a service they truly need and works for them best.
Inspiring trust
What is more, sending messages on a regular basis or asking for feedback will make potential customers more willing to trust your offer. It will also nurture the already-established relationship with your existing customer base. It will increase your credibility and honesty which are crucial values these days, highly appreciated by customers.
Once you have performed a proper analysis and adjusted your products for your target audience, you can kick off with creating special offers, adding new features to your existing products and services and informing about the latest news in your business.
Sharing such information will not only inspire trust, but it will also make your subscribers feel special. It will make them feel like VIPs of your business which will increase loyalty to your brand and chances of recommending your business to their friends and family (and we all know that old but gold word-of-mouth marketing is still incredibly powerful).
How email marketing can help your business earn more
Preparing special offers with dogged determination in order to entice your subscribers to make a purchase is one way to easily increase sales. Nevertheless, there are also other tricks that can significantly make your business earn more. And email marketing can assist in this as well.
There are three basic concepts that should be taken into consideration when it comes to using email marketing for sales boosting:
cross-selling,
up-selling,
abandoned cart and recovery emails.
Cross-selling vs up-selling in email marketing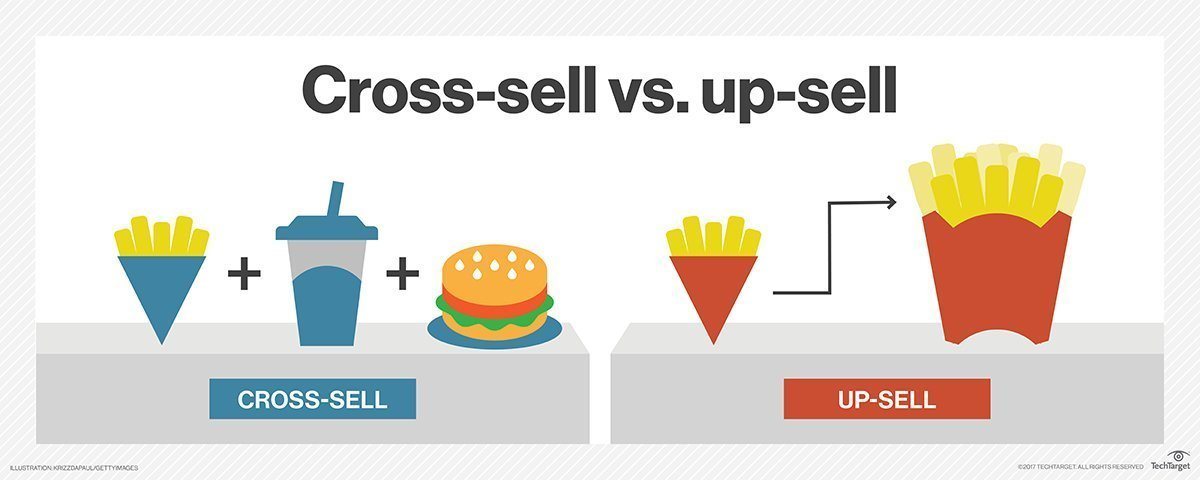 The illustration is already self-explanatory but let's break it down anyway – cross-selling is about offering complementary products or extra services to already chosen products, while up-selling is focused on offering higher-end products or services.
Nevertheless, the common ground of these two is just to record higher revenue and increase value from one customer.
Also, take into consideration the following fact from Invesp:
"The probability of selling to a new prospect is 5-20%. The probability of selling to an existing customer is 60-70%"
That makes using cross- and up-selling essential to get the most out of email marketing.
To illustrate it with an example – let's assume that you sell shoes. Once you notice that a specific customer has purchased a pair of white shoes, in a follow-up email you can offer them laces that will match the shoes perfectly (cross-selling) or more expensive brand shoes that you offer with free shipping for next season (up-selling).
Abandoned cart
As you can see in the graph shown above, between 2006 and 2019, the cart abandonment rate was between 60 and 72%. It is impossible to eliminate abandoned carts entirely, but you are able to minimize the number of abandoned carts using recovery emails.
Over the past few years, a lot of great practices in this matter have been spread around the digital marketing world. The most essential tips to have in mind while writing recovery emails are:
include "visit/return to your cart" or "see your favourites one more time" in order to encourage almost-customers to reflect on their purchase,
inform about scarcity of a certain product in order to impose a quick reaction,
keep it simple and be personal,
include cross- or up-selling.
All in all, recovery emails can assist in saving dozens of lost opportunities and combined with cross- or up-selling, they can significantly increase your revenues.
How email marketing can help increase website traffic
As previously mentioned, email marketing is a great tool to send meaningful content to your potential or existing customers. This feature can also be used in order to increase the number of visitors of your website by driving traffic back to engaging and top-notch articles you have created.
This way you are able to keep your brand on top of customers' minds and hopefully encourage them to purchase another product, log into their account or sign up for a service. If your target audience find emails packed with truly significant content on a regular basis, you will command respect and inspire trust.
What is more, once you remind your subscribers about your business and prove quality and expertise of it using excellent blog posts, you have a chance to increase brand awareness, brand recognition and encourage customers to further explore your business.
As you can see, email marketing can help your business in numerous ways. It provides you with a unique opportunity to tailor your products and services to the needs of your target audience, build a trustworthy relationship with them and nurture it on a regular basis.
This, in turn, will increase traffic on your website or sales significantly. Once you adopt an appropriate email marketing strategy, you can truly improve your business performance and make it thrive.
Boost your email marketing performance