What's the definition of content?
What's the definition of content?
Content marketing strategy is said to be one of the most crucial and influential digital marketing areas when it comes to influencing purchasing decisions and increasing customer loyalty to the brand. Over the past few years, during a storm of newborn businesses and state-of-the-art start-ups, so much content has been created that the original idea behind its meaning has been slightly lost in this overabundance of digital creations.
Read on to find out what is the definition of content, the meaning of content for customers, and what type of content is the most effective for businesses.
What is definition of content in a dictionary?
'Content' noun is widely used by digital marketers and business owners. However, the definition of content does not limit it exclusively to websites, landing pages (created with landing page builder or not), applications and other digital forms. Actually, to clearly understand the true meaning of content it is advisable to get back to the basics and look it up in a dictionary.
Let's then take a look at the definition of content as the term itself is quite broad. Collins dictionary outnumbers six basic content definitions in writing such as:
As you can see, content definition is not just limited to one perspective. Even though, when it comes to marketing world, the fourth one is the most essential. Of course, the remaining ones can also contribute something valuable to the marketing content definition.
If you are interested in exploring the term itself, you should definitely check out the below video.
What should be meant by content?
An in-depth look at look at the content definition was given by Rachel Anne Bailie, who tweeted that "Content is contextual, human–usable data". This explanation seems to, more or less, combine all the above five into a concise one.
Such a look at the content can be truly helpful for online business owners and marketers. As even though the definition itself is quite strict, from business perspective the content should always be useful and focused on the users.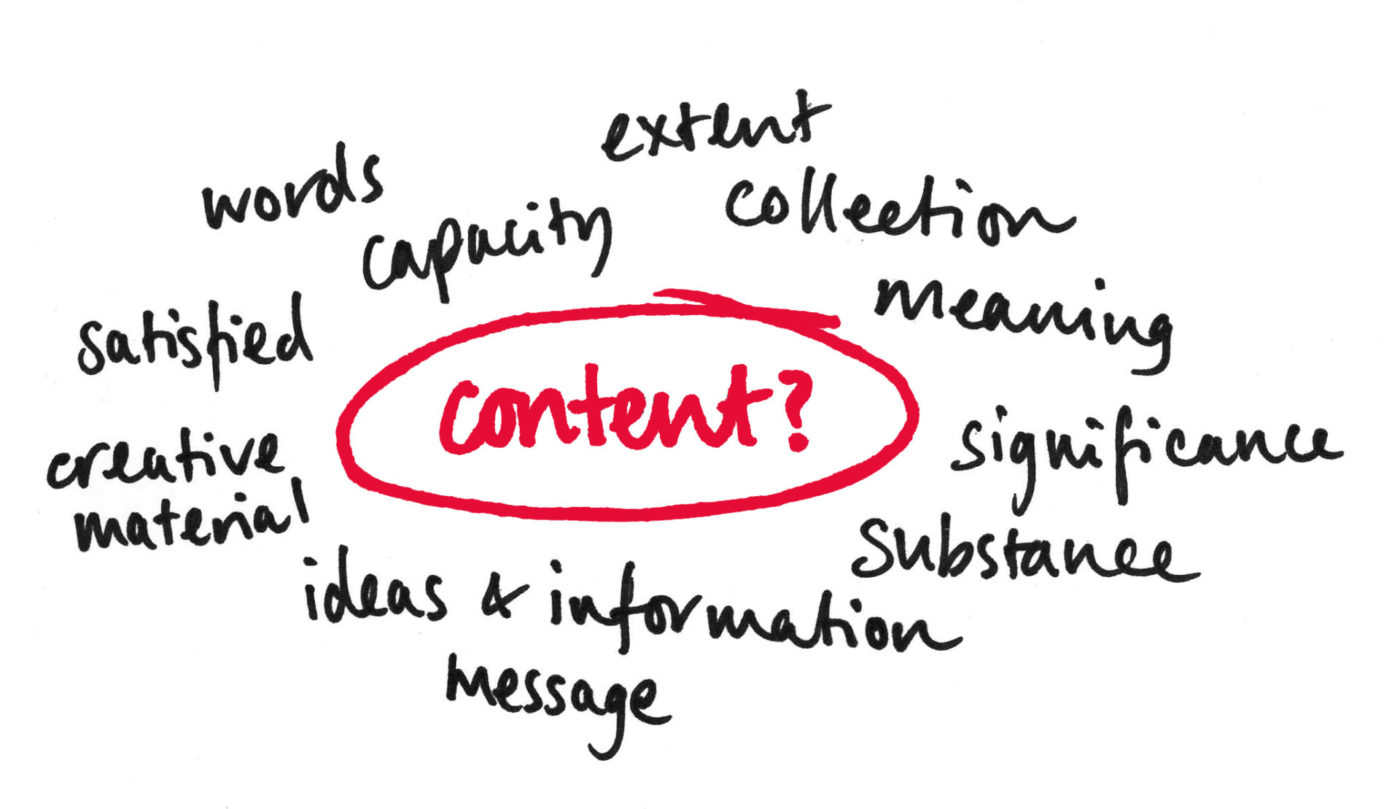 Source: https://www.valuablecontent.co.uk/blog/are-you-content-with-the-word-content
Information is the key
The most crucial part of the quoted dictionary definitions is the phrase "information". It is the essence of creating content for all digital marketers and specialists. Nevertheless, it should not be just a simple information not bringing any value for your target audience.
From the business perspective, content should always refer to meaningful, engaging and solution-giving pieces of information. Only valuable content will matter to your target audience. In order to have a state-of-the-art content marketing strategy, you need to understand the meaning of valuable content for your potential clients.
Content marketing
Once you hear the phrase "content marketing" many concepts may come to your mind. Since content is all about right and meaningful information, you have a wide range of options that can be put into life. Usually content is associated with blogging and social media actions such as Facebook, Twitter or Instagram posts.
However, it is worth mentioning that when it comes to content, possibilities are endless and your imagination is the only limit. As you can see from the content definition, there are no boundaries or strict conditions to label your creation as "content". All the data you provide your audience with that has some value for them is content. And there are numerous types of content you can make use of once you run an online business.
What are the basic types of content in marketing?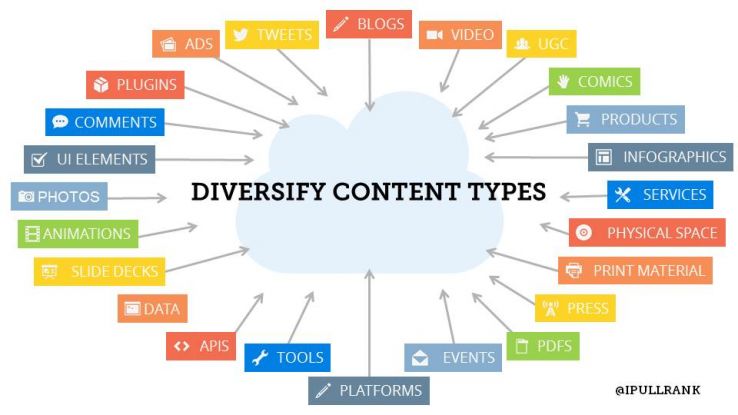 Source: https://www.preceptist.com/blog/content-marketing-lessons/
As mentioned, the range of content options is wide and you can come up with plentiful ideas of content for your business depending on your product or service features, as well as target audience. Nevertheless, there are 4 basic ones you ought to be familiar with that enable you to reach different customers in a number of ways.
Blogging
In many cases, blog posts are the most essential part of content marketing strategy. Blog posts are not time consuming to create, can be SEO-optimised and easily found by Google users. Also, the audience likes to share the true valuable ones. All these advantages enable you to offer quality value at low cost by blogging.
55% of marketers say blog content creation is their top inbound marketing priority
Case studies
Case studies are detailed examinations of specific scenarios or examples that provide audience with inspiring stories and actionable data. Their undisputable merits are searchability and shareability, as people like to get to know real-life cases with in-depth analysis explaining the issue discussed.
Usually, the most effective case studies are those built upon a scheme:
introducing a problem of a given client,
explaining which changes you were to introduce,
describing the timeline of events,
showing the impact your actions had on the client's business (based on measurable data).
Once you follow the best practices when it comes to incorporating case studies into your content, you have great chances of converting and collecting more leads. Not only do you seem to be an expert in a field but also prove it with meticulous analysis.
Videos
Videos are dynamic engaging, easily and willingly shared, and loads of users prefer to watch a video instead of to read a lengthy article (exactly 4 times more users).
Moreover, videos have chances of become viral and quickly widespread by user sharing and old but gold word-of-mouth. Once your videos are truly meaningful, exceptional and cause strong emotions among viewers, the probability of its wide distribution rockets up in the sky. Once your video goes viral, your brand awareness may be significantly improved – so it's a game worth playing.
Infographics
Infographics are most often used on Instagram since they let you easily pack a lot of information into one visually interesting and nice image. This way, you are able to provide your audience with valuable information in a highly ordered and appealing way. It is proved that 40% people are more responsive to visual messages than text ones.
What is crucial when it comes to using infographics in the content is the fact that usually visual messages are 43% more effective in transmitting information than simple text ones. Therefore, even if content usually brings written words to mind, images and graphics can turn out to be even more efficient in terms of users engagement.
Content matters
So, what is the meaning of content for marketing purposes? In today's digitized world everything useful or engaging you publish online that can be associated with your brand or business is your content. Understanding the content definition and its meaning for customers is crucial in regards to running online business. Once you provide your audience with real value, you can genuinely improve your marketing strategy and be perceived as an expert in your area by your target audience.
These days, quality and authenticity are two highly appreciated values usually defined by using the right content and providing your potential customers with it. Therefore, you should never underestimate its importance and reflect on what content is the most appropriate for your business at the moment.