What's the definition of content?
What's the definition of content?
Last updated: May 30, 2023
20min read
Content marketing strategy is said to be one of the most crucial and influential digital marketing areas when it comes to influencing purchasing decisions and increasing customer loyalty to the brand. Over the past few years, during a storm of newborn businesses and state-of-the-art start-ups, so much content has been created that the original idea behind its meaning has been slightly lost in this overabundance of digital creations.Read on to find out what is the definition of content, the meaning of content for customers, and what types of content are the most effective for businesses. With an overview of some basic content ideas, you will be also well-equipped to start creating content yourself and even frame it within a content strategy.

What is content? Let's check in a dictionary
'Content' noun is widely used by digital marketers and business owners. However, the content definition does not limit it exclusively to websites, landing pages (created with or not), applications, and other digital forms. Actually, to clearly understand the true meaning of content, it is advisable to get back to the basics and look it up in a dictionary.
Let's then take a look at the definition of content as the term itself is quite broad. Collins dictionary outnumbers six basic content definitions in writing. Let's list them all to
Definition 1: Things inside
The contents of a container such as a bottle, box, or room are the things that are inside it.
Usage example: "The contents of this package may arouse suspicion".
Definition 2: Subject
If you refer to the content or contents of books, speeches, TV programs, and so on, you are referring to the subject that it deals with: the story being told, expressed ideas, etc.
Usage example: "The play's content was thought-provoking and emotionally charged, leaving the audience in awe".
Definition 3: Chapters list
The contents of a book are its different chapters and sections, often presented in a list at the beginning or the end of the book.
Usage example: "The book lacks a table of contents".
Definition 4: Program
The content of something like — for example — a language course or an action program is the elements that it consists of.
Usage example: "The program's content was carefully curated to cater to a diverse audience".
Definition 5: Substance
Content is also used when referring to any kind of material that can be read or watched online, on television, or in print.
Usage example: "All providers offering paid online content will have to follow the new policies".
Definition 6: Ratio
We also talk about content with reference to the amount or proportion of something.
Usage example: "The fat content is 0,7% by weight of the product".
As you can see, the content definition is not just limited to one perspective. Even when it comes to the marketing world, several meanings stay essential.
What is content or what should be meant by it?
An in-depth look at the content definition was given by Rachel Anne Bailie, who tweeted that "Content is contextual, human–usable data". This explanation seems to, more or less, combine all the above five into a concise one.
Such a look at the content can be truly helpful for online business owners and marketers. As even though the definition itself is quite strict, from a business perspective, the content should always be useful and focused on the users (potential customers).
Information is the key
The most crucial part of the quoted dictionary definitions is the phrase "information". It is the essence of creating content for all digital marketers and specialists. Nevertheless, it should not be just simple information not bringing any value to your target audience.
From the business perspective, content should always refer to meaningful, engaging, and solution-giving pieces of information. Only valuable content bearing relevant information will matter to your target audience. In order to have a state-of-the-art content marketing strategy, you need to understand the meaning of valuable content for your potential clients.
A well-addressed and relevant content may be a subtle way to convey a value proposition (check here in more detail how you can create it), which can significantly increase a conversion rate.


Get 111
Landing Page
Examples – the
Ultimate Guide
for FREE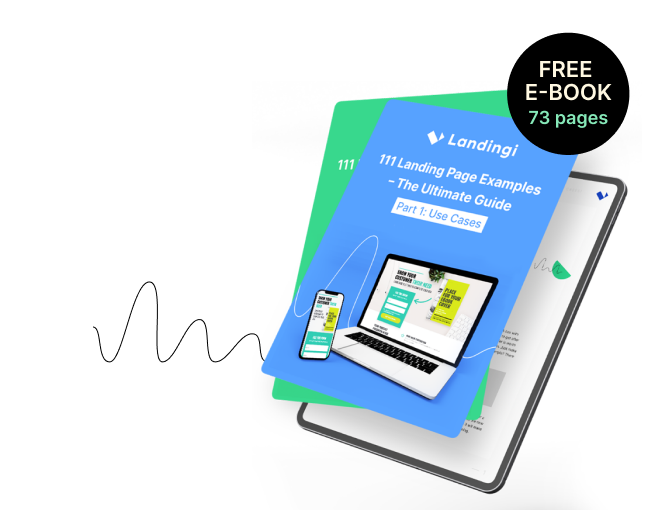 Content marketing
Once you hear the phrase "content marketing" many concepts may come to your mind. Since content is all about right and meaningful information, you have a wide range of options that can be put into life. Usually, content is associated with blogging and social media actions such as Facebook, Twitter, or Instagram posts.
But the selection may be much broader: video content, white papers, different types of articles, website content, answers to audience's questions, sponsored content, and specific types of user activities – all of these things make up a good content marketing strategy.
However, it is worth mentioning that when it comes to content marketing, possibilities are endless and your imagination is the only limit. As you can see from the content definition, there are no boundaries or strict conditions to label your creation as "content". All the data you provide your audience with that has some value for them is content. And there are numerous types of content you can make use of once you run an online business.
What are the basic types of content in marketing?
As mentioned, the range of content options is wide and you can come up with plentiful ideas of content for your business depending on your product or service features, as well as your target audience. Nevertheless, there are a few basic ones you ought to be familiar with that enable you to reach different customers in a number of ways. So, let's dive into some examples!
Blogging
In many cases, blog posts are the most essential part of content marketing strategy. A blog post is not time-consuming to create. It can be SEO-optimised and easily found by Google users. Additionally, it may contain great content including piece of information relevant to prospects or consumers. Also, the audience likes to share the truly valuable ones. All these advantages enable you to offer quality value at a low cost by blogging.
55% of marketers say blog content creation is their top inbound marketing priority.
Newsletter e-mails
Email newsletters are regular communications sent to subscribers' inboxes. They provide updates, promotions, and valuable content directly to an interested audience. Email marketing allows businesses to nurture leads, maintain customer relationships, and drive conversions.
It's a very common form of content marketing. You can probably confirm it by... checking out your e-mail box!
Case studies
Case studies are detailed examinations of specific scenarios or examples that provide the audience with inspiring stories and actionable data. Their undisputable merits are searchability and shareability, as people like to get to know real-life cases with in-depth analysis explaining the issue discussed.
Usually, the most effective case studies are those built upon a scheme:
introducing a problem of a given client,
explaining which changes you were to introduce,
describing the timeline of events,
showing the impact your actions had on the client's business (based on measurable data).
Once you follow the best practices when it comes to incorporating case studies into your content, you have great chance of converting and collecting more leads. Not only do you seem to be an expert in a field but also prove it with meticulous analysis.
Videos
Videos and visual content are dynamic, engaging, and willingly shared. Loads of users prefer to watch a video instead of reading a lengthy article (exactly 4 times more users).
Moreover, videos have chance of becoming viral and quickly widespread by user sharing and old but gold word-of-mouth. Once your videos are truly meaningful, exceptional and cause strong emotions among viewers, the probability of their wide distribution rockets up in the sky. Once your video goes viral, your brand awareness may be significantly improved – so it's a game worth playing.
Learn how to build up step by step your video content strategy.
Social media
Social media platforms like Facebook, Twitter, Instagram, and LinkedIn provide opportunities to create content and share diverse pieces of it. This includes text-based posts, images, videos, polls, live streaming, stories, and more. Social media posts help build brand awareness, engage with the audience, and drive traffic to websites.
User-generated content (UGC)
UGC includes content created and shared by customers or fans of a brand. It can be in the form of testimonials, reviews, social media posts, or customer stories. UGC helps build trust, authenticity, and social proof for a business. As such, it may be fairly relevant throughout the content marketing strategy.
Infographics
Infographics are most often used on Instagram since they let you easily pack a lot of information into one visually interesting and nice image. This way, you are able to provide your audience with valuable information in a highly ordered and appealing way. It is proved that 40% of people are more responsive to visual messages than text ones.
What is crucial when it comes to using infographics in the content is the fact that usually, visual messages are 43% more effective in transmitting information than simple text ones. Therefore, even if content usually brings written words to mind, images and graphics can turn out to be even more efficient in terms of user engagement.
Ads
Ads are used to promote products, services, or brands. They utilize persuasive messages across various media channels to capture the audience's attention. Ads highlight the benefits and unique features of the offering to influence purchasing decisions. They often employ visual elements, storytelling, and persuasive techniques to engage the audience and prompt them to take action.
Nowadays, it's hard to imagine content marketing without search engine advertising at all. Of course, the most popular brand in the stack is Google Ads.
Unveil some less popular though sometimes equally effective alternatives for Google Ads.
White papers
This meant a comprehensive and authoritative document that addresses a specific problem, presents a solution, or offers valuable insights within a particular industry. It typically provides in-depth analysis, research, and data to support its claims and recommendations. White papers are commonly used to establish thought leadership, educate target audiences, and for lead generation purposes by offering valuable information and showcasing a company's expertise.
It is more often used in traditional marketing, but its popularity, along with the awareness of the values it may provide, grows rapidly also among digital content marketers. It seems a good way to provide high-quality content and more value than you are able to convey with a blog post, Instagram post, or headline, where you can only put the most important idea at the moment.
Learn more about free content marketing tools you may use to boost your marketing effectiveness.
Content matters
So, what is content, and how it can be used for content marketing purposes? In today's digitized world, everything useful or engaging you to publish online that can be associated with your brand or business is your content. Understanding the content definition and its meaning for customers is crucial in regard to running an online business. Once you provide your audience with real value, you can genuinely improve your marketing strategy and be perceived as an expert in your area by your target audience.
These days, quality and authenticity are two highly appreciated values usually defined by using the right content and providing your potential customers with it. Therefore, you should never underestimate its importance and reflect on what content is the most appropriate for your business at the moment.
Find out here why it is crucial to define content marketing strategy.
Ready to grow? Let's get started!
Join us and create the best-converting landing pages