The most helpful content marketing free tools in 2020
The most helpful content marketing free tools in 2020
Last updated: November 3, 2021
9min read
Content is essential.
You can hear this phrase from every digital marketing savvy. The most successful marketers realize that once you create meaningful content, you are able to reach and engage your target audience, inspire trust, increase brand awareness and boost sales.
A lot of people incorrectly reduce content exclusively to blog posts and focus all their creative efforts on writing high quality articles with the industry jargon and useful tips. Although these are important, there are also numerous and frequently more effective content types that should be implemented. Especially in the 21st century.
The key aspect to be considered in your content creation is the audience. Your potential customers should always be at the top of your head, no matter which marketing creation you are working on. Therefore, you need to create useful, informative and comfortable content that will prove useful for them, not just for you.
Luckily, you can find an enormous number of solutions, tools and services that will facilitate content creation and provide your target audience with the ones they will fancy most. Luckily, most of them offer free of charge basic or trial plans.
Once you read this article you will know:
Types of content you can create
Before we move on to details, let's take a brief look at the spectrum of possibilities in regards to content creation.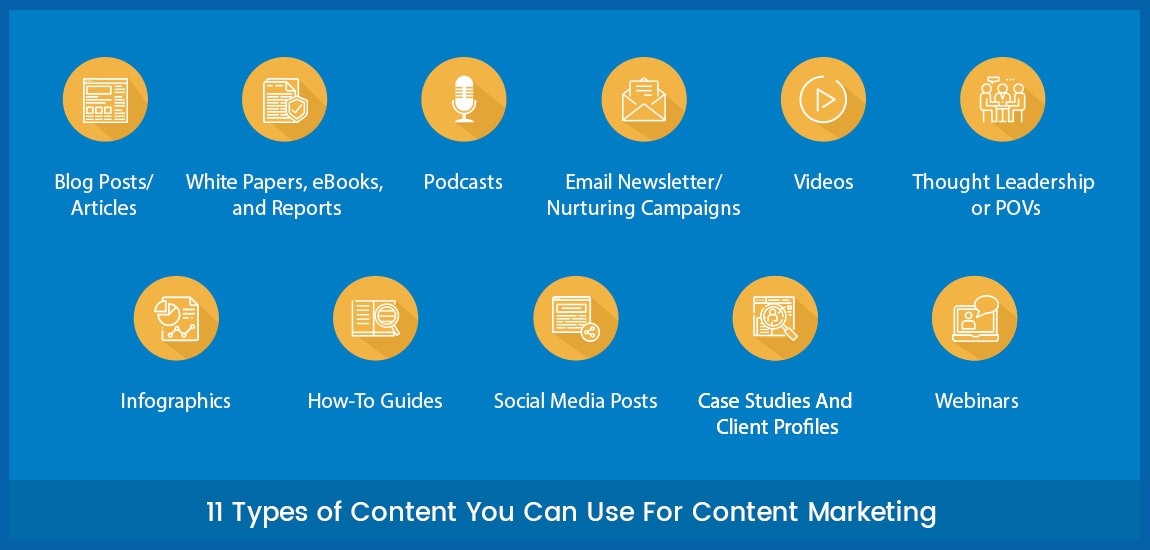 Source: https://www.e2msolutions.com/blog/types-of-content/
Frankly speaking, the graph shows merely the tip of the iceberg when it comes to content, as the pool of content possibilities is endless and constantly evolving.
These days, one of the most appreciated types of content is video, which is said to be overtaking blogs and infographics.
Nevertheless, trends change overtime, and the best strategy would be to keep up with the latest ones. If you are in need of inspiration and constantly search for new ideas, you can use such tools as:
Quora – a question-and-answer site where questions are asked, answered and modified by Internet users. It is primarily used for research, finding information, or even social interactions. It's free of charge, but you need to sign in to use it,
Paper.li – a content curation website enabling users to read online newspapers that generate based on their preferences. This way, it provides you with daily stories from social media and the web,
Pinterest – a social platform used for collecting and arranging visual materials gathered from the Web. Since, according to Strong Coffee, "Pinterest is 80% more viral and 3x more effective at generating leads than Twitter", it is recommendable to use it (in order to, for example, get inspiration for viral marketing campaigns).
Pinterest is 80% more viral and 3x more effective at generating leads than Twitter
These three tools will provide you with new, fresh ideas you can implement into your content marketing strategy. Now let's take a look at the tools that will assist you in creating the very content.
The best free tools for content marketing
Work planning
In order to make content creation and publication more efficient, you need tools that will help you in planning tasks such as:
Trello – a platform letting you use boards, lists and cards. In Trello you can easily organize and prioritize your projects in a flexible way. The free version offers unlimited boards, cards and lists,
Mindmup – a great tool to create and share mind maps for free, and store them in the cloud. It enables you to access them from any device whenever you wish,
Planoly – if you use Instagram or Pinterest, Planoly will help you in posts planning and sharing. The free version offers up to 30 uploads per month, and can be linked to Instagram and Pinterest accounts,
Hootsuite – a tool used for scheduling, managing and reporting on social media content. In order to use Hootsuite for free, you need to sign up for a 30-day-trial.
Keywords analysis
In order to create content that will be useful and engaging for your target audience, you need to know which phrases users search for in search engines. To analyze the whole process properly, you should use a keywords research tool.
You can make use of another free platform, namely Ubersuggest. Besides keywords research (providing you with data about volume, CPC or SEO difficulty), it offers features such as:
domain overview,
backlinks check,
keywords ideas,
top SEO pages of your competition.
The basic features of the platform are free of charge, but in order to use the tool at full capacity, you can sign up for a 7-day free trial and discover more advanced features.
Infographics creation
Even though video is overtaking infographics, the informative graphs and charts are still powerful and relevant for Internet users. In order to create fresh, informative and engaging infographics you can use tools such as:
Venngage – you just need to choose a template, add visuals and customize your design, which makes the creation process carefree. The free version of the tool allows you to create up to 5 infographics,
Canva – it allows you to create not only infographics but other visuals as well. The basic free of charge plan comes with more than 8,000 free templates, over 100 design types (for social posts or letters), and hundreds of free photos or graphics,
Pixabay – a great stock photos source where you can find hundreds of free high quality photos you can use for your infographics,
Unsplash – another stock photos source with free of charge beautiful photos posted by professional photographers.
Podcasts and webinars creation
The podcasts are on the upward trend, which makes them a promising tool to be included in your content marketing strategy. In order to create podcasts, you can use tools such as:
Audacity – a multi-track audio editor and recorder. It is an open source software, and you may download it from their site,
Anchor – a free of charge tool created specifically for recording high quality podcasts and distributing them.
Apart from podcasts, you can also create relevant and compelling webinars for your audience In order to do this, you can use GoToMeeting. You are able to start a 14-day free trial period and host meetings for up to 250 participants.
Email creation and sending
Email marketing strategy is one of the most powerful concepts utilized to build relationships with customers, inspire trust and increase sales. In order to implement it in the most effective way, you can use email marketing software such as:
Mailchimp – the free version enables you to collect up to 2,000 subscribers, segment them, add tags, create various email marketing campaigns, and use basic email templates,
Sender – the free version allows you to have up to 2,500 subscribers and to send them 15,000 emails per month,
Benchmark –  the basic free-of-charge version allows you to collect an unlimited number of subscribers and send up to 150 emails per month.
EmailOctopus – the free Starter plan enables you to email up to 2,500 subscribers with 10,000 emails per month, and gives you access to an email editor, templates, landing pages and pop-up forms, plus advanced tools including automation and segmentation.
Correctness verification
Once you write your homepage or landing page copy, or an article, you need to take care of the correctness of text and its readability. In order to do this properly, you can use Hemingway.
It is an app that will check your text and detect all the errors, too lengthy sentences, or weakening phrases for you. Once you use it, you can be sure your texts are digestible for readers.
Activities analysis
Once you have created high-quality content using free tools for content marketing, you should analyse the effectiveness of every creation. In order to do this most precisely, get familiar with such reporting tools as:
Google Analytics – one of the most powerful and widely used reporting tools. It features custom dashboard, traffic reporting, data visualization, conversion tracking and integrations with other platforms. And all of this for free,
Woopra – an alternative to Google Analytics. The basic free of charge version allows you to make 500,000 actions per month, provides you with core analytics and reports, and may store the data for 90 days,
SimilarWeb –  the free version of the tool comes with valuable insights from mobile app data (up to 1 month) and from the Web traffic (up to 3 months).
As you can see, content creation is not only about the creation itself but also about planning the whole process of scheming, turning into life and distribution. Using the free content marketing tools mentioned above allows you to create high-quality content in an organized way, and to analyze its effectiveness afterward. Use the tools properly and let yourself take your content marketing to the next level. And who knows what the future holds?
Share your content on landing pages