An All-Inclusive Guide to Video Marketing
An All-Inclusive Guide to Video Marketing
Last updated: September 21, 2023
33min read
Video Marketing seems to be pretty straightforward at first sight: you create a video and market it until you accomplish your goal.
But, to produce the maximum outcome out of your marketing videos, you need to leverage video marketing strategy.
In this detailed yet simple Video Marketing Guide for beginners and advanced marketers alike, I will cover what, why, and how-to of video marketing, along with a list of tips to boost the success rate of your video marketing.
So, let's start by tackling the definition.
What is Video Marketing?
When a brand or business uses videos to promote and market their products and themselves, along with boosting conversions and acquiring more customers, then that process is called Video Marketing.
A robust marketing campaign must include engaging videos in the strategy along with social sharing, content, link building, etc.
Including a video marketing strategy in a marketing campaign can lead your brand to experience a boost to the campaign's success rate.
Well, here is why.
Why is Video Marketing Important?
There are eight convincing reasons why your brand should add a video marketing strategy to its marketing campaigns.
Improve your engagement rate
Factually speaking, nearly 5 Billion videos are watched every day on YouTube, which is enough to conclude how easier it might become to target audiences.
Moreover, on social media, video content gets 12% more shares than the other forms of content including text and images as claimed by SmallBizTrends.com, making videos the most shared form of content on social media.
Due to video marketing's high engagement rate, including a video on your website can lead to a fall in your bounce rate.
Convenient Brand Recall
The common knowledge: visuals are more memorable than any other form of content. And if we couple it with a jingle, then the probability of remembering increases.
Hence, Video Marketing can promote brand recall. Even the facts are in favor of this argument: 47% of audience find it easier to recollect a video they have seen recently.
Enhance SEO
Quality and valuable video content play a significant part in your website's SEO (Search Engine Optimization). Bounce rate is one of the factors that can influence your site's SEO. With video marketing, you can reduce your site's bounce rate by 34%.
When people are on your website, and you provide them with video content that is both engaging and valuable, then your visitors would prefer watching it; hence, leading to a decreasing bounce rate.
If your audience is watching a video on Facebook, and its content is compelling enough, then the viewer is more likely to visit your website. Therefore, increasing the traffic driven to your domain, which has a direct effect on your SERP (Search Engine Result Page) rankings.
Video Content is Educational
When you have tutorials or how-to videos about your products and services, it makes it easier for the users to understand that product.
Textual knowledge, though detailed, can be a bit hard for the reader to gain a practical understanding of the product unless conveyed with proper screenshots. Whereas, videos give you a step-by-step visual tutorial about how to lead with every step.
High Conversion Rate
The conversion rate driven by videos is excellent, especially for the landing pages. So, when you include video to a landing page, the probability of the visitors converting increases by 20% (as Rypple experienced during their A/B Testing).
In fact, 70% of marketers confide in videos because they convert more than the other forms of content.
Suggested reading: Landing Page Best Practices for Boosting Conversions (With Infographic).
More Chances of Going Viral
Since videos are shared 12x more times than text or links on social media, it sparks the possibility that your video can become viral all over the internet. Although, the content of your video has to be viral-worthy.
A Favourite to the Mobile Users
The number of Internet users has increased over the years. And most of them access the Web through mobile rather than a desktop, similar is the case with mobile users. Around 90% of mobile users watch videos, whereas desktop only has 60% that are watching videos through that platform.
Impressive ROI
Every single one of the advantages of using video marketing is ROI (Return On Investment). Videos have higher conversion rates and engagement rates than any other form of content.
Even when you use the word 'video' in your email's subject line, then your open rate increases by 19% and the CTR (Click Through Rate) increases by 65%.
So, if you invest in video marketing assets, at the same time, you increase your chances of skyrocketing your ROI.
But, of course, it all depends also on whether your video content is created professionally (in terms of production and fitting the audience) or not.
What are the various types of marketing videos?
Moving on, here are the different types of marketing videos:
1. Brand Videos
These types of videos are all about your brand. They cover the brand's journey – how it began and why you should trust this brand.
Brand videos cover the products and services your brand offers along with communicating the long-term goal you are trying to achieve.
The primary purpose of brand videos is to build awareness amongst the people, reach a broader audience, attain more target audience, and generate more leads.
2. Explainer Videos
Explainer videos are the best way to let your target audience understand your products and services in detail. Generally, these type of videos heeds more attention to the buyer's dilemma or problems, and provide them with an actionable solution to their product.
Landingi's explainer video introducing the Smart Section function.
3. Product demo videos
This type of video content showcases how a product works, its features, and benefits. These videos help potential customers understand the product's value, so after watching, they should be able to decide if they need the product or service or not.
A pretty unique idea is to embed demonstration videos in the page background like Surfer does it (see a full demonstration video on their website). The main advantage of this solution is to instantly show visitors the platform's possibility, but – on the other hand – it may extend the loading duration.
4. How-to Videos
Unlike explainer videos, how-to videos are usually pretty detailed. They provide the audience with a tutorial about how to use a product or service to get the most out of it. The primary focus of these videos is on helping the community. The sales and marketing team can utilise the power of these videos to help the customers understand your product smoothly.
In the video above, Jay Webski learns users how to convert leads into paying customers through upgrading content.
5. Animated Videos
The animated video is visually pleasing. It can assist your brand in helping the user grasp complex concepts and services with ease. Videos of this sort, with their engaging animations, can lead your customer to understanding the very details and make them easy to remember. Also, animated videos can boost your conversion rate by 64% (the Crazy Egg case study).
Landingi's exploit animated video to demonstrate their landing page templates for a broad range of businesses.
6. Live Videos
Live Videos are one of the most prominent ways to track real-time engagement. These type of videos tend to mark exclusivity, plus people spend 8X more time on watching a live video than an on-demand video.
7. Event Videos
When you are hosting an event be it about fundraising, launching a new product, and conducting interviews during that event, you can record them and publish them later. You can engage the audience with the live coverage of these events on social media as well.
In this event video, Elon Musk is unveiling Tesla's Model 3.
8. Testimonials
User Generated Content (UGC) can be an excellent way to build trust and credibility amongst your audience. You can create customer testimonial videos featuring your most loyal clients. Their opinion will help shape the view of the new users who are skeptical about buying your product or using your services.
Customer testimonial video example.
9. Webinars
A webinar is a mix of live videos and explainer videos. The viewers of the webinar can ask questions to the expert conducting the webinar. And the expert can resolve the user's query in real-time.
Video marketing with a webinar by Elsevier promoting its Researcher Academy.
10. FAQ and Q&A Videos
In videos of that sort you may immediately address frequently asked questions or provide answers to users or customers objections.
After understanding what video marketing is and knowing about the various types of marketing videos, it is time that you should learn how to run a video marketing campaign.
How to do Video Marketing?
In the below part of our video marketing guide, I will show you how to get started with six easy, tough, necessary steps. However, if you need more in-depth information on each one, please jump to the next parts.
Step I: Formulate A Measurable Goal
Before you begin with creating the video, you must identify what you are trying to achieve with your Video Marketing strategy. Plus, it is necessary that you formulate an appropriate process to measure your goal.
Your goal should be relevant, measurable, actionable, and time-bound. All of these elements will make it easier for you to track and achieve most of your goals.
Step II: Determine The Appropriate Marketing Video
Here's another essential element that you should cater to before you create your video, and that is to know what type of video do you wish to create?
After setting your goal, you will have a clear idea about what type of video should produce the maximum outcome.
For instance, if you want to make your audience aware of your brand and to generate new leads, you can create Brand Videos.
Step III: Create The Video
Now, after determining your goal and the type of video you want to bank on, you should finally take a step forward and start the video creation process.
Choose from the wide range of video creators one you consider the most appropriate. Take into account video editing options and ensure it has all the features you need, such as animation, text overlay, transitions, and special effects, to match your project requirements. Opt for software with an intuitive interface and easy-to-navigate tools, ensuring you can efficiently create and edit videos without a steep learning curve. Also, check if the software supports the video data or file formats you need and offers export options suitable for your intended platforms.
Finally, make the video content engaging and matched to your target audience.
Also, shoot a video for a specific medium. Video platforms (like Vimeo or YouTube videos), web pages, posts on social media – all of these domains follow their own rules.
Step IV: Do SEO
A video bounds us into writing limited content, so you need to prepare it compellingly and optimise it for the search engines.
You should conduct keyword research and do it right. Find the relevant keywords with high search volume and organically place them in your content – both in the title and the description. Also, you can use the trending hashtags if they are relevant.
Step V: Partner With Influencers
You can partner with micro and major influencers (depending on your budget) and promote your videos to a broader audience. You can generate more leads, get more engagement on your videos, and improve your conversion rate, by doing so.
However, it is necessary that you choose those influencers which are most relevant to your brand. For instance, if your brand caters to beauty products, then you should partner with influencers that give make-up tutorials.
Step VI: Run Advertisements
The final way to get the most out of your video marketing is to run advertisements. They are costly but the ad mechanics of Facebook, Google, etc. make it worthwhile, if used wisely.
With help from Google Ads and Facebook Ads, you can narrow down the reach of your videos to your target audience and produce pretty efficient results.
6 Video Marketing Tips to Produce a Successful Outcome
Now you know how to run a video marketing campaign. Here's a list of tips that you can use to formulate a successful video marketing strategy.
Learn What Your Audience Wants
One of the best ways to determine what type of videos your audience might be interested in watching is by identifying the user's search intent.
Once you know what your audience wants, you can create video content that have more chances of getting the audience's reaction.
Call-To-Actions are crucial if you want your audience to come to your website or convert. Therefore, it is necessary to include a CTA to your videos. You can place the CTA at the end of your video and – if possible – place it during the run-time of the video as well. However, you need to see that it does not affect the video in any way particular.
Apart from that, you can include a link to your website, a link to your product page, or any similar link that is relatable to the video, in the video's description.
Apart from the description and title, you can optimize your video for the search engine with the help of transcripts.
By creating a transcript and uploading it on YouTube, you will improve your chances of getting ranked since that transcript helps in generating extra SEO juice for your video content.
Interact With Your Audience
Another important tip is that you should interact with your audience. Whenever a user comments on your video, you should reply to that comment. Although, it is up to your discretion to decide the type of comments you should respond.
Inform The Users Within 10 Seconds
Everyone wants information fast. Your audience does not want to hang around your video and wait till you explain the purpose of your video. It is the best practice to inform the purpose of your video to the viewer in 10 seconds of the video.
Share Your Video Everywhere
Once you have created a video, the last thing you need to do is share it as much as you can and almost everywhere. You can share it on social media platforms – Facebook, Twitter, etc. There are video-sharing platforms as well, other than YouTube, that you can publish your video content on – Vimeo, DailyMotion, etc.
Get 111
Landing Page
Examples – the
Ultimate Guide
for FREE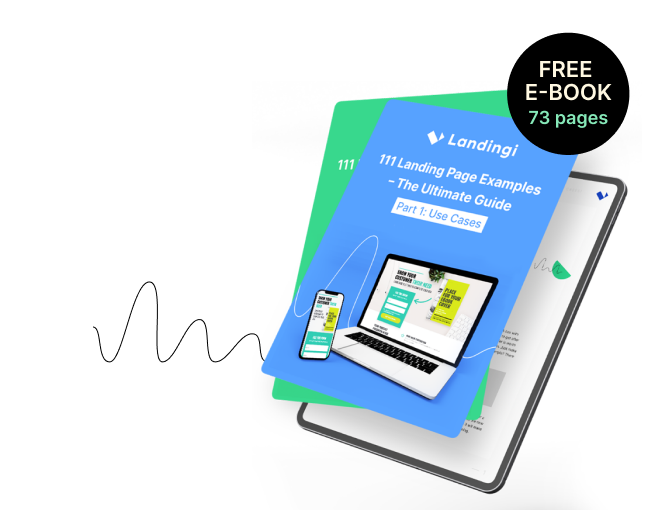 How to establish an effective video marketing strategy?
To harness the full potential of video marketing, it's essential to have a well-defined and strategic approach. In this section, we will explore the key components that allow you to create a video marketing strategy that works. We will break it into pieces (from understanding your audience and crafting compelling stories to optimizing for different platforms and measuring your video's performance) and examine each of them more closely.
Know Your Audience: The Key to Crafting Engaging Video Content
Understanding your target audience is crucial for developing video content that resonates with them. Conduct thorough market research to identify their preferences, pain points, and interests. Tailor your videos to address their specific needs and desires, making them more likely to watch, share, and engage with your content.
By creating content that speaks directly to your audience, you can cultivate a loyal following and build a community around your brand.
Find out more about market segmentation.
Building a Strong Foundation: Setting Clear Objectives for Your Video Strategy
Before diving into production of video content, establish clear and measurable objectives for your video marketing campaign. Whether it's increasing brand awareness, driving website traffic, or boosting sales, defining your goals will help you create focused and purposeful videos.
Additionally, set key performance indicators (KPIs) to track the success of your video and adjust your strategy as needed. Aligning your video efforts with specific goals ensures that every piece of content contributes to your overall marketing strategy..
Length Matters: Finding the Sweet Spot for Video Duration
In the fast-paced digital world, shorter videos tend to perform better. Aim to deliver your message concisely and effectively, keeping your videos under two minutes whenever possible. However, the ideal video length can vary based on your audience and content type. Analyze audience engagement metrics to find the sweet spot that keeps viewers engaged without losing their interest.
Grabbing Attention: Hooks and Intros that Keep Viewers Engaged
The first few seconds of your video are crucial for hooking viewers and encouraging them to watch further. Start with a compelling hook or an intriguing question that piques their curiosity. Follow it up with an attention-grabbing intro that clearly communicates what the video is about and sets the tone for the rest of the content.
Branding Your Videos: Infusing Your Identity into Every Frame
Another key point for video strategy is consistent branding. It's vital for reinforcing your brand identity and fostering recognition among your audience. Incorporate your logo, brand colors, and visual elements into your videos. Ensure that your brand's tone and personality shine through in the script, narration, and overall presentation to create a cohesive brand experience for viewers.
Leveraging Platforms: Maximizing Reach Across Multiple Channels
Don't limit your online videos to just one platform. Share your content across various channels, such as YouTube, Facebook, Instagram, LinkedIn, and your own website.
Each platform has its unique audience and features, allowing you to reach a broader segment of potential customers.
Mobile-Friendly Videos: Optimizing for On-The-Go Audiences
With the majority of internet users accessing video content on mobile devices, it's crucial to optimize your videos for mobile viewing.
Use responsive video players and consider vertical video formats for platforms like Instagram and TikTok.
Ensure that your videos load quickly and are easy to watch on smaller screens without sacrificing visual quality.
Accessibility Matters
Essential subtitles and captions make your videos accessible to a broader audience, including those with hearing impairments and viewers in noise-sensitive environments. They also improve SEO by making your content searchable and rankable. Use accurate transcriptions to create subtitles and ensure they sync well with the video's content.
Visual Appeal: Enhancing Engagement with Stunning Visuals
High-quality visuals, captivating graphics, and well-designed animations can significantly enhance the overall appeal of your videos. Invest in professional video production or use user-friendly tools to create visually engaging content that keeps viewers hooked from start to finish.
Adding Value
Value-driven content is the key to building trust and credibility with your audience. Provide helpful tips, insights, or solutions to their problems through your videos. This approach positions your brand as an authority in your industry and encourages viewers to return for more valuable content.
Measuring Success: Analyzing Metrics for Ongoing Improvement
Regularly analyze video marketing metrics such as view counts, watch time, engagement rates, and conversion data to gauge the success of your video strategy efforts.
Use the insights to identify trends, strengths, and areas for improvement. Data-driven decision-making will help you refine your strategy and achieve better results with each new video.
The Power of Collaboration and Partnering with Influencers for Impact
Collaborating with influencers or industry experts can expand your video's reach and credibility. Identify influencers relevant to your niche and co-create content that appeals to their followers while aligning with your brand message.
Influencer partnerships can provide a significant boost to your video marketing efforts and brand visibility. A great way to promote your online videos is navigating to them from influencers' social media posts, as it may largely spread up your audience. Product videos co-created with influencers can bring you lots of new customers.
Authenticity Rules: Building Trust with Your Video Marketing
Authenticity is paramount in video marketing. Be genuine, transparent, and true to your brand's values in all your online videos. Avoid overly promotional content (product videos, video ads, etc.) and focus on building meaningful connections with your audience.
On this end, you can employ a brand story, educational videos, or live FAQ sessions. Authenticity fosters trust, leading to a loyal and engaged community around your brand.

Build a page for a webinar with a "Video Webinar" template by Landingi.
Engaging Your Community: Interacting with Viewers for Loyalty
Engagement doesn't end when the marketing videos are published. Encourage discussions and respond to comments from viewers. Address their questions, acknowledge their feedback, and show appreciation for their support. Engaging with your community strengthens relationships and encourages viewers to stay connected with your brand longer.
How (and Why) to Use Video Content on Landing Pages?
There is one more area worth covering in the video marketing guide if it has to be up-to-date: using video content on landing pages.
Though it's not a must, quite often, it may boost your users' experience and provide them with valuable insight into the product or service, finally increasing conversion rates. Not to mention that the landing page itself is a page designed to maximize your business outcome. Combined with a thoroughly-planned video marketing strategy, it may be even more powerful.
Moreover, some people tend to be more susceptible to persuasion by visuals than text messages, so you will be unable to convert them into your leads or customers with pure written content.
Find out here how to generate leads on your landing pages using video content.
Create a landing page like this with a "Mobile Lead Generation" template by Landingi.
First of all, you should select the right landing page builder. Ensure the tool you chose allows you to embed videos on your landing pages.
If the answer is "yes", also check if your intended builder enables some additional effects that may make your video really appealing and unique. For example, you may consider displaying your video on the page background or making it splash out on the screen once a user visits a page for the first time.
Pay attention to the capability of embedding on the landing page external content uploaded on social media or video hosting platforms.
Check out how to embed YouTube/Vimeo videos on your landing page created in Landingi.
Make sure your builder is compatible and can be easily integrated into your digital marketing ecosystem. It's also important to be able to connect it to the platforms like Wistia that allow you to produce, market, and measure your video content performance.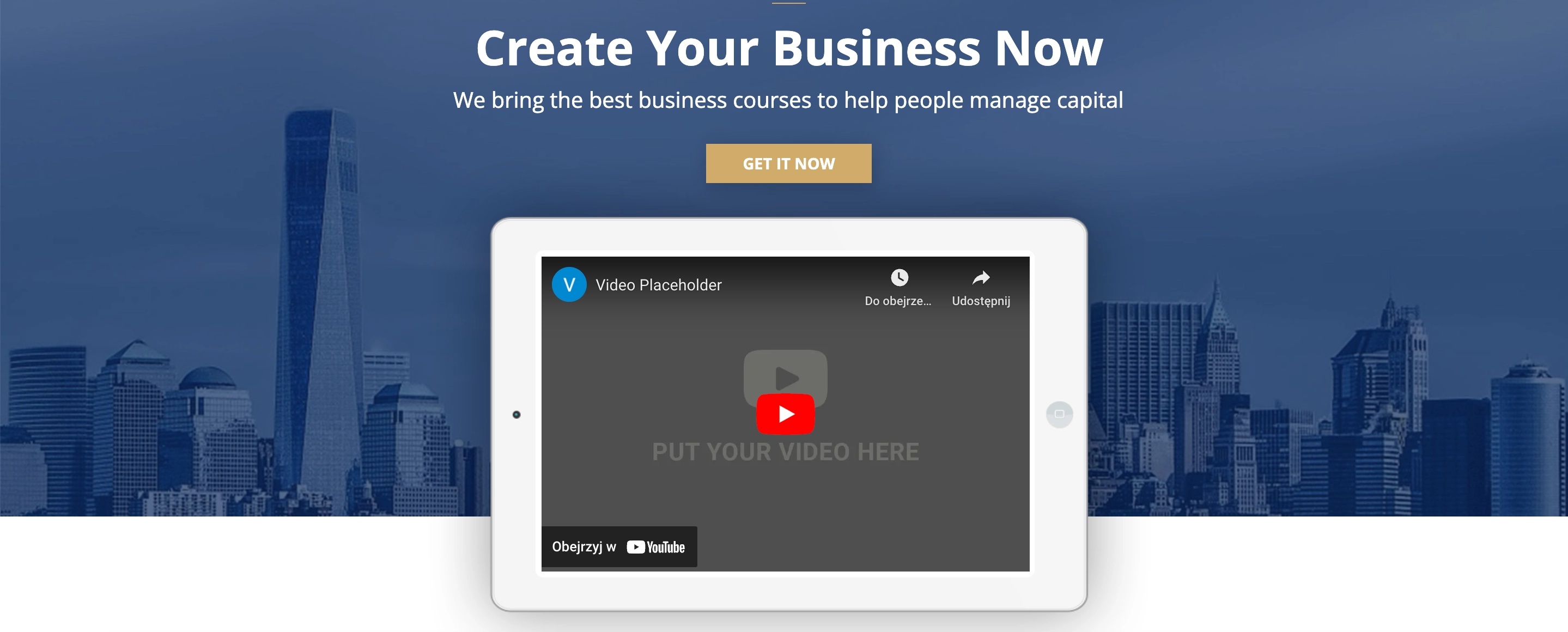 Build a page like the above with Langingi's "Video Story" template.
If you have no coding skills or just want to save some time, bet on apps with a user-friendly drag-and-drop interface. That way, you will be able to place selected video content pieces on your landing page seamlessly and in a snap.
Discover six powerful ideas to skyrocket with marketing videos conversion on your landing pages.
After all, there is also a bunch of things to be aware of before making use of it. Let's list and shortly describe the most crucial ones.
What to Avoid While Using Videos on Landing Pages
Tough videos may play a great role in the overall communication process on the landing page, there are some mistakes that may instantaneously decrease conversions and increase your bounce rate. Let's list them up to make you know what to avoid:
Autoplaying Videos: videos set to autoplay without user consent can be disruptive and annoying for visitors, leading to a negative user experience (the same goes for auto-looping videos),
Slow Loading Times: too many videos, too high resolution or too large file size, improper video hosting – all of these can result in slow loading times, pushing users to exit the page.
Poor Video Quality:

on the other hand, low-quality visuals or audio can seem unprofessional, affecting your brand and company perception.
Irrelevant Content:

using a video that is unrelated to the landing page's message or does not align with the audience's expectations can confuse and disengage visitors.
Placing Video in the Wrong Location:

poor placement of the video (e.g., hiding it far below the fold), such as obstructing other important elements (e.g., video box overlapping the text or images), can make it overlooked or prevent users from watching,
Lack of Subtitles/Captions:

Not providing subtitles or captions can make the video inaccessible to users who cannot listen to audio or do not understand the language (if your company targets an international audience, you should also provide subtitles/captions in the appropriate translations),
Excessive Video Length: Lengthy videos may cause viewers to lose interest quickly. Keeping videos concise and focused is of great importance.
Key Takeaways
That's all! I hope that this a bit-long video marketing guide has provided you with all the essential information related to video marketing.
With this knowledge, you should be able to create your own marketing videos, select types that fit most your audience, avoid common mistakes, as well as formulate effective video marketing strategies for your businesses.
You've also learned why a landing page should be an important part of your video marketing activities and how to enhance its performance with video content.
There is nothing left but to dive into practice! Fingers crossed!
Ready to grow? Let's get started!

Join us and create the best-converting landing pages