Start with Google Analytics – a beginners guide
Start with Google Analytics – a beginners guide
Last updated: November 14, 2023
If you have just created a homepage or a landing page, serving as business cards of your online business, you must have asked yourself at least once,"how to measure its performance?". Internet is full of analytical tools and applications, so you must have already bumped into numerous of them while surfing. However, one of them seems to be most omnipresent and quoted in the vast majority of articles – Google Analytics is said to be used by 30-50 million websites.
Google Analytics is an analytical tool that lets you track not only Web traffic but also visitors behaviour, social media performance and many more. If you still haven't started using it, it is about time to kick off with that, as this tool can truly assist you in improving your business site or landing page performance (if you still haven't one, you can easily create it with a landing page builder).
Table of contents
show
hide
What is Google Analytics?
Google Analytics is an analytical tool free of charge provided by Google. It allows you to track a broad range of data related to your business website performance, traffic, users behaviour, social media interactions and bounce rate. Once properly used, it can significantly improve your online marketing strategy and allow you to make better business decisions. As Michelle Obama said, "You can't make decisions based on fear and the possibility of what might happen". I bet she meant you should base them on proper analysis.
The tool itself is pretty intuitive and beginner-friendly. Google Analytics provides you with numerous reports (around 80) about visitors of your website and their behaviour. These insights are extremely helpful, enable you to get to know your visitors better, and quickly turn them into your customers.
What can Google Analytics precisely do?
The tool has an enormous potential. Its present features are improved on regular basis while new ones are created in order to provide you with the most exact and professional analysis you have ever seen. Google Analytics allows you to get all the essential metrics related to your website such as:
how many visitors you received in a specific period of time,
how many of them were unique visitors,
where visitors come from.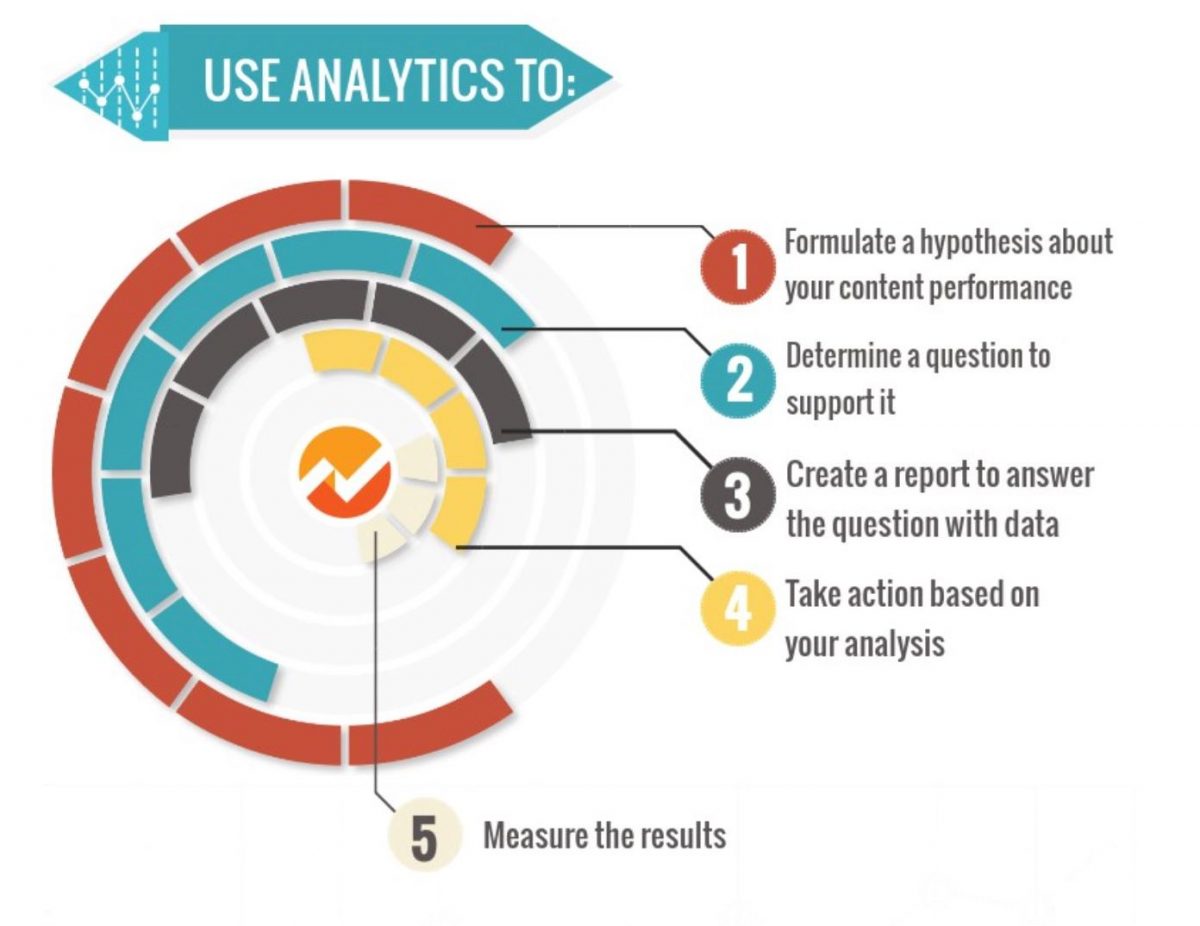 Source: https://neilpatel.com/blog/google-analytics-pro/
Google Analytics is based on automation, which is great news for you as a business owner. Firstly, it saves you loads of time you would otherwise have to devote to collect the data about your website or landing page performance. What is more, the analytics tool provides you with other types of useful information and metrics such as:
social media metrics – which social media channel of yours works best,
active users number,
conversion rates – the percentage of people who have become your paying customers,
metrics with number of visitors that decided to sign up for your email lists,
checking the most appropriate and effective keywords for your business website,
checking whether your website or landing page is easy to navigate on mobile phones (which is crucial in the era of smartphones we live today),
checking where your traffic comes from – is it from search engine queries or maybe social media or other source,
checking where your visitors go to after they finish searching your site,
checking what other websites link to yours.
As you can see, there is a lot of functionalities that Google Analytics has and, frankly speaking, it is just the tip of the iceberg. These are all the basics of Google Analytics but let's also check more advanced ways of using this tool.
3 stellar Google Analytics functions
Everyone who uses Google Analytics probably controls already quoted data from time to time. However, a lot of users miss out on an amazing opportunity to get even more from this analytical tool. Truly, the pool of possibilities is beyond imagination.
Traffic campaign measurement
As mentioned – Google Analytics may assist you in checking your marketing campaign results by showing you where the traffic comes from. However, if you have a lot of channels or numerous ongoing marketing campaigns, it may be troublesome for you to distinguish whether this Facebook-coming traffic was caused by one campaign or another. Luckily, here come UTM parameters for rescue.
UTM parameters are just short taglines added to URL which enable you to track your specific campaigns results. By adding parameters you are able to tell which campaign brings you most fruit and which one contributes most significantly to improving your business performance. You can easily add them in a url builder and then track the results in Google Analytics.
Flow visualization
Flow visualization is a great way to spy on your visitors by checking all the steps taken by when coming to your business website. The flow visualization gives you a very clear and nice look at what content they engage with the most.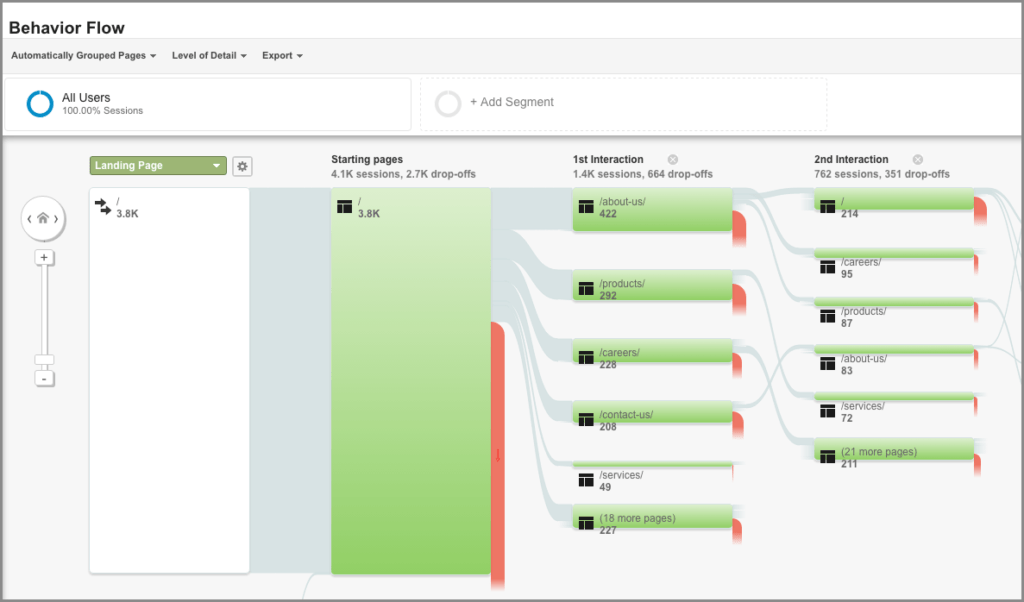 Source: https://www.matchcraft.com/5-google-analytics-features-you-should-be-using/
Google Analytics offers you a quite wide range of flow visualization reports with one of the most crucial and helpful being Behaviour Flow Report. This report clearly shows you how visitors came to your site, what got them interested, and what made them leave.
Custom reports
Once you familiarize yourself with Google Analytics pretty well, you may take a next step and create all the custom reports you can think of. Google Analytics offers this feature and allows you to slice data in an exact way you need. You can carve data out on your own, match reports to your business goals and take the best out of the tool.
If you need a little assistance to make it right, you can check out Google Analytics Solution Gallery, which has numerous customer report templates created by Google Analytics users. It will save you a lot of time you would otherwise waste trying to come up with something yours. And once you get some inspiration, you may easily come up with your own in some time. No rush.
Why to use Google Analytics?
Google Analytics is not just an analytical tool but a true marketing weapon, which enables you to outperform competitors by making use of valuable insights about your customers, as well as improves both your campaigns and content on your business website or landing page. By using such a powerful analytical tool you can firmly understand the value of customer journey, which is essential to running successful marketing campaigns.
Customer journey is a process in which customers go: through their first interaction with your brand or business (for example by your landing page or a Facebook ad) until the last one. It consists of three stages:
acquisition,
behaviour,
conversion.
It's the core of any marketing or sales funnel. Google Analytics serves as your right hand showing you undoubtedly which of your marketing efforts are effective and which are not. Without it you are not able to make well-thought and reasonable business decisions, as you don't dispose of proper information.
All reports and data the Google Analytics generates for you are highly useful and helpful.  They can truly assist you in improving quality of your business website, business performance, sales, marketing, and so on. Proper analytics and insights are both the key to marketing success. Once you underestimate their importance, you risk being outperformed by your competitors.
As you can see, Google Analytics is a powerful, easy to use and quickly implementable analytics tool that assists you in making your online business thrive. Once you start using all reports and features of Google Analytics, you are able to make well-informed strategic decisions, significantly improve the performance of your business and make your business website absolutely stellar.
Ready to grow? Let's get started!
Join us and create the best-converting landing pages