Insider Personalization Secrets for Landing Pages
Insider Personalization Secrets for Landing Pages
Last updated: February 16, 2021
6min read
Personalization has always been a powerful marketing tool. Here's a couple of examples to illustrate what we mean:
E-mails – arguably the single most profitable marketing channel, with an ROI of 4,400% – get 152% more opens when the subject line is personalized.
Retargeting customers with ads via Facebook Pixel, Google Analytics, and services like AdRoll can help you make $10 for every $1 of ad spend.
And so on and so forth.
But until recently, one key element of the digital marketing process couldn't be personalized. We're talking about landing pages, without which you couldn't use an e-mail list or deploy ads effectively – and which couldn't be realistically targeted for most of the internet's history. Good news is, this dynamic is now changing!
In this article, we'll share some of the best personalization strategies and lessons we've learned from working with hundreds of marketers and organizations. We'll start with…
1. Personalization with Google and Facebook Ads
Targeted landing pages are advertising personalization at its finest. Note the use of the word advertising here. Landing pages may not be ads per se – but they definitely serve some of the same functions, like:
Driving the user actions you want
Displaying your offer to new users
Increasing current user engagement
And what does all of this have to do with personalization?
Well, all modern ad platforms – from Google to Facebook to everything in between – can be deeply personalized. You can customize ad copy, user demographics (e.g. location and sex), user psychographics and a lot more: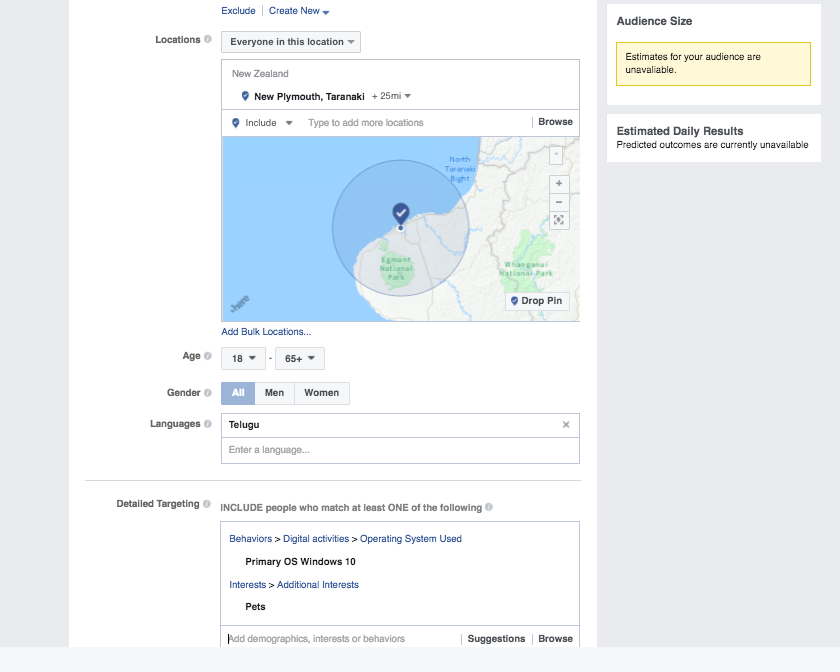 And since you know the people you're targeting, you can link each ad set to a targeted ad that appeals to those users. This gives you 2 important advantages:
First, you're always taking people to an offer that's congruent with whatever ad they saw. This gives conversions a huge boost when compared to a single catch-all page.
Second, Google rewards advertisers whose landing pages are relevant to niche audiences with improved SEO and lower PPC costs.
In other words, personalizing your landing pages to your ad audiences improves your search engine rankings, your conversions, and your ad performance. But what if you're not using paid ads – or if you'd like to personalize your landing pages so they work with multiple traffic sources?
You can do all that and get many of the same benefits whether you're using ads or not.
Read on to discover how!
2. Personalization By Location
You can segment traffic by location even if you're not driving it with paid ads. There's a lot of APIs that redirect users to customized pages based on the city, state or country they're in. This gives you the same benefits as personalizing based on ad settings – for example, improved SEO and more conversions. The difference is that this works with all traffic sources, which makes it more useful. Here's an example of a landing page our client, Prowly, used to target German prospects: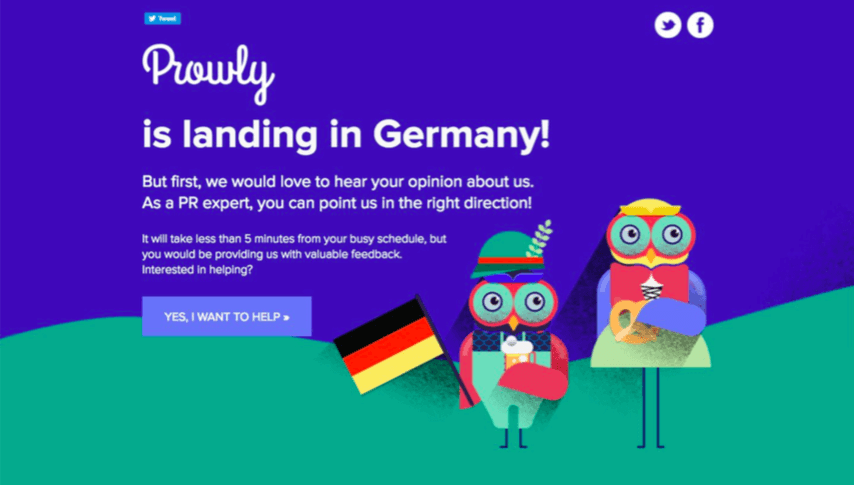 If you have enough resources, you can also do what companies like Uber do by setting up expansion teams in multiple locations. Uber doesn't just set up location-personalized pages like this one…
It sets up offices and work groups when it expands, getting valuable market insights and making it easy for users to get in touch (and convert).
The next type of personalization we'll look at is

3. Personalization By Industry & Profession
Another way to personalize is by target company, industry, or profession. Here, the emphasis is on the career interests and parameters of an individual, rather than their location or personal data.
In our experience, this is one of the most effective ways to personalize landing pages.
One of our customers – Tokeo (read more in this blog post) – took conversions from 8.5% on a catch-all page for users of all professions to…
13% for doctors
30% for teachers
60% (!!!) for marketers
That's up to 6 times more than the original page. And the cool thing is, you can direct people to these personalized pages in multiple ways. For example:
By making industry and job-specific ads
By posting links to targeted pages in relevant LinkedIn Groups
By making a separate page that gives users the option to choose their profession before redirecting them where necessary
And last but not least, let's look at a cutting-edge, sneaky way to direct users to personalized pages…
4. Personalization by Browser History
Facebook Pixel and Google Analytics are conversion tracking tools that keep score of what users do on your website. They then integrate with Google and Facebook ads to help you target users based on their actions.
For example, you can…
Direct users who visited your website but didn't buy anything to one landing page.
Direct users who added an item to their cart but didn't check it to a different landing page.
Direct users who bounced from your website to a limited-offer landing page.
The possibilities are virtually endless. Moreover, you can use this kind of personalization in combination with other types to achieve even better results. A question we often get at this point is, "can I get other websites' browsing data and direct users to personalized pages based on that?" The answer is, "you can't". Doing so would be unethical at best and illegal at worst – and besides, neither Google nor Facebook gives you the tools needed to share users' browsing data with other marketers.
And that's it! You now know the 4 types of personalized landing pages we've found to work best. Let's go over them one more time:
By advertisement settings and creative
By user location
By industry & profession
By retargeting (i.e. by browser history)