This DIY link building outreaching method will boost your SEO
This DIY link building outreaching method will boost your SEO
Last updated: December 1, 2023
Link building outreaching is one of the most difficult SEO tasks for many people. They manage to target some keywords in their content but fail to consistently build links to them and get to the first page of Google.
This might force them to outsource link building, which is fine until they realize valuable links are actually costing them a fortune (the average cost of a link is more than $300). A more reasonable approach to link building outreaching is learning how to do it yourself. In this post, you're going to read about the DIY link building outreaching strategy that will get you lots of links in short time.
Table of contents
show
hide
1 – Reaching out to the right people
The number one rule for a successful link building outreaching is contacting the people who are interested in your offer. Cold emailing is a form of digital marketing and like its other forms, it demands a defined audience. You should literally be able to say if a person is potentially the right person to reach out to.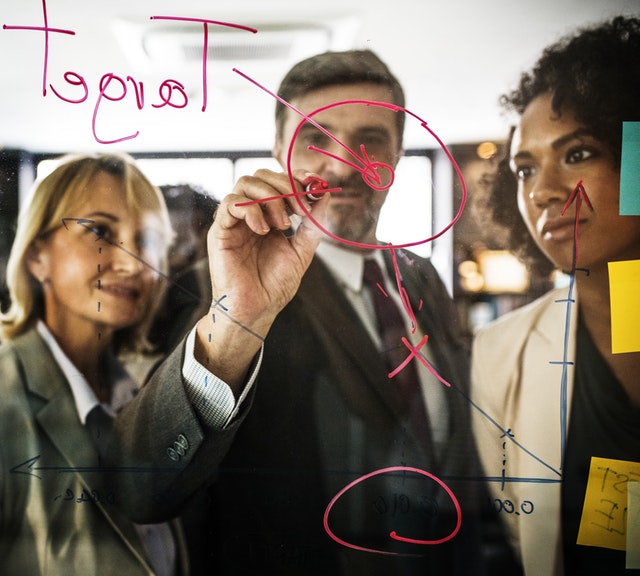 By narrowing down the scope of people you reach out to you increase the response rate of your campaigns and decrease complaints and churn rate because you're contacting people who are interested (needless to say knowing your audience increases your customer satisfaction). Here are some aspects you should consider when defining who you should reach out to for link building:
Are they actively building links? Bloggers who are actively building links themselves are more interested in collaborating with you on this matter. Verify it by checking out if they are publishing guest posts frequently. It seems to me that guest authors are more interested in participating in your link building process.
Who is the decision-maker for your offer? Not everyone in a company is responsible for accepting your offer. Link building offers should be sent to SEO managers, content marketers, etc.
Do they show interest in your content? One way to know if a person is interested in your link building offer is seeing if they engage with your content (or similar content to yours). People who show interest in your blog's comment section or engage with your content on social media (i.e. like, share, mention you) are probably interested in your link building offer as well.
Are they with your competitors? Another group of people who are more likely to accept your offer is the ones engaging with your competitors. Your competitors customers, social media followers, etc. are the people you could reach out to. Using a Facebook ads spy tool, you can spy on your competitors' most successful Facebook campaigns, figure out what types of audience are most interested in their content, know who engages most with their ads, etc. This definitely helps you find new contacts to reach out to.
Being in touch with other roles in your company might help you a lot in identifying the right people for your link building campaign. For example, digital marketing managers or content managers are typically well aware of the ideal audience for your company's content and how to find them. So it's a good idea to collaborate with them in your link building efforts. Using a project planning tool could make team collaboration much easier.
2 – Having a compelling link building offer
Every one of us receives a lot of emails asking for link placements but offering us nothing in return. I don't know if it works for anybody but to me it seems like a totally dumb idea. It basically doesn't have any offer — it only has a big request.
The problem with this kind of outreaching is that people don't have any incentive to act on your request. And they are busier than you think to simply spend time and read your article to see if they like it or not.
So I would say a cold email without a compelling offer is an ineffective one. As Consulting.com explains in its guide on how to become a consultant, people are very influenced by the promise of being transformed from their current states to their desired state. Your offer should be just that promise.
Here's an email I received from a guy who asked me to add his "resource" to my website without having a compelling promise in return.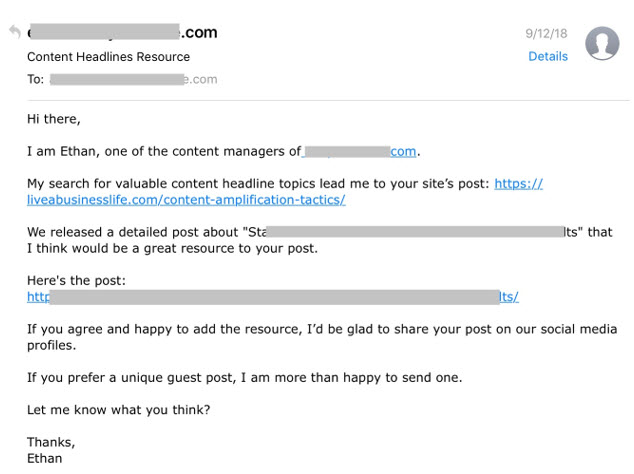 For one thing, he first mentioned his request and then promised me to do something in return (which is not a good idea – your promise should come first and your request second), for another, what he promised me as a benefit was not compelling enough. Sharing my post on their social media? It's just not the right kind of promise to increase traffic to my blog. I don't think I would get more than a couple of visits from that.
Funny thing is, when I responded and asked him to do a kind of link trade (that would definitely benefit both of us), he responded with a solid "no". Seems that he was not interested in doing anything in return for a free link placement other than sharing my link on his Twitter profile (still, I would have accepted his offer if he got my post shared by a social media influencer).
If I were in his shoes, I would write the email this way:
Hi [name],
My search for valuable content headline topics lead me to your site's post here: [URL]
Very impressive — congrats! I was thinking of including your post (with a do-follow link) in one of the future guest posts. I've written for [the publications I've been featured on]. I'm sure it adds a ton of value to my guest post and my audience will love it.
In return, do you think you can do me a favor? Recently we published a post about [topic] and I think it adds a lot of value to your audience as well if you include it in your post. Check it out here: [URL]. Alternatively, I can prepare a guest post for you- you have my writing samples above.
Let me know what you think.
Thanks,
[name] [LinkedIn/Twitter] [website]
Note how:
I addressed the recipient by name and tried to be nice and compliment them.
I mentioned the benefit for the recipient first and then went on to ask for something.
I tried to build trust between us by mentioning my guest posts and including a link to my social media account and my website.
3 – Being trustworthy
Trust is one of the most important aspects of success in business. Without it even the most compelling offers for the most enthusiastic people would be ineffective.
Sounding deceptive in your cold emails is just the way to convey distrust to your recipients. It might start with the subject line. Refrain from over-promising or tricking people into opening your emails. Here are some deceptive subject lines you should avoid at any cost:
"Re: Join . . . in London on October 19th – save your spot now!" (Using "Re:" in your cold emails is very deceptive).
"Want my website?" (This person was selling his website themes)
"I told you not to do this" (I had no previous communication with them)
"Your subscription is expiring" (What subscription?)
Even in your email's copy, you need to do your best to build trust. Here are some ways:
Mention a few of your guest posts on popular blogs. Bloggers and content managers would love to know about your content.
Mention a testimonial, case study, a well-known client of yours, etc. Just like using social proof in your landing pages increases your visitors' trust, your cold emails could seem more trustworthy using social proof. A tool such as Osifeedback is great for collecting and managing testimonials.
Don't use too many links in your copy or if you do, include the whole URL — people don't trust shortened links.
Take care of your online reputation. People typically google your name or your company's name in order to see if you have a positive track record. That's why being featured on popular blogs in your niche is very important in building trust.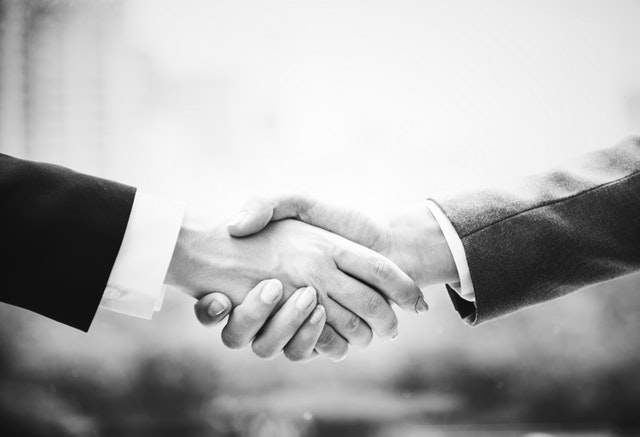 4 – Following-up and keeping track
People's inboxes are more cluttered than you think. Your email might just get buried under tons of other promotional emails, newsletters, cold emails, etc. It also happens that the person you've reached out to is interested in your offer and intends to respond, but an unexpected incident distracts them from doing so.
The best way to make sure none of your cold emails slip through the crack is sending follow-up emails. It's a good idea to send a follow-up email a week after the original email and remind them of your proposal.
Include a short recap of your link building proposal and an easy question at the end of each follow-up email. Here's an example:
Hi [name],
A week ago, I sent you an email offering [Proposal].
I know you have a busy schedule, but I'm wondering if you found time to review my proposal?
Warm regards,
[your name]
Your follow-up email needs to be concise and most importantly polite. Keep in mind that people don't have any obligations to respond to you.
Here's an annoying follow-up email I got recently: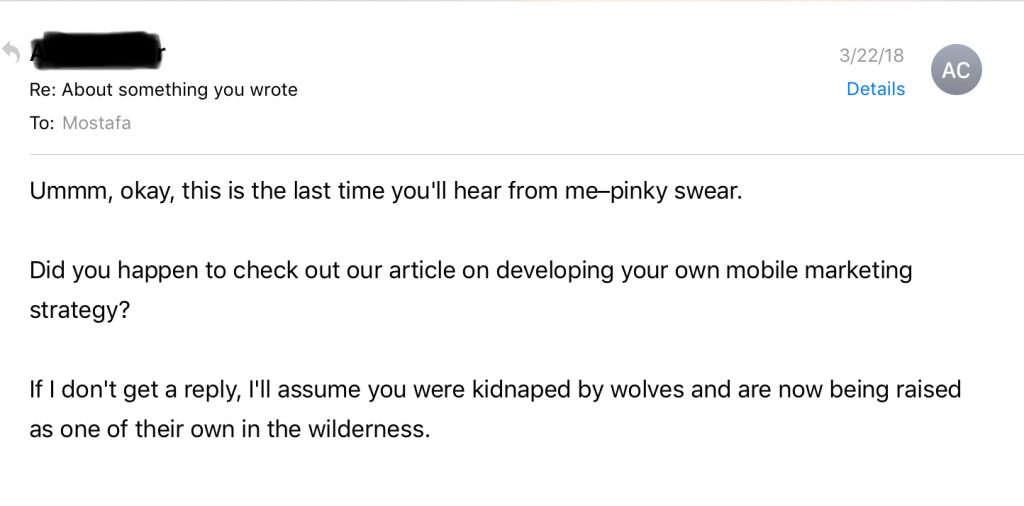 That's it.
It's offensive (especially if sent to a C-level manager) and blames me for not replying.
I had no idea why I should have checked out their article or even what the article was. After reading the original email, I realized they wanted a link to their mobile marketing strategy article simply because I had linked to one by another company. To me, it seemed like a lame incentive. Why should I ever do that?
One last thing you need to do when doing link building outreaching is keeping track of the links you build just to get informed of any changes made to them. I personally recommend using a backlink checker tool such as WebCEO's backlink tool when building links. As you move forward in link building, managing a large number of links from different websites is frustrating. Using this tool, you'd be able to keep track of your links, their anchor texts, their value, etc. and be updated on any changes made in your links without your consent.
Link building outreaching done right:
For a successful link building outreaching you need to follow these steps:
Find the people who are interested in link building.
Send them a compelling link building offer. Remember to highlight what's in it for them.
Establish yourself as a reliable and trustworthy fellow marketer.
Send follow-up emails and keep track of the links you build.
Most link building outreaching methods fall flat because they neglect one of these steps. But once you learned to excel in all of them and had a system in place, you wouldn't ever need spend a big chunk of your marketing budget on third-party link building. You'd be a link building ninja yourself.