4 Consumers Retention Tactics to Keep Your Customers Coming Back
4 Consumers Retention Tactics to Keep Your Customers Coming Back
Last updated: December 22, 2021
10min read
The idea of customer retention is not new to business owners. It makes sense to everybody that preserving current customers is easier and cheaper than finding new ones. Amy Gallo explains that acquiring new customers is five times costlier than retaining the existing ones.
Up to now most of the business owners considered customer retention only as a matter of choice – an option to be considered if all other things went wrong. That's why according to Econsultancy 44% of companies neglect customer retention strategies in their business.
Today, things have changed a little. Customer acquisition costs have increased so much that business owners are left with no option other than increasing their customers' lifetime value. As a case in point, Facebook ads' cost per click has increased from $0.19 in 2014 to $1.79 in 2018. Add to this the effects of ad fatigue and ineffective marketing, and you'll realize that the final profit would be much lower than what many businesses need in order to survive.  
Customer retention is no longer an option – it's the only way to stay in business.
What is customer retention?
Customer retention could be defined as the ability of a business in retaining their current customers over a specific period of time. Customer retention is in direct tandem with some other familiar terms such as customer loyalty, trust, customer relationship, branding, etc. and as one could guess improving any of these elements could help increase customer retention.
Contrary to what most people think, retaining your customers goes beyond offering them excessive freebies, discounts and coupons just to get them buy more from you. A great customer retention strategy pays careful attention to how your customers feel about you and whether they would trust your promises. It lays down the foundations for a better customer relationship rather than trick your customers into buying one more time from you.
Here are four ways you can improve your customer retention:
1 – Establish your credibility
"Trust may be the single most important word in business" as Ken McCarthy, the founding father of internet marketing once said. It makes sense that a customer retention strategy without a conscious effort to build trust with customers is not effective at all.
One way to increase your customers' trust is using social proof. Positive testimonials, reviews, case studies, etc. are very effective in making people trust you. To be more specific there are 6 types of social proof:
Case studies:

You could mention the detailed success story of your clients, the problems they were facing, and how your product helped them overcome their problems and increase their sales. Case studies are great for stepping out of the realm of theory and offering a peek into real-life success stories.

Testimonials:

You could use recommendations from your happy customers. Testimonials are ideal for increasing the conversions of your sales pages. Remember to use pictures of your clients, be specific, use numbers, and if possible ask your clients to recommend you in their testimonials. Using a customer feedback management software such as

Osifeedback

is a great help here.

Reviews: You could feature real reviews of your products or services by trusted sources. It goes without saying that off-site reviews (reviews on other websites) are more effective than reviews on your own website. Take a look at live customer testimonials, a feature developed by Brand24 that will help you display reviews left on other websites on your page.
Social Media:

Showing how many followers you have or showing their positive posts about you is a good way to gain new visitors' trust.

Trust Icons:

You can showcase the logos of the companies you've worked with or the publications you've been featured on.

Data/Numbers:

If you have worked with an impressive number of people or have achieved impressive results with them, you can show the data/numbers on your homepage.
WordStream's study on top business homepages shows how such business use social proof on their homepages. 41 out of 50 top websites analyzed use at least one example of social proof in order to garner trust in their visitors. That's 82% of the websites.
According to the study, the most frequently used social proof type among the analyzed websites is trust icons. 27 out of 50 of the websites (54%) use trust icons to gain their visitors' trust.
The second place belongs to testimonials. 25 out of 50 websites analyzed (50% of them) use testimonials on their home pages.
Case studies are the next popular social proof type with 14 out of 50 (28%) of the analyzed websites using them.
And finally, we have reviews and social media with 2% of the websites using each one of them (that's 1 website for each).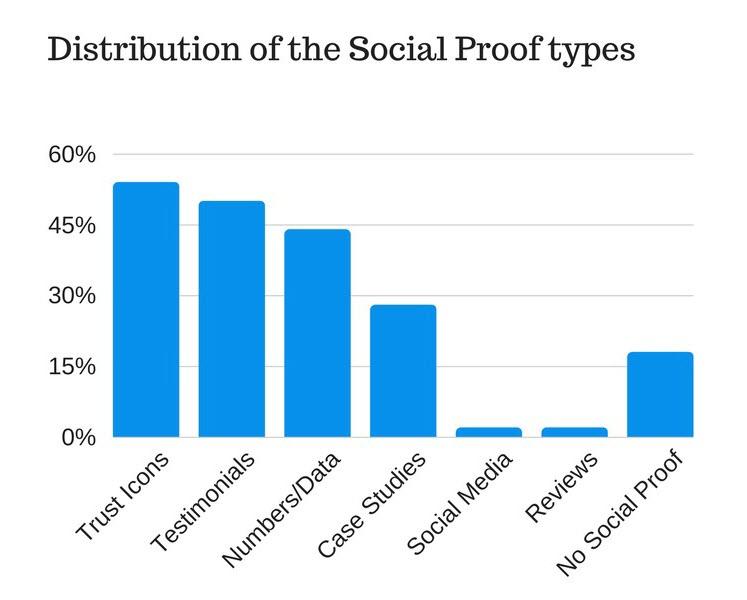 These elements are so powerful that even the most reputable companies use them religiously to increase their customers' trust.
Take GetResponse for example. The company uses almost all kinds of social proof on its homepage to increase its visitors'.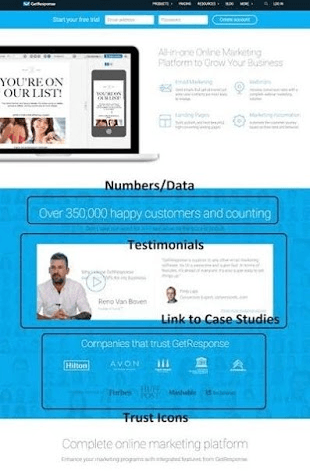 Another way to establish your credibility is by publishing on major publications in your niche. Press releases and guest posts on prestigious publications might be a sign that you're approved by that publication (and obviously get you to mention from them). Gather all the data you need, make a media list, and start pitching journalists and editors. You'll establish yourself as a thought and trustworthy leader in your niche.
2 – Get to know your customers
With the proliferation of similar products, customers are becoming more loyal to brands they feel a deeper emotional connection with. Brands that welcome them as customers and understand their problems.
This might go beyond asking your employees to be nice with customers. Although many businesses fail to provide good customer service and lose customers as a result, providing a great customer experience is rooted in knowing your customers' pain points and their customer journey.
Spend time to define your customer persona. What are their demographic (age, gender, income, etc.), and psychographic features (interests, preferences, hobbies, fears, etc.)? What are the problems you're solving for them and why should they pay you for this?
Map out your customers' journey from when they face their problems, how they research a solution for their problem, how they get to know you, how they trust you and buy from you, how they use your product, etc. Knowing your customers' journey helps you design the best product, market your product accordingly, and support your customers in a way that makes them fall in love with you. Considering the fact that 93% of online experiences begin with a search engine according to SEOTribunal's SEO statistics, it's imperative to have a great SEO strategy in place.
A survey tool such as SurveyAnyPlace is great for acquiring all the information you need directly from your customers.
3 – Predict your customers future needs
Mapping out your customers' journey makes it possible for you to predict your customer needs in any stage and provide suitable assistance. Here's an example of the customer journey map for a Saas business: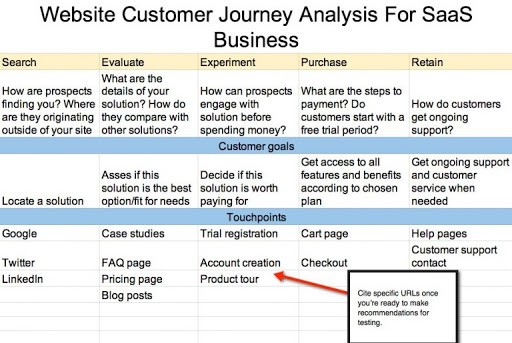 It might happen that in any of these touchpoints your customers face some issues or have some questions to ask. One way to assist them in this situation is providing suitable content such as educational resources and great website copy.
If social media is one of the main touchpoints between you and your customers, spend time to figure out your audience's behavior and their preferences on it. Use social media listening tools to understand what are the most common issues in your niche, and try to offer solutions for them. Tony Restel's social media training course is a great place to learn the ins and outs of social media marketing and retention strategies.
4 – Relationships go beyond a contract
Acting solely based the terms and conditions of a contract is a business's legal right, but showing understanding and empathy beyond that is the best way to build great relationships with customers.   
As neuroscientists would tell you, most of our decision-making is based on heuristics and biases. That is we are more prone to make decisions about new situations based on what we know from our past rather than seeing the issue from a new perspective. We are more than ready to antagonize businesses that act against our self-serving expectations even if everything is done based on the contract we signed.
Customer-centric businesses know the value of putting the expectations of their customers in the forefront of their retention strategy. As Leonard Berry explains in an article for HBR:
To the customer, a purchased service is a promise of performance. For example, airline passengers should not be expected to read an entire "contract of carriage" (United's is 46 pages long) to understand precisely under what conditions the company can take away their ticketed seat. Similarly, any company that makes customers sign legally binding "terms and conditions" should hesitate before enforcing provisions that belie common sense, even though they may meet the letter of the minutiae of the signed agreement. Contracts designed to protect a company when it delivers bad service destroy the trust on which customer relationships are built.
Have a clear understanding of your customers' expectations and needs. Although you might need to have a detailed contract to avoid any legal issues in your business, show your customers that you put their concerns and needs in front of the terms of your contract.
The 2 pillars of great customer retention
Starting a business is easy but staying in is not a task everybody can do. Katrina Lerman puts it best when she says:
"We are loyal to the companies and retailers who show us they understand us through the products they offer and the customer experiences they create…"
In fact, a great retention strategy is the one that takes into account how a product could be a market fit and how using it could be a seamlessly pleasant experience for buyers. Hopefully the tactics offered in this article will help improve your customer retention the right way.