Everything you should know about EDM marketing
Everything you should know about EDM marketing
Last updated: November 17, 2023
Marketing is an integral part of every decent online business. In order to record sales, grow and nourish your business, you need to make it noticeable for target audience. If your business lacks a solid and bright marketing strategy, you risk not reaching dozens of potential customers as they simply won't realise your business exists.
What is more, in the era of overabundance of online business you need a stellar marketing tools (not just a landing page builder) to stand out of the competition, as having a basic one may not be sufficient anymore. Hence, you have to adjust it to your target audience's preferences and current market trends. One of these is EDM marketing, which is an addition to an email marketing.
Once you read this article you will know:
What does EDM stand for in marketing?
As mentioned, EDM marketing is often incorrectly seen as a part of email marketing. This has a lot to do with its name as EDM stands for Electronic Direct Mail, which slightly brings to mind email marketing that has already been firmly rooted in the digital marketing world. However, EDM marketing should rather be seen as the next step to email marketing.
Although EDM marketing is not a state-of-the-art concept, it is still relatively vague in the digital marketing world. These days it is not truly widely used by online marketers, but it has been gaining importance for some time now. In fact, there is a huge possibility it will leave an imprint in online marketing. Therefore, it is advisable to familiarize with the concept and implement it in order to be a step ahead of the competition.
What is EDM marketing?
EDM marketing can be defined as a form of marketing used by businesses aiming at reaching large groups of potentially interested clients. It is widely used in order to build loyalty, generate leads and boost sales. It sounds a lot familiar to old but gold email marketing, doesn't it? Nevertheless, there is a slight difference between these two and they should not be conflated.
EDM marketing vs email marketing
When it comes to email marketing, more or less it is about sending emails to a list of pre-collected subscribers who are believed to be a perfect material to become customers in the near future. Therefore, by sending well-prepared personalized emails you try to build a relationship with them. When it comes to email marketing, personalization and inspiring trust to you as a business owner are crucial.
EDM marketing aims at reaching large groups of potential customers rather than individuals, and uses cross-media channels in order to strengthen marketing campaign messages.
Table of contents
show
hide
How do you create EDM marketing?
As mentioned – EDM marketing starts with email marketing, but then it significantly broadens its reach. Although the process of creating EDM marketing starts innocently,with time it expands. There are a few steps in order to implement EDM marketing, actually, the process starts like a simple email marketing one.
Step 1: Choosing the best email marketing platform
If you are a newbie in email marketing, you can work on simple tools like Excel or Google Docs. However, with an expansion of your email list you will need to establish a bigger and more advanced database and there is no escape from that. Therefore, it is better to choose the best email marketing platform right away instead of transferring the data after you reach a certain level of subscribers.
There are many players on the mail marketing platform market tempting you with their offers. Some software tools are completely free of charge until you reach a certain amount of subscribers, some of them are paid per certain amount of people, some offer a 30 day free trial. Check the market and choose the most suitable platform for you.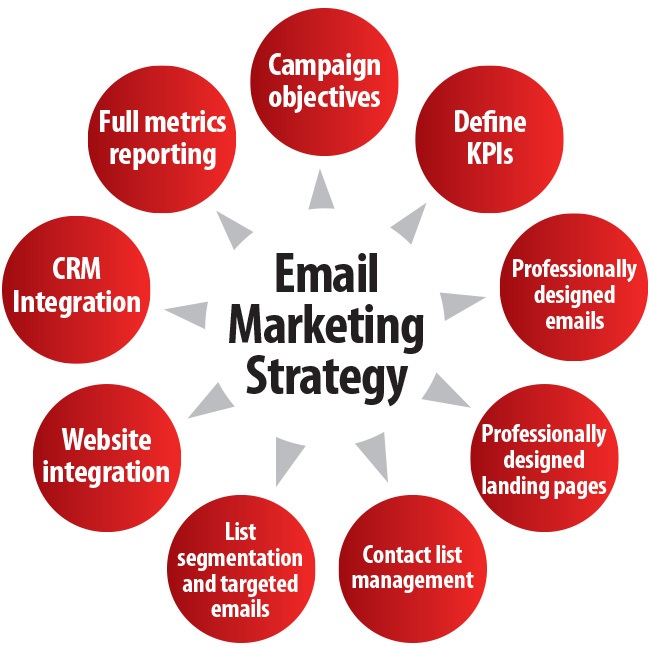 Source: https://secure.business.nova.edu/marketing-blog/index.cfm/2017/6/16/5-Steps-to-Better-Email-Marketing
Step 2: Collecting contacts and implement segmenting
The success of your marketing efforts is heavily impacted by the email list itself and who exactly is on it. Think of ways to generate most valuable leads that will be prone to purchase from you and that are truly interested by your offer. You can collect your leads emails by:
The fastest way to grow your email base might be to pick up one of landing page templates, embed a signup form, publish the page and direct traffic to it.
Once you collect a decent number of leads, you need to segment your audience in order to deliver highly personalized and adjusted emails. According to Mailchimp, "recipients are 75% more likely to click on emails from segmented campaigns than non-segmented campaigns". Therefore, it is definitely not a fact that should be neglected.
You can segment the leads by geography, age, gender or level of engagement. Segregating them guarantees you more engagement and increased interest.
Step 3: Creating an email marketing campaign
If you gather a pretty nice group of emails, it is about time to kick off with your first email marketing campaign. In the emails marketing platform of your choice you need to find "create campaign" button and you are basically ready to go. Of course, you can make advantage of email templates to enhance your emails' look.
However, when creating your messages you need to remember a few ground rules:
Step 4: Track your email marketing campaign performance
In order to run stellar and impeccable marketing campaigns you need to have proper information about what works for your business and what doesn't. Only with this are you able to improve audience engagement and boost conversions. Track your EDM marketing campaign using a few KPIs, such as:
Choose only the ones that will truly let you measure whether your marketing campaign works and engages your subscribers. It will show you what kind of messages are efficient and which are the opposite.
Step 5: Running complementary marketing campaigns
Once you know what works on your leads, it is time to make the next move and transform email marketing into EDM one. When you have gathered all the valuable information from email marketing, you are ready to start with EDM actions. Also, use a service that provides data appends to find characteristics, such as job, wealth or age, which may have a tremendous impact on a buyer's decision. 
You have a whole range of EDM weapons you can choose from. It all depends on your goals – do you want to sell more or just reinforce the relationship you already have with your users? You can implement multiple channels for that: social media, PPC ads, remarketing and direct emails.
The last ones are the easiest to implement next to email marketing so let me quote to you some proven types of emails you can send in order to run a successful EDM marketing campaign:
According to Forbes, it is 5 times cheaper to convince our client to buy than to look for new one
As you can see, EDM marketing is a great addition to your typical email marketing strategy. Email marketing focuses on gathering valuable leads and starting to build relationship with them. EDM marketing goes beyond this and tries to take advantage of valuable information in order to improve marketing approach. Hence, EDM marketing can be seen as a perfect complement for an email marketing strategy and, once implemented, can significantly improve your business performance.
Ready to grow? Let's get started!
Join us and create the best-converting landing pages