How to Spy on Your Competitors' Marketing Strategies
How to Spy on Your Competitors' Marketing Strategies
Last updated: August 31, 2023
8min read
Do you risk it for the biscuit by spending thousands of dollars on running new marketing strategies that you think might work? Or are you going to spy on your competitors, figure out what they're doing that works, and use the very same marketing strategies they're using while improving it?
I don't know about you, but the latter seems like a far better option.
Not only can you ascertain (to some extent) that the marketing campaigns you're about to run are, in fact, effective, but you won't even have to start from scratch since you can just build upon the successful framework that your competitors are using — something that might have taken them countless hours (and wads of cash) just to come up with.
Use Facebook's Page Transparency Section
Not many business owners or marketers are aware of this, but Facebook's Page Transparency section contains a treasure trove of information of their competitors' Facebook ad campaigns.
With this feature, they can go to their competitors' Facebook pages, check out the paid ads their running, and benchmark on how their ads are created.
Allow me to demonstrate.
Supposing Digital Ocean is one of your competitors, and you want to see how their Facebook ads look.
Just visit their Facebook page, click the "See More" clickable link under the Page Transparency section, click Go to Ad Library, and you're pretty much good to go.
This is what I'm talking about.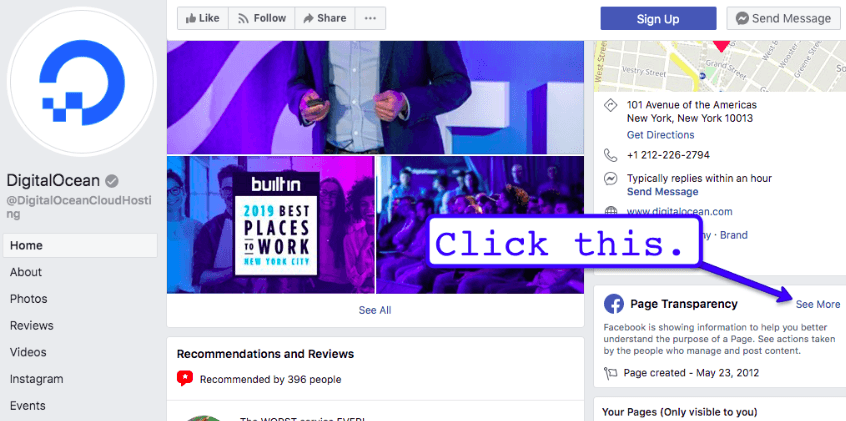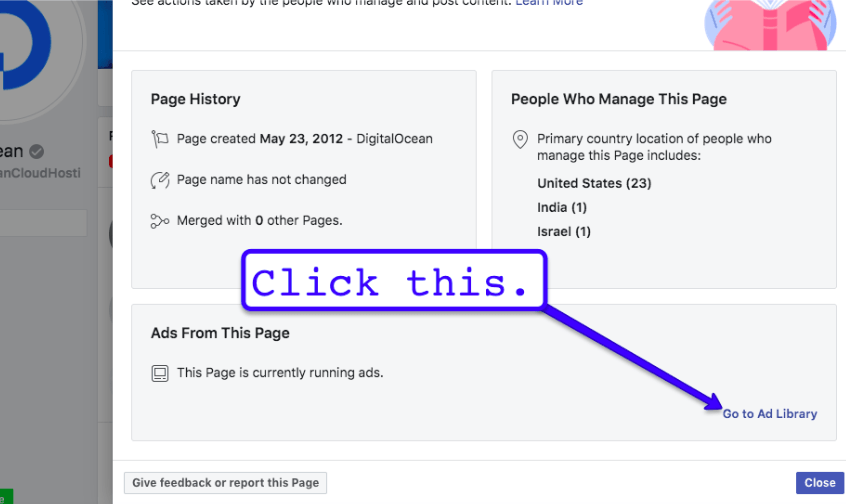 With this, you can now view the ad copy and images that your competitors are using.
You'd be able to see the pain points that they're trying to highlight/address and even the features that they're focusing on selling.
By clicking the "See Ad Details" clickable link, you can see the full ad copy and the landing page that their ad points to.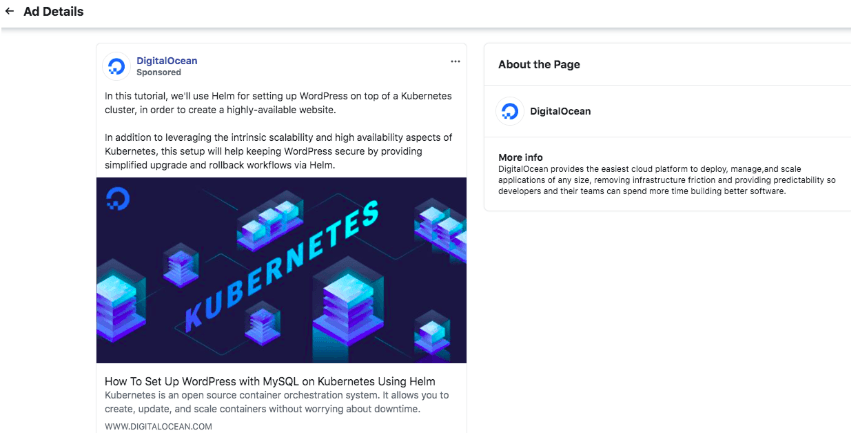 Of course, as you click the ad and get routed to your competitor's landing page, you'd be able to see their landing pages' copy and their product and brand positioning.
As you uncover these details and examine the dynamics of their ads and landing page elements, you'd become far more effective at creating your own ads and landing pages.
Guest post + Advanced Search Query
If you want your brand to stand out like a digital peacock, then there are no two ways about it — you need to do content marketing.
Out of all the content marketing methods that you can employ, guest posting is one of the most widely used by marketers and business owners.
Guest posting is great because it helps put you and your brand on authoritative websites that have truckloads of monthly traffic, therefore, giving you instant brand visibility by the thousands. That and the link juice your website can obtain can also help you rank your pages on the search engines.
At this point, what you need to do is uncover where your competitors are guest posting — and I'm going to help you with just that using a nifty trick.
What trick am I talking about, you might ask?
Using advanced search queries, of course!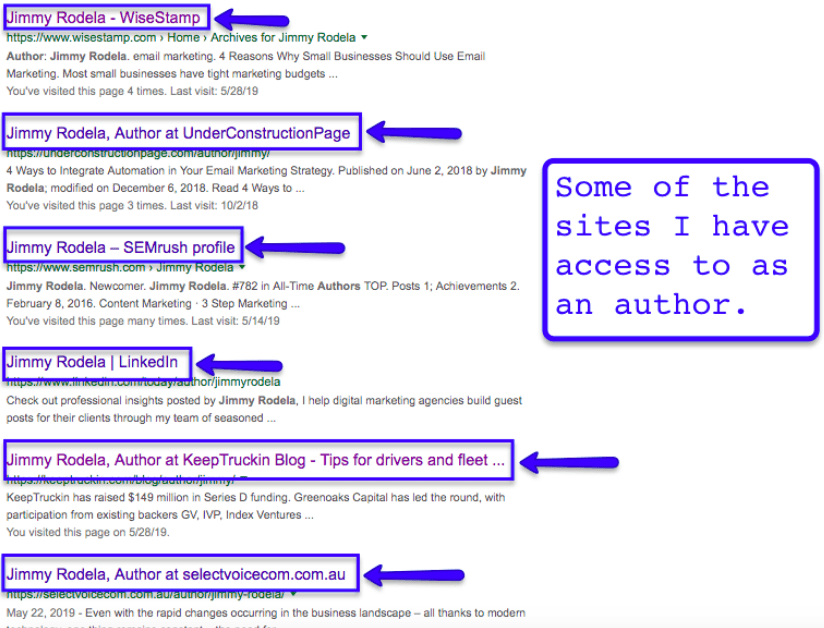 Just by typing in that search query, Google will bring you the sites where your competitors have contributed their articles.
From there, you just need to compile the sites into a single spreadsheet then start reaching out to the same sites.
Here's the kicker, since the sites you're targeting have already accepted guest posts from your competitors (or from other people), there's a good chance that they'll accept your guest post, too — that is, if you'll ensure that your article packs a punch and provide tons of value.
If you don't have the time to compile a list, write a compelling article, and reach out to several webmasters (among other things), then you can hire a freelancer to do these for you. As you can probably imagine, there are truckloads of benefits you can get out of hiring a freelancer.
Analyze Their Websites
Did you know that there are boatloads of information that you can obtain from your competitors' websites — even if you don't have their log in details?
You'd be able to determine how much traffic they get.
Which websites they get referral traffic from.
Which social media platforms are sending them traffic.
Their top SEO pages. Etc.
These pertinent details are puzzle pieces. And with them, you'd be able to piece together which marketing campaigns you should be investing in.
And so the question becomes, how do you obtain all of these details?
That's where Similarweb and Ubersuggest come in.
I'll give you a quick tour of both sites so you'll know just how much valuable information you can get from them regarding your competitors.
But before I do that, allow me to say that both tools are free (though, they certainly have paid options), and you won't be required to sign up, enter your credit card details, or do a rain dance to be able to use both tools — just enter your competitors' domain names and you'd be good to go.
These are some of the crucial bit of golden nuggets you can get from both tools (and some screenshots).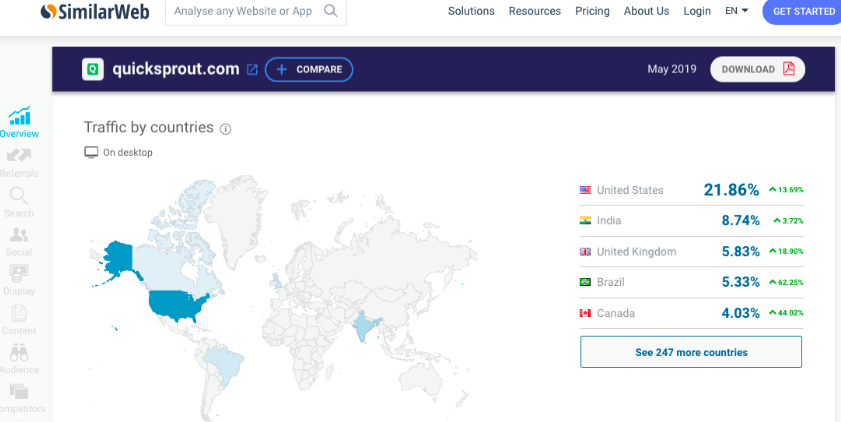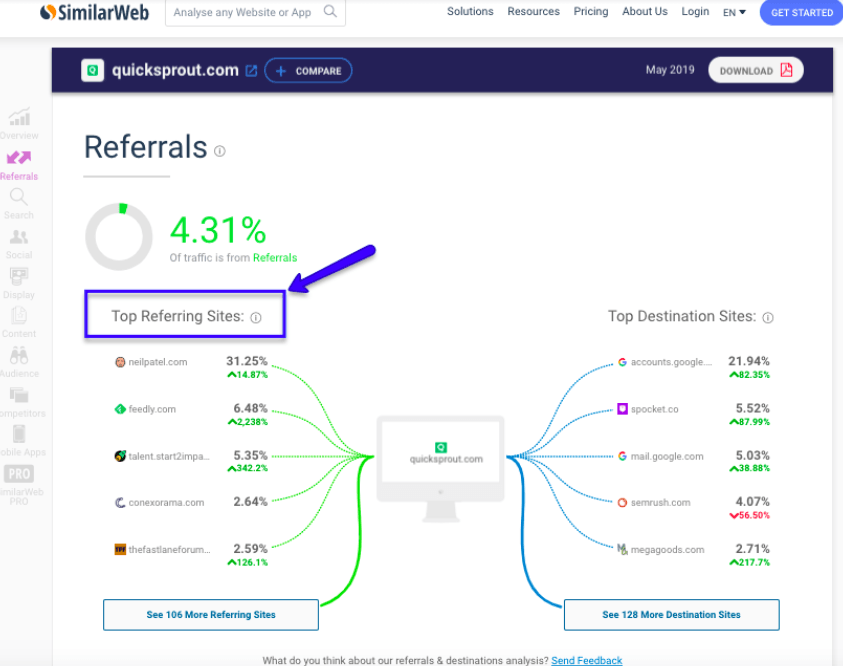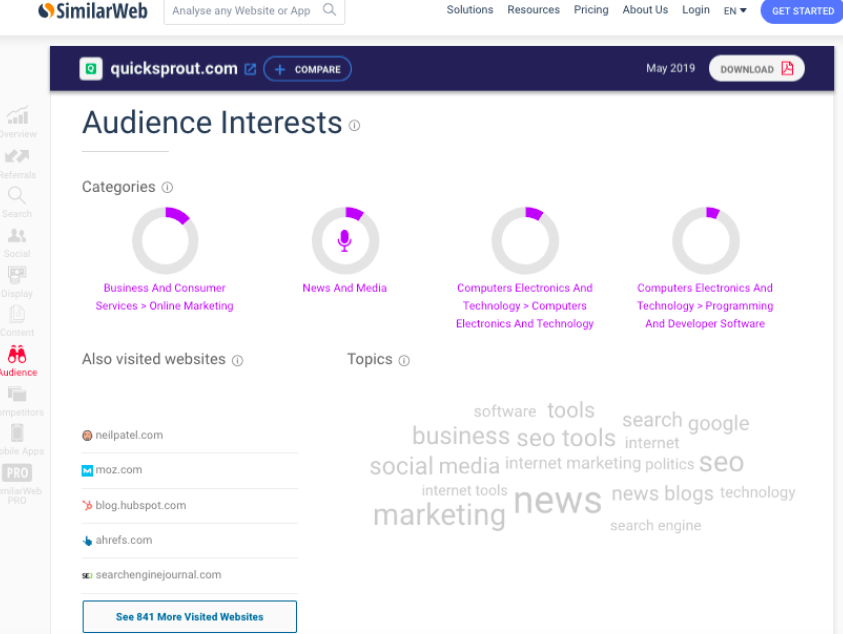 Ubersuggest
Website organic monthly traffic
SEO keywords ranking
Top SEO pages
SEO keywords
The websites top traffic pages
Domain score
Etc.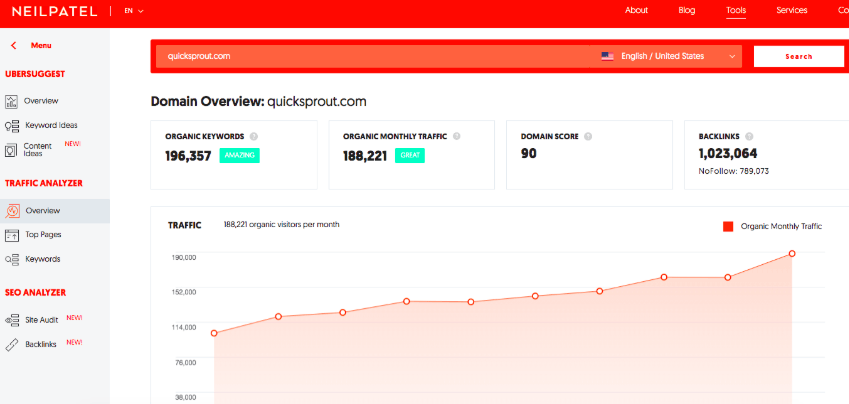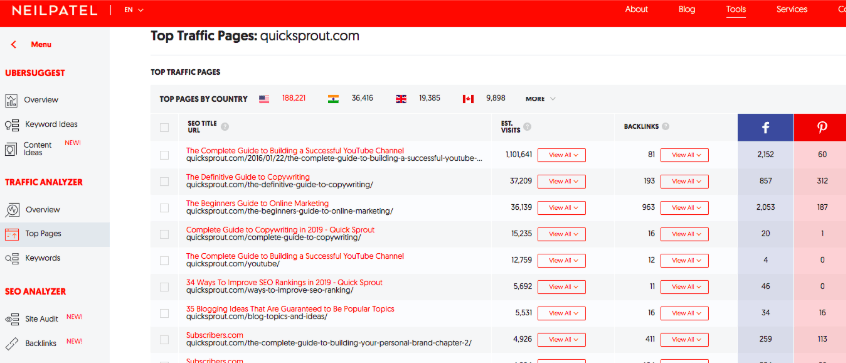 If you want to rip traffic out of your competitors like a schoolyard bully, then you'll need the help of both tools to see what your competitors are up to.
Once you've obtained crucial intel about their sites, you can then start strategizing and developing a marketing strategy that has a higher likelihood of succeeding.
Use Backlink Checkers
The strategy we shared in point number two where you'll use advanced search queries to determine where your competitors have been guest posting, might not be enough.
The thing is, your competitor might have been building backlinks either using other people's names (or a pen name). Or the backlink they created might have been from forums or other types of sites and content where they didn't guest post.
There are directory type pages, for example, that your competitors might have obtained a link from. A classic example of this is the digital marketing agencies page of Digital Agency Network. The page showcases several marketing agencies and with direct links to their website.
The page isn't something you'd be able to come across if you used the advanced search query for finding guest post opportunities.
If that's the scenario, then you'd have missed out on the traffic that you might have obtained from the Digital Agency Network — which your competitors are enjoying, by the way.
That's why backlink checker tools are important.
There are several of these on the internet. But what backlink checkers mainly do is come up with a list of sites that have linked to your site (or your competitors', depending on which domain name you enter in the tool). This way, you can find your competitors backlinks and outshine them with a new strategy.
Here's an example.
Supposing you're in the digital marketing niche and you're competing with Neil Patel. You can enter Neil Patel's website URL in Ubersuggest's SEO Analyzer, specifically, in the "Backlinks" feature
This is what you'll see: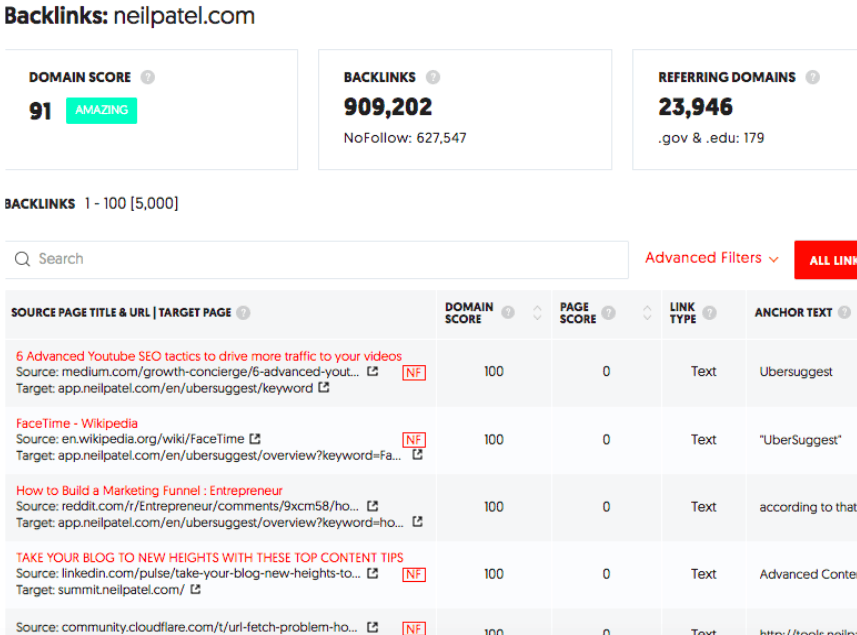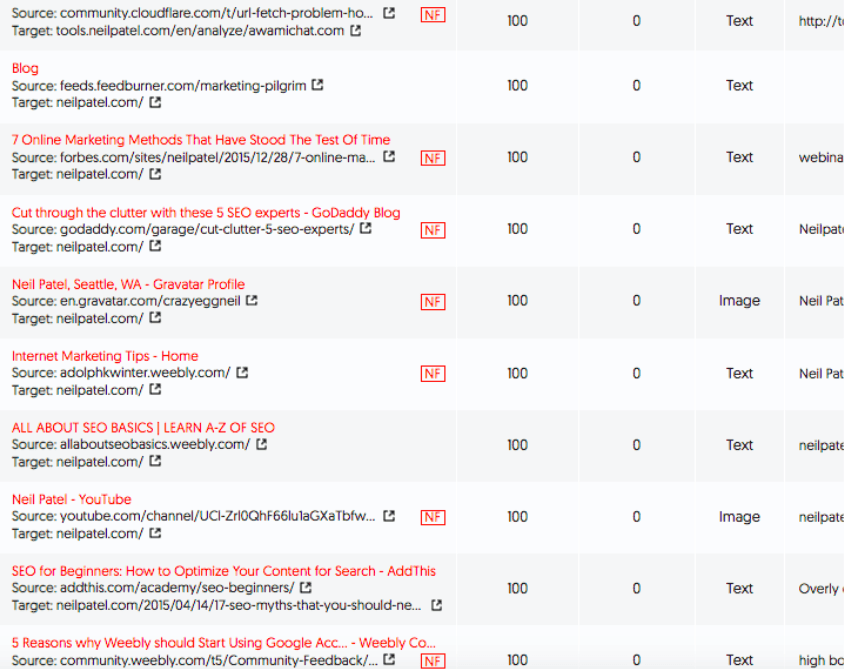 With your competitors' backlink profile in front of you, you can be more aggressive at how you'll build your links.
If you put together all the meaningful links that all of your competitors built and you'll target every single one of them, then you'd have a more robust link profile compared to your competitors since yours is a summation of all of their meaningful links.
What's next?
If you follow the four strategies that I detailed above, you'll be able to benchmark on your competitors' marketing strategies better.
You'll have a clearer grasp of what they're doing, how they're creating their content for link building, the platforms they're targeting, the specific sites that are bringing them the most value in terms of traffic referrals, etc.
Outrun your competition with landing pages