Landingi vs Instapage – Which Landing Page Creator is Better?
Landingi vs Instapage – Which Landing Page Creator is Better?
Last updated: August 26, 2021
10min read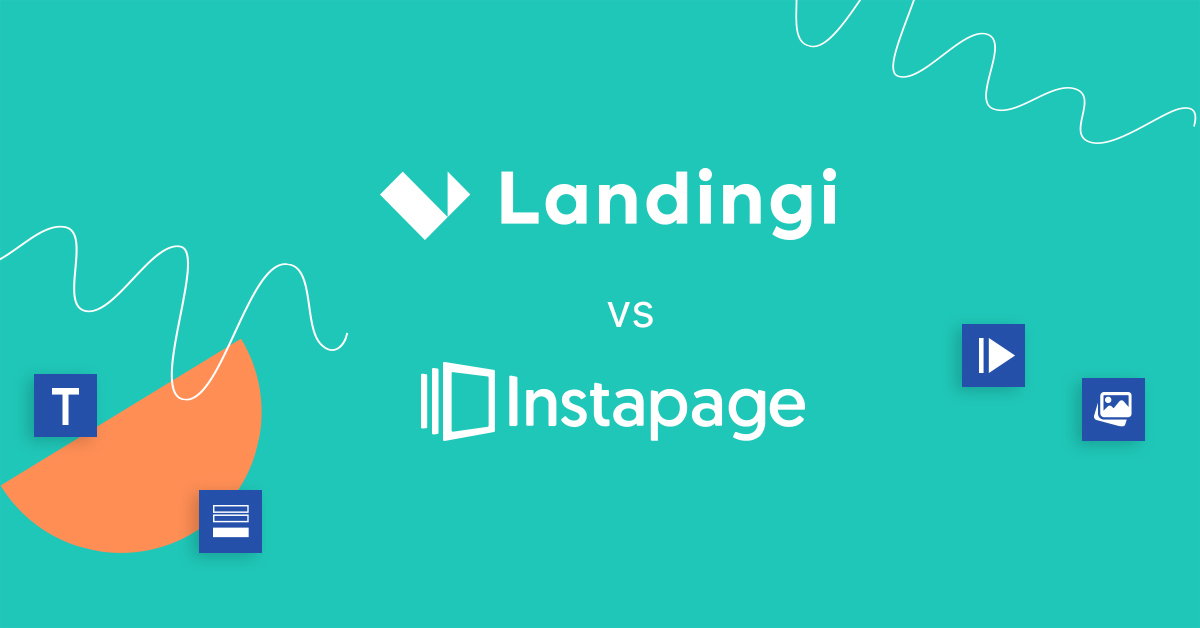 It is hard to compare two different kinds of software, especially when one of them is your own. When faced with Landingi vs. Instapage dilemma, what can I say as a content specialist in Landingi? Of course, I find Landingi a great tool for non-programmers, and, as my design skills are quite basic, the Landingi editor is easy to master even for folks like me who are quite good with words but not with color palettes.
The truth is that both have their own place on the market, and boiling it down to "option A is good, option B is bad" would not be an accurate assessment of either of those landing page builders.
That's why I've decided to show you the approach that both tools take as far as the features and value are concerned. We'll take a look at the free trial, the capabilities of each landing page builder as well as compare the limits of both Landingi and Instapage. I hope this post will help you make a more informed decision.
Let's start with getting the first impression of both Instapage and Landingi.
Instapage is here to welcome you with a Postclick chatbot. This is a nice touch as it welcomes users on the page while also giving them an opportunity to get familiar with advertising automation features, which is what Postclick is about.
Chatbots serve as a small and unobtrusive way to contact support or onboarding teams, and plenty of companies include them on homepages.
The website itself is rather easy to navigate, and most subpages contain videos to go along with the copy. The overall expression is very professional, although that is hardly a surprise.
On top of that, visitors can see a sample of all the landing page templates offered by Landingi. The use of pre-made templates is a cornerstone of most landing page builders, and this one is no different.
Instapage has been operating on the market since 2012, while Landingi officially launched in 2013. Since then, the SaaS model has grown significantly. Low cost of entry, the option for a short-term commitment as well as quick implementation time (the software is already there) are just some of the reasons why companies decide to purchase a subscription instead of making tools of their own.
Each product has its own pros and cons making it suitable for different customers' needs. How to decide which one will suit you better? How about signing up for a free trial period to see how it works?
Free Trial
Well, this is what I decided to do next. When it comes to free trials, sometimes a service provider requires credit card details straight away. This may discourage some potential customers from signing up (too much effort, too much risk of having to pay when the trial ends). Naturally, even though the trial requires such data upon registration, the users are not charged during the trial.
Does a free 14-day trial really give anyone a chance to get to know most features? Let's find out.
Both platforms allow users to register quickly and start building landing pages pretty much right away, although there is an option to request an onboarding session in either software, too.
One of the first things that I noticed during my trial at Instapage is how complicated it all was. You get the impression that you are about to start something complex. It's a lot of things at once, and that can generate an overwhelming feeling at first.
Landingi is more about creativity and design, which is reflected in the templates. Compare some of the templates of the two landing page builders:
The Limits
Instapage users can create 30 landing pages a month and bring up to 30,000 visitors with no conversion cap, as well as use 5 workspaces and work in a team of up to 5 members. The fact that you can create separate workspaces is definitely a good thing, as is the inclusion of subaccounts. The price for a yearly subscription is $199 a month, which is quite high if you consider that it's an entry-level plan.
When it comes to the traffic and the number of landing pages a user can make, it leaves a lot to be desired, especially if you work for a marketing agency or a large company that utilizes landing pages heavily in their campaigns.
Studies show that the more landing pages you use, the better your results get, so having a limit set this low may be discouraging. The same goes for traffic. 30,000 may be a lot for some, but there are companies that generate this many views on landing pages in a single week.
How does Landingi compare? Let's break it down.
Traffic-wise, the Create plan allows for 50,000 visitors a month, Automate for 100,000, and Agency sets the limit at 300,000 – 10 times more than Instapage. And Create starts at $55, which is nearly three times less than Instapage's entry plan (Automate and Agency start at $79 and $149, respectively). You can make as many landing pages as you want in any of the plans – there are no limits in this regard, nor is there a cap on conversions.
Furthermore, there is an option to extend your visitor limit by 50,000 for $15 a month. After all, if the plan you're on is enough for you and all you need is a bit more traffic, there is no need to upgrade.
As for the subaccounts, the Agency plan comes standard with 10, although you can always increase that number, just like in the case of the number of visits.
Now, let's take a look at what both platforms have to offer in terms of features and whether there is a big difference in value.
Features
Both editors are "pixel-perfect". This means that you can drag and drop the landing page elements (headers, graphics, forms, widgets) anywhere you'd like within the area of the landing page, and use additional graphics and icons.
SaaS solutions tend to be expandable to accommodate other software that customers might use. In both cases, you can connect the editor with additional tools for email marketing, social media, CRM, tracking, or sales.
Remember when I talked about the main difference between the two builders in "First Impressions"? Well, this is where the distinction gets even more visible. One of the builders has decided to offer two plans, with one being a custom option, whereas the other has three plans that have clear pricing. Want to guess which is which?
The fact that Instapage has one plan with a set price and a custom one speaks volumes. One could think about it as coming strong right out of the gate, but if you put yourself in the customer's shoes, it might look like this:
There is a platform that has a lot of features, but I just need a fraction of them, at least for now.
Being able to use features you haven't tried before makes for a better experience, but that only happens once you get comfortable with the platform. And as intuitive as SaaS tools tend to be, getting to the point where one has mastered the core functionalities takes some time, but you pay for the whole ride throughout.
Of course, the custom plan is there, too, but without any clarity regarding the price, it's hard to use it in a comparison.
Landingi, on the other hand, aims to provide users with the features they will use without being charged for things they don't need. When you're ready to get more out of the platform, you can always upgrade. But that's a conscious decision, one that allows spending less in the long run without sacrificing usability.
The three plans in Landingi can be divided as follows:
Create – all of the rudimentary tools required to create a landing page without any coding skills, publish it and have it generate leads or clicks for your business.
Automate – the higher tier adds optimization features, such as A/B testing and smart sections, as well as automation capabilities with an autoresponder and campaign scheduler that lets you activate and deactivate landing pages at a pre-selected date of your choice.
Agency – adds subaccounts for better team cooperation, as well as introduces the use of the platform in white-label applications.
Some features available in the base Instapage plan that are also available in Landingi:
No conversion limits;
Landing page builder;
Multi-step forms;
A/B testing;
Integrations with Zapier, HubSpot, and Salesforce;
Dynamic Text Replacement.
It should be noted that some of the integrations in Landingi are done through the use of APIs. As for the Dynamic Text Replacement, it does require some coding skills to be used in Landingi.
It's worth pointing out that some Landingi plans offer features that are only available in the Custom plan at Instapage:
Audit logs;
Page migration service;
Smart sections (Instapage calls it Editable Global Blocks).
Landingi is simply a much more focused landing page builder. From design, through publishing, and optimization – the functionalities of the builder are centered around one thing. Instapage is a bit different. The landing page builder is just a part of the software's functionalities, but that also adds to the complexity of the tool, and for those who simply want to create the best landing page possible, the rest is just noise.
Having (and paying for) tons of features that won't be used is not a savvy thing to do, especially if what you do need the tool for can be done better elsewhere for less money. You might be wondering: which one is better for me? Well, there is only one way to find out.