WordPress or landing page builder – that is the question…
WordPress or landing page builder – that is the question…
Last updated: August 9, 2023
45min read
Although the question might seem trivial, there is no one simple answer as one would expect. But worry not. In - as we hope - an easy way, we will try to show you all the things you need to consider before making your final decision. Of course, we will try to show you the benefits of using the landing page builder, but being honest with all our current and potential clients means we will also try to show you the cons of this solution. After all, it is always better to be pleasantly surprised rather than disappointed.
So, let's get started and find out what is better? WordPress or landing page builder?
Don't go with the flow… Follow your needs.
Remember the Indiana Jones And The Last Crusade scene where Indy and his main antagonist are asked to choose the chalice? 
In a way, choosing the right IT solution can be equally challenging. Indy had to consider all the conditions necessary when the Holy Grail was created to make the right choice. In your case, you need to consider all your current needs carefully. But, to make things even more… let's say interesting, you would also strongly advise considering your potential future needs. You know where you are and where you would like to be if everything goes to plan. And if it does, you definitely do not want to end up at a dead end. Regardless of your decision regarding the tool, one of the most important things you will "invest" is time. 
Having said that, if you are not 100% sure of your decision, choose the solution that will require a smaller investment in terms of time. It is easier to "let it go" if things do not work out as planned or your requirements change.
What are the things you may want to consider regarding your needs?
will you be creating landing pages from scratch, or would you prefer access to templates

do you wish to keep control over the content and design, or are you OK with the need to rely on others in your organization - copywriters, graphic designers, and developers

are your WordPress savvy

how much of the infrastructure resources do you need in terms of server efficiency - daily/monthly traffic to your pages. Today and in the future

integrations with external tools like CRMs and similar

how important is the technical support you may need

would you like to have someone consult your ideas for your landing pages and your online campaigns

your potential customers - are they based locally (one country) or not

freedom of design and drag & drop editor - are those a plus

security of your pages and the data collected

is the service just for you or for your clients, too? If so, will they need access to some/all of the content and designs created by you?
But the list does not have to end here. Consider carefully if there is anything else that may be important to you or is due to a specific of your work or your client's needs.
Now, let's try to consider at least a few of the questions raised above and try to find out what is better - WordPress or a landing page builder.
All that technical and boring stuff and yet crucial
WordPress is an excellent piece of software. No doubt here. It would not be so popular worldwide if not for that. 
From the most prominent brands like Sony Music, Playstation blog, or CNN Press Room to a tiny site of your local charity shop. Everyone can use and have a website based on a WordPress engine. But here is the first "code word" - website. And although the landing page is still a website, you must remember that it is a particular one.
Simple, usually short-lived, quick to create, magnificent to look at, with often tons of traffic coming to and only to be extinguished without warning after a week or two. And most importantly, with one goal - for the visitors to quickly perform desired action.
The CTA is the core of the landing page and the main reason for you to use them. But even the best landing page with the cleverly created CTA - wondering What is Call to Action? Click to learn more - will not work if they are not properly by the hardware infrastructure.
Why is that important? WordPress, as awesome as it is, will not work on its own. You will need the "infrastructure". That means a server that will host your WordPress application and everything created.
If you are this small, local company with a small website, you do not need much. A few GB of disk space and probably about 100 GB of monthly transfer allowance.
So how much of this transfer is equal to a single visit? If you run an online ad campaign, you want to get as many clicks and visits as possible. Will 1000 clicks be OK, or will you run out of the transfer allowance before that? What will happen when your server runs out of juice? Will your landing pages still be accessible - there is a good chance they will not, check with your hosting provider. How much will you have to pay extra?
We can not say anything on behalf of other landing page builders, but at Landingi, it is never an issue.
We will never turn off your pages! Simple as that. 
Even if you're subscribed to our cheapest, the Core plan with a monthly allowance of up to 1000 visits.
If your campaign and ads bring you 10 000 visits instead of 1000 – AWESOME! We got your back, and every single of your visitors will be able to access your landing pages.
And if you are worried, that will cost you a lot extra – not true. Simply take a look at our pricing.
But we would like to emphasize that even if you do not have the power-up purchased in advance, nothing will affect how your pages perform.
And since we are talking about traffic, there is another crucial aspect that should be taken into consideration. What if the traffic to your landing pages is fake?
Consider the following scenario. You and your closest competitors are running similar campaigns at an equal time. Or you create and host pages for your clients, and they run campaigns simultaneously as their competition. 
Of course, DDoS attacks are illegal and unethical, but let's be honest. They do happen. Are your server and WordPress ready to handle thousands of requests per second?
With the landing page builder, such things are a lot easier to deal with. The platform and service provider's responsibility is to ensure everything is working correctly 24/7. So, if you have more than one custom domain on your account and many landing pages only the one under attack may be temporarily switched off. This is to make sure all other landing pages on your account are working. In the case of a WordPress and single hosting service/account, the whole server may be blocked. Also, including the content that was not a target of the attack.
Troublesome accessibility issues might also arise if your visitors are not only from the same country. The further away from your server they are, the more networks and intermediary servers the data need to flow through, and the longer it will take to open your landing page and display its content.
Imagine someone on the other side of the world is clicking on your ad. Great! But that click cost you money, so obviously, you would like this click to come through as a conversion.
However, as your site is hosted on a single server, it will take seconds for it to open. How long would you wait if all other sites open for you in an instant? 
Either you will create and pay for scalable, global infrastructure or you will pay from plenty of "empty" clicks on your ads because your visitors will never reach your landing pages.
These are potential issues you need to consider if you are pondering over the right way to move - WordPress or landing page builder?
Again, we can not say for others, but the Landingi service offers access to a global infrastructure as standard in every subscription. That simply means you do not have to worry about that boring stuff. Wherever it is an attack or clients from a distant part of the world.
All you need to focus on is how to transform your landing page ideas into actual landing pages.
And last but not least… How will you test the server stability? If the cost of the service is important, there is a good chance that some maintenance works will be carried out from time to time. What will happen if you'll be in the middle of the paid campaign and your ads will lead… well… nowhere?
It is bad if that happens to "traditional" websites. When such a thing would occur to a landing page or pages in the middle of camping with hundreds of clicks that would simply be a disaster.
In the case of landing page builders that are offering a very specific and specialized service, it is our responsibility to make sure your landing pages are working 24/7.
We bet you have seen this sentence on many occasions in a reference to websites. In full it read: Content is the King!
And that is true. Without plenty of relevant content, the SEO of your pages will suffer. So you write articles, posts, and anything that your potential visitors might look for with the use of search engines. But that is not exactly the case when the landing pages are in play.
The landing pages do not rely on SEO - mostly. The majority of the traffic directed to any landing page comes from paid campaigns and ads. Paid clicks are the ones that lead users to your landing page. It means that one of the crucial aspects is the landing page speed and technical optimization. Especially for mobile devices.
The page optimization will be crucial. If you click on the ad and not much is happening… We mentioned the above in regard to the server infrastructure. But even the best servers will do no good if the page itself will not be properly optimized. Number and size of pictures, additional lines of code - and yes each plugin you will install will also affect how the page performs - this all has a massive impact on the page. How quickly its content becomes visible to the visitor, and how quickly can one understand what is offered or what the primary CTA is and perform the required action? 
If your page optimization becomes a bottleneck there is hardly a chance for a good outcome of the overall campaign. People will click your ads and most likely leave the page before it is fully loaded. The same will happen if the page loads but its content will not be easy to read and follow.
If you decide to go with WordPress you will have to take care of the optimization process. There is simply no way around this. And again, since the landing page builders were created with the sole purpose of landing pages all that will most likely be taken care of without you even knowing about this.
Your job is to design and create a landing page. It is the landing page builder engine to make sure everything working at its best.
Time is the one commodity we are all short off…
Above we have mentioned time as an investment. With WordPress and landing page builders you will need time to get used to how both those solutions work. Again, things do get a bit more complicated with WordPress.
We mentioned that WordPress itself is truly great. If you have the necessary know-how there is nothing that you can not do. 
But before you will be able to start creating landing pages there are a few things you will need to do prior to that.
You paid for the hosting server and installed WordPress. But the WordPress itself is only "the engine" that runs the pages. To build the pages you will need to get the theme. The WordPress theme is like an overall template that decides on how your page and all sub-pages, like the landing page will look. 
There are thousands and thousands of themes. Lot's come free of charge if you do not mind the logo or some other information about the company behind the creation of the theme. Since ultimately your goal is to build well-performing landing pages you will have to buy one. As each of the themes is slightly different from the other this does create a problem. 
WordPress relies on so-called plugins, small pieces of software added to the theme and website that perform different things.
Some will help you with content creation, some may be responsible for the SEO or security of your site, some might be just for the form building and others will be needed for external integrations.
In some instances packs of plugins come directly from the theme creator, some you will have to find and install manually. And this is where the problems may occur. 
On occasion, the plugins do not work properly with each other. And either you can sort out the problem yourself by reading an internet forum for WordPress users and developers - yes, if you decide to go with WordPress sooner or later you will have to take the role of developer yourself - or you will be writing to companies behind the theme you are using and those who create the plugins.
On the other hand, if you go with a landing page builder no such issues emerge. You choose the template you like, fill up the content, and perhaps change some of the graphics… that is it!
Every single part of each template is fully editable. And since the landing page editor like the one at Landingi works as "drag and drop" there are no limitations as to how your page can look like, or where you CAN! or can not place elements you want. There is no default theme that limits where the text or picture can go.
Check for yourself how easy it is to change the existing theme into your own creation: https://www.youtube.com/watch?v=Mc24U8ODf1g
And if you need help… there is just one support team you need to get in touch with.
Phone, email, chat… - whatever is more convenient.
Since we mentioned the themes and templates, and the editor we would like to focus a bit more on work efficiency.
It does not matter if you're a one-man band if you're part of a larger team if you create landing pages for your own company or clients. There is one thing in common with all such possibilities… There is always a pressure of time. You want to make the beautiful and well-converting landing page as easy and as fast as possible. Either, so you can focus on other parts of your business or impress your clients. It is best if you can simply choose from hundreds of magnificent, fully editable templates. 
What's more, if you could reuse your own projects in part or in full would also be beneficial.
And how about an ability to update many pages at once, with only a few clicks?
Watch our webinar:
Don't forget to create variants of your landing page, depending on the type of (persona) you speak to. More on that here: Why does it make sense to personalize the landing pages?
Those are all the advantages of landing page builders over WordPress. WordPress will allow you to create a lot more advanced websites, but the question is… Is this truly what you need? Or do you want to publish a page that will simply do the job? Get you the leads.
I got the leads… what's next?
If we are talking about landing pages - regardless of how they are created - we need to talk about the leads. 
We need to look at two aspects of this matter.
Leads Management System - one… to rule them all…
The first one is the leads themselves and what to do with them.
If you collect a handful of leads from a landing page, most of the time you will be able to handle them manually. You can log in to software meant for lead collection and perform the necessary tasks. Reply to your visitors, enter them into your CRM or do whatever is needed.
If you choose a landing page builder there is almost a certainty, that there will be a specific place in the platform for your leads.
It will allow you to view the collected leads or export them to a file.
In the case of WordPress, you will need to find and install a plugin responsible for lead collection from forms. So, it is yet another task you will have to do on your end before you will be able to start the campaign.
But what will happen if you will collect 100 or 500 or even more leads per day? Such a large number of data do require at least some sort of automation. That means an integration of the form with an external system.
Ideally, you'd want leads to be sent to a system of your choice a CRM, an email marketing tool, or anything else you or your client would need.
Again, if we are talking about WordPress there will be an issue with finding the right plugin. Either to integrate the forms you already have or the new ones you wish to create. And yes, this means an additional cost. Most of the time it will be a service similar to a landing page builder that you will have to subscribe to.
Hopefully, it will work like a charm with your other plugins and WordPress itself. Now and after updates, which (as you should know) happen quite often in the "WordPress environment".
And since we mentioned updates - sorry for yet another digression - you do have to remember about frequent backing up your entire WordPress installation and all of its content. 
So, in short, apart from WordPress and everything we spoke about above you will additionally need a Lead Management System.
Such systems as well as integrations are always a part of the subscription of the landing page building platforms.
Being able to manage leads is only the first issue associated with lead data collection.
The second one, and as important as the first one is data security.
As WordPress is one of the most popular solutions for building websites it is also the main target for hackers.
Thousands of thousands of bots are scouring the Internet on a daily basis searching for weak spots in the code of WordPress itself (older versions are especially exposed to such attacks) or plugins. Some will want to hijack your site and replace the links. Some will change the content of your sites, some will try to go even deeper and use your website to hijack your hosting service and use it as a "zombie" server to attack other services and sites.
Each of the plugins you will install is a potential threat. Each contains thousands of lines of code. That means bugs and holes are simply unavoidable. 
It also means you will need yet another service to secure your WordPress installation and your landing pages from such menace.
You would not want that - the hijacking - to happen to you, especially in the middle of the campaign.
Imagine a situation where the landing page you created for one of your clients or for your own company suddenly becomes a large advertisement for a "blue pill" or something equally "interesting".
The freely available statistics show, that WordPress-based sites are hijacked every 39 seconds. Are you 100% sure you will be able to prevent such a thing?
But, surprisingly, that is not the worst-case scenario.
Fear the GDPR - security of personal data above all
It is safe to assume that you have to comply with some sort of national GDPR policy. Your leads most likely will consist of details considered personal. Names, email addresses, phone numbers, etc.
You, being the system administrator are responsible for the security of this information and personal data. What will happen if they are stolen or leaked?
Leads may be fairly easy to acquire but maintaining the security of that data is a whole another matter. A matter you will have to deal with if you decide to go with a WordPress installation. This is the responsibility you have to carry on your shoulders. 
Are you sure you are ready for that?
On the other hand, in the case of landing page builders, all you need to do is to look at the Terms of Service. For as long as you are not in breach of those (for example sharing the access to your account with a third party) it is our responsibility to make sure the leads you collected are safe and sound.
A single point in the ToS, that simply has your back.
Hot, hotter, the hottest click…
One more thing comes to mind. Something you may not need right at the start, but again something truly nice to have if more advanced campaigns are possible.
We are talking about the funnel.
Just in case you are not 100% sure what we mean, here it goes.
The funnel in terms of pure mechanics allows you to split a single form into a few ones. Each is placed on a separate page. Those pages are like steps, one after another, and each asks for different data. However, all are connected as one, and at the end of such a funnel, you will get a full, complete lead with all the information you've asked for.
Landing page builders do offer such functionality as standard. If you go with WordPress and an additional plugin it would be smart to choose one that has similar functionality.
More than one client? No problem!
There is a saying, that the more the merrier. And in the case of landing page builders that is true.
Let's say you have more than one client that you work with. Or perhaps departments in your own organization are also working with landing pages, but use them for different purposes.
What if a client will require direct access to the landing page or pages to implement some changes or for whatever different reason?
If you're OK with one client having access or at least an ability to view what else there is on your WordPress site, no issue there. But if not…?
You guessed well, again you will need to find a plugin that will create some sort of subaccounts in your WordPress and limit what each user can access and see.
With most landing page builders you should be able to subscribe to plans like the Agency at Landingi.
Such plans will allow you to create subaccounts for each of your clients. With a few simple clicks, you will be able to give them access to their landing pages without the worry that they will see what other clients you have. The subaccount works and looks like an independent account and has no access to any content assigned for other subaccounts or the main, owner's account.
My brand - my kingdom!
"Oh, wait! It's all cool, but I do not want my clients to see your - landing page builder - brand, so…?" 
True… With WordPress, it can all be working under the brand of your company… And if you'll use a landing page builder…? Guess what, that can be arranged too.
If you'll be looking at a landing page builder simply search for a "White label" option. At least this is how we call it at Landingi.
The "White label" allows packaging of the service like the Landingi landing page builder under your brand.
Your logo, your colors, your own logging screen, etc.
Your clients will have no clue they are not using your service. 
What's more, you should be able to limit the resources your clients are using. Monthly traffic or domains, so that you are not welcomed with a nasty surprise by the end of the month. All that is easily doable at Landingi. And whatever issue or question you come up with there is always just one support team you need to get in touch with.
And if you are not looking for a way to give your clients access to the page you can still go for a different plan just to gather landing pages created for your clients in one space instead of using multiple WordPress for each of them. 
Get 111
Landing Page
Examples – the
Ultimate Guide
for FREE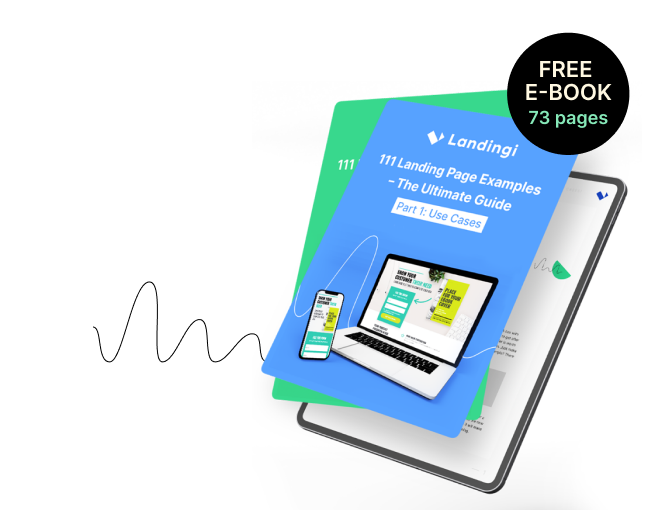 Hosting service, WordPress itself, and plugins, plugins, and even more plugins…
If you run into a wall there is a good chance that you will have to speak to at least a few different support teams. We do hope that will not be the case, but more than once, being clients of different companies we have heard "Oh, it is not us… The issue is with them" or "Well, it works on our end". 
Are you familiar with that?
You need to be aware that building one service out of many blocks has its downsides. At least where the need for support is being considered. On the other hand, unlike the landing page builders, WordPress gives you full control and freedom over almost anything considering the service and what you can do with your landing pages.
The benefit of the use of one service is clear. The time you will save is evident. But it does not mean that the landing page builder is all honey.
Need a different type of form or wish to implement something more unique to your page? With WordPress, it will be possible. It may not be easy and straightforward, but it will be definitely possible.
Landing page builders are not as flexible here. If a specific option or a feature was not predicted by the developers, there is a good chance there will not be a solution to your need.
This is why it is so important to carefully consider your actual and possible future needs before making a choice - but we have already covered that in the first paragraph of this article.
What's wrong with a landing page builder…?
So far we have managed to point out at least a few complications associated with WordPress. But if this article is to truly be helpful we also should point out some cons of choosing a landing page builder.
Although you will get lots and lots of features included in your subscription you should study the offered pricing. Many different services have a very different approach to how, how much, and what you will be charged for. The pricing structure is always something you should study in detail, to make sure you're not surprised by anything.
The clearer the pricing structure the better!
Some services will focus on traffic  - the number of visits to your pages each month and the number of custom domains that are allowed to be used on the account.
Some may limit the number of landing pages you will be able to create. And some be looking at the conversion rate and the number of leads generated. You may also encounter some variations of those systems.
The important here is to understand what exactly you will be paying for. This will allow you to predict and evaluate the cost of the service now and in the upcoming months
Different services offer plans with different pricing levels. The important here is to check how easy it is to switch between the plans and what features or limits are included in each plan.
But the main con, in general, is the fact that either monthly or annually you need to keep paying to keep the content on your account active. 
Hiring a landing page builder means that you'll need to keep your account activated as long as you'll need your pages to stay active. Once you'll stop paying for the subscription the published content will no longer be accessible to anyone.
Another potential drawback is the need for nonstandard solutions. In the case of WordPress, there is a good chance you will find a plugin for almost anything you need. And if it comes to worst, you can always get a developer to create a solution for you.
With landing pages, such an option will not be possible or - if the additional services for clients are offered - limited. Most of the time the reason for such limitations lies in the overall security of the service. With WordPress, it is only you who may be endangered. In the case of landing page builders, we are talking about thousands of clients and millions of pages.
Occasionally you can have even a simpler problem. What if you will need to create something a bit more complicated? Few pages work as one portal, something between a home page and the landing page. If the landing page builder does not allow for easy creation of a menu and easy navigation between such pages, that might be time-consuming to make. Although, as all landing page builders allow for use of buttons it is always doable.
A similar issue might arise if there will be a need for a larger amount of text to be published on the page. Since landing pages are not blogs and are not used for publishing posts, there is a possibility that the text widgets available in the editor will focus on headings rather than paragraphs.
But again, the above is not really a problem if we are talking about fairly standard landing pages.
As you can see there is no one, simple answer to the question of what is better - WordPress or a landing page builder. To make things even more complicated no two landing page builders are the same.
They will differ from each other in price, features, UX, and level of support offered.
You can assume, that if your needs for the use of landing pages are limited and you only need a few of them, they will be online for a long time and they will not become a primary focus for you or your clients you can go with WordPress. It should be cheaper than the landing page builder. Those tools and services are directed at people and companies who create and publish pages on a daily basis.
On the other hand, if you think you will make a lot of landing pages… our advice would be to go with a landing page builder.
So… If you must choose - after all why not use both? WordPress for your home page and blog and landing pages builder to build your landing pages… You can publish them on your WordPress site too - choose wisely.
Ready to grow? Let's get started!
Join us and create the best-converting landing pages