HotJar integration
HotJar integration
Last updated: March 26, 2021
HotJar is the tool that reveals your users' online behavior, which you can implement on your landing page via additional JavaScript code.
Step I – on HotJar side
1. Log in to your HotJar account, go to Settings and enter Sites & Organizations tab.
2. Add your landing page to the account by clicking +New Site button.
3. After adding, your landing page will show on the list of all websites. Click on Tracking Code to copy and implement it on your landing page in the next step.
Step II – on Landingi platform side
1. Log in to Landingi platform, go to the Dashboard of the chosen landing page, navigate to the Javascript Code tab and click Add script.
2. Place your previously copied script on the head position on the main page/conversion page (or both) of your landing page and save the changes.
More details about adding your own Javascript you can find here.
3. To verify the implementation of the tracking code, go back to your HotJar account. Find your landing page on your websites list in the Sites & Organizations tab and click on Tracking Code > Verify installation.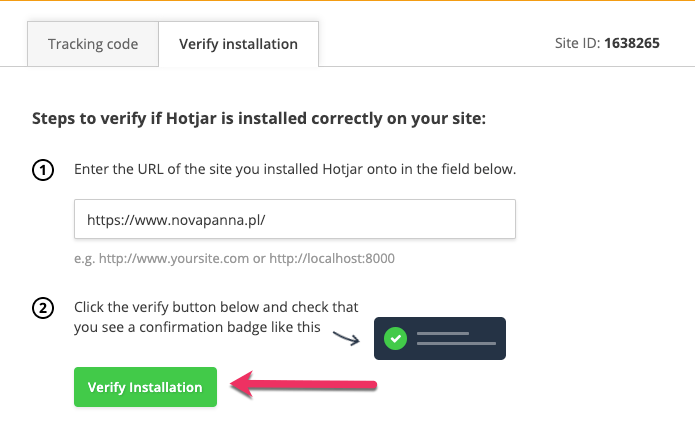 After successful verification you will see on your landing page appropriate message:

From now on, HotJar will collect information about users' behavior on your landing page, generate heatmaps and provide recordings from sessions.