Building a successful recruitment strategy is far from easy. Companies are constantly struggling to find perfect human beings who will join their teams not for a moment, but for a long, long time. Finding someone who has the experience, the passion and is a nice person at the same time, can be a tough job, but someone's got to do it.
The job offer marketing can be tough, but I'll do what I can to help you get through it with a satisfying result. Have fun reading…
…and don't get lost! Click the links below to easily navigate through the article:
The first thing a future employee will probably look at is a company's career tab… or a landing page with job offer. Building it should be one of the priorities for a successful recruitment campaign. I know that, and I realize that one of the best ways to learn something new is to find some good examples and see how it's done, taking what's best out of it and learning what mistakes to avoid.
Want to create an outstanding job advert? Make it a #landingpage instead! Use the best way to recruit the best people!
What makes a landing page great?
There are some things one have to consider while creating a recruitment landing page.
How well do you know your audience? Fitting the message to the ones who should (and will)  receive it is crucial – without it, your conversion rate will fall rapidly. Fortunately, most of job offers are designed for very specific group of people, which makes this part a bit easier.
The first impression. If you forget about a catchy headline, beautiful graphics, or eye-pleasing design, you should prepare for lower conversion. The same goes with a job interview – first impression cane be the most important part of the meeting.
A Call to Action. It should promise something intriguing and – imperatively! – deliver it later.
Keep a landing page as simple as it gets. Don't say everything, as the landing page should deliver only the most crucial information. This rule can be a bit bent, since a job offer landing page doesn't have to redirect users to another landing page but can be a final step of the journey – in Landingi, you can add an "upload file" field to the form, so candidates can send their documents to you directly from the landing page. Try it yourself!
Check everything twice. And then again. Especially if you're not sure that it's the best landing page you've ever seen (which you shouldn't be sure about. Ever).
20 recruitment landing page examples
Browsing through the whole Internet in search for excellent landing page examples is not fast nor exciting, but it needs to be done while doing your research. But fear not! We did it, so you don't have to – take a look and check out +20 Recruitment Landing Page Examples!
(Source: https://careers.airbnb.com)
Pros: An Airbnb landing page design corresponds with their website layout. It's clear and minimalistic. Its readability is almost perfect, with short paragraphs and catchy headlines. However, nothing's perfect, and even this diamond has some flaws.
Cons: The Airbnb's career page is technically not a standalone landing page,  but an example of a mini website with a few tabs. That means there are a lot more buttons to click and "places" to go, which can be distracting. And distraction is the landing page's greatest foe.
(Source: https://workingatbooking.com)
Pros: Booking.com managed to create a nice-looking, friendly career page. It contains clear benefits, graphic presentation of various teams, credible testimonials, great video…
Cons: …that opens in a new window. Three different CTAs (Explore, Get started with LinkedIn, Create).
(Source: https://carrot.is/hiring)
Pros: This is what you call a great example of a landing page for a recruitment campaign! The goal is clear: people who enter this page, can either look for a job in Brooklyn, or in Los Angeles. The design of this landing page is eye-pleasing: simple, yet attractive (I especially enjoyed those flipping tiles!).
Cons: There's a bit too much text, but hey! It's for people, who want to get a job, so I think it's safe to assume they can spend some time reading what the company they try to join is all about. The other thing is the video doesn't work… however, maybe it's just a temporary issue. Also, there's two different CTAs – the user can get distracted by them – to maximize conversion, there should be only one, but on the other hand the blog posts as employee's testimonials are delightful, and they may do the trick.
(Source: https://www.crunchyroll.com/jobs?type=all)
Pros: Look at this animated headline! I'm pretty sure I've already seen it somewhere, but it's still worth mentioning, as it's simple and tells everything you need to know at the beginning. Then there's a paragraph for those who want to learn a bit more. Once you get to know what's it about, there's a bunch of benefits mentioned and the advanced search. The way is clear and as straight-forward as it gets. It's a big yes from me!
Cons: The design of Crunchyroll's landing page is very… safe. Nothing exciting about it. It also lacks some visuals (there's only a cover picture, few icons and one photo collage of the company's employees. Also, there's unnecessary "International" separator at the bottom of the page (as I'm writing this, there isn't a single job offer outside the US). Apart from these two things, Crunchyroll's recruitment landing page is the best one so far.
(Source: https://dubsmash.com/jobs)
Pros: These short video messages created by employees are amusing, and even if they've been set up, they say a lot (of good things!) about the team. I also like the "open positions" widget that highlights three of them.
Cons: Unfortunately, Dubsmash's landing page feels like whole creativity points have been spent on the videos. The header is simple (as it should be), but it says almost nothing. The CTA is well-placed, but it's sending user away (opening the job positions website in a new tab). The first paragraph that says anything about the company is down below, hidden in a fourth section. It takes some patience to get there.
(Source: https://careers.theheinekencompany.com)
Pros: Heineken's landing page has a mission to tell the stories of their employees. The recruitment goal can be achieved somewhere on the way, but it all feels like it's not the most important thing here. I like this attitude, knowing though, that it can be bad for conversion. Maybe it's not all about conversions, after all? Friendly advice: check out at least a few of the video stories and spend a moment to appreciate the amount of work put in this whole project. I also really like the map widget, which shows one of the most essential things for Heineken-employee-wannabees: locations of open jobs at Heineken's.
Cons: The whole page looks a bit… messy. There's a search engine here, a button that leads to Monsters-Inc.-like door gallery (see for yourself), a map and a career newsletter sign-up form! It's a bit too far away from a single goal.
Strolling away from a landing page's goal is usually dangerous for conversion rate, but it could also make it more accessible.
(Source: https://careers.hotjar.com)
Pros: A group photo of people working at Hotjar makes them look like they welcome newcomers with open arms, and that's a good thing. The whole "Culture at Hotjar" section explains a lot about the company spirit. There are also perks and some meetup photos. These particular sections looks super promising! I also like the five stage recruitment process.
Cons: There are a few things I don't like about this landing page. First: so many links. Every one of them drives users away from the goal – finding a job at Hotjar. Second: something's wrong with "Think the dream job is a myth?" section. Either it was supposed to be placed above the photos, or something is missing. Third: "What is Hotjar?" part should be waaay up, as it contains basic knowledge.
(Source: https://www.hubspot.com/jobs)
(Source: https://jobs.netflix.com)
Pros: The header. It says two things: you will work with great people, and you will meet challenges on your way. Is there anything more to add? A couple of videos make the whole landing page more appealing and the entire page is clean and well-organized. There's also a search field…
Cons: …but no search suggestions nor a list of available jobs – at least not in the central part of the page. You can find them in tabs above, which makes the process longer and less intuitive. Again: there are four buttons, each leading to a different place.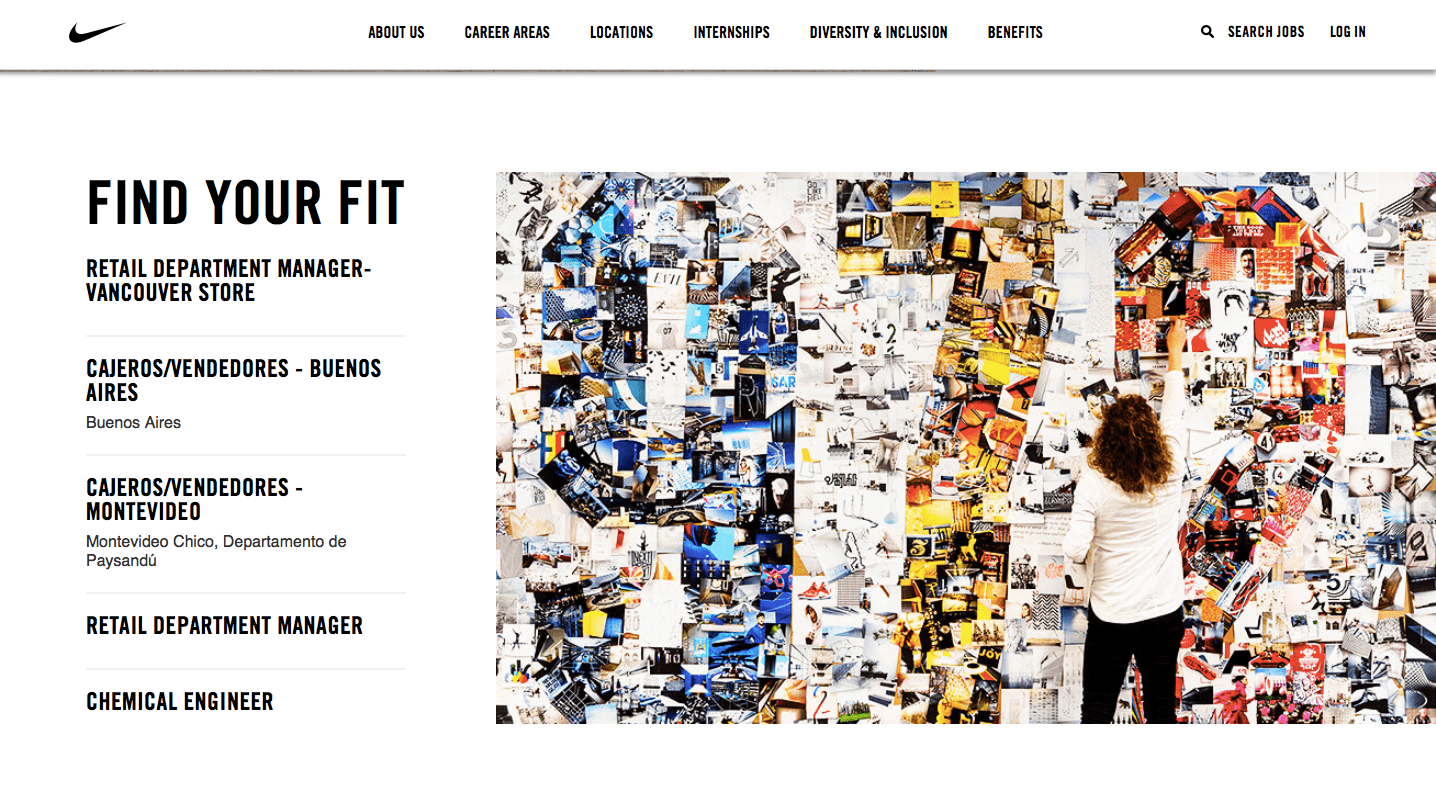 (Source: https://jobs.nike.com)
Pros: Everybody knows "Just do it" claim, and I'm pretty sure everybody will recognize "We are the people who do" headline on their jobs page. Catchy, nice. Also, the message stays consistent throughout the whole page.
Cons: The list of jobs itself isn't obvious and it's hard to distinguish it from the other sections. The whole page is a complex organism rather than a simple experience. Though there is a reason for that (many locations, forms of employment, other valuable information), it could have been made simpler.
(Source: https://www.oath.com/careers/work-at-oath/)
Pros: It starts with a video, which is one of the best ways to show a thing or two about working in a company. The page also features a map with marked locations, where you can find a job. Then the classic team section comes, divided into six departments. The layout is typical and readable, which makes navigation easy. That's a recruitment landing page well done.
Cons: There's no rose without thorns and Oath's landing page is no exception. Two things may have been done to improve the page: a CTA button at the bottom of it (there's nothing, so after a user ends reading, he or she has to go all the way up to click "search all jobs" CTA). Also, the page lacks some real photos of people working at Oath – all those images look "stocky" to me.
(Source: https://careers.pinterest.com)
Pros: Great, positive video showing people who work in Pinterest. It's one of the few HR videos that kept me interested until the end. Pinterest's landing page has employee stories, clear CTA and is short enough to keep the user's attention. The button that directs to job offers is placed near the beginning of a page, and at its very end, which is an excellent thing for conversion.
Cons: It's one of the best recruitment landing pages I've seen during preparations for this article. The one thing I can think of is that maybe they could've included more specific information about what work in Pinterest looks like. 90% of the content on this landing page is basically a slogan. Apart from that, however, it's an exceptional landing page. Thumbs up!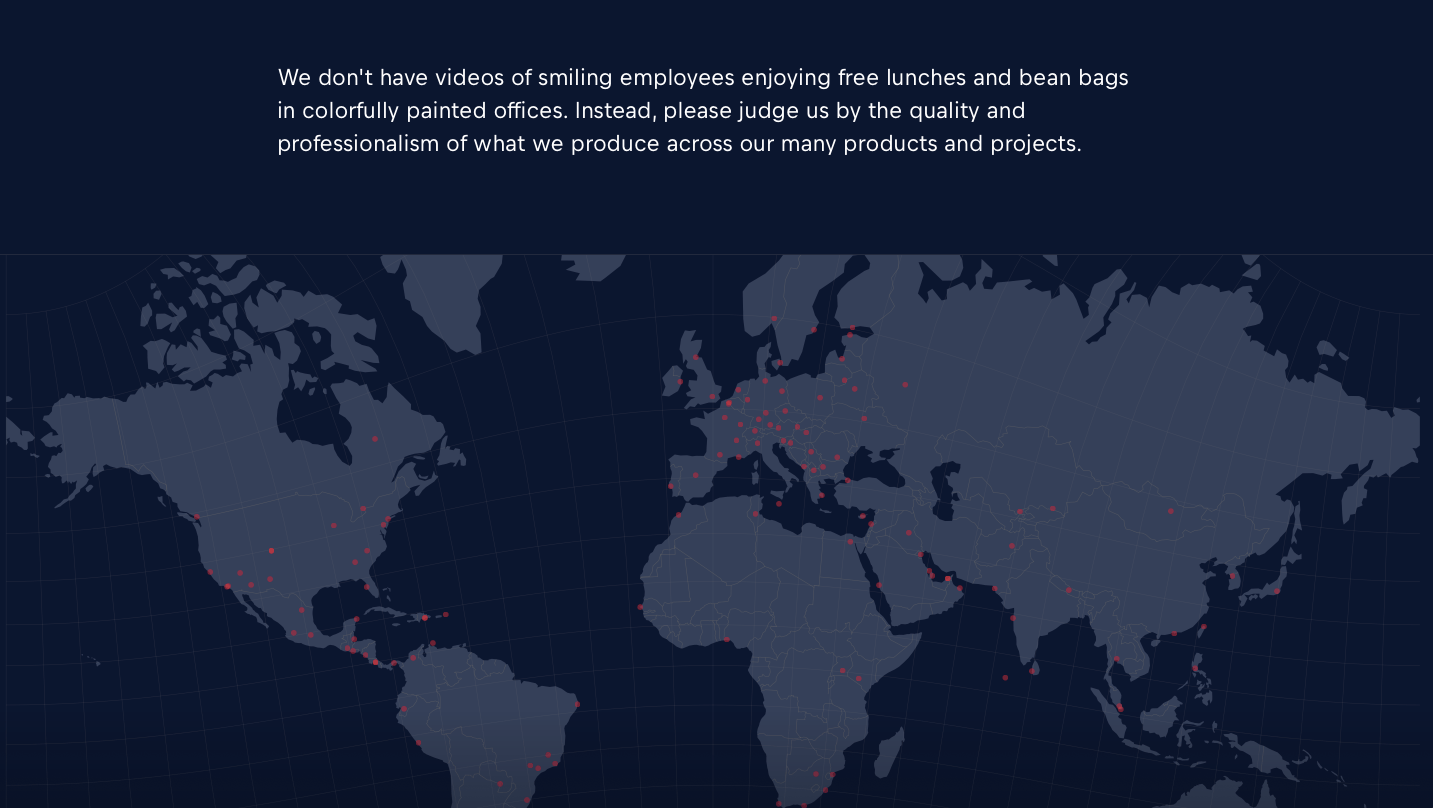 (Source: https://jobs.redbull.com/int/en)
Pros: An excellent way to choose an area of interest, clear buttons below the search field, that make searching easier. There's also a catchy question that emphasizes a desire to develop ("How can we do it better?"), and a CTA button at the end. There's even a map with marked points…
Cons: …that does absolutely nothing. The landing page lacks a video (and no "we don't have videos of smiling employees" will make it better – no video usually means worse conversion). There are no photos either.
(Source: https://www.salesforce.com/company/careers/)
Pros: Salesforce's landing page is very easy to navigate, which is a great thing. The navigation bar sticks to the upper edge of the screen, so you can scroll to any section you want, at any time. A potential employee will notice some real photos taken in Salesforce HQ, he or she will also get to know some of their employees in a Meet our #SalesforceOhana section (Ohana is Hawaiian for "family"). There's also a full recruitment process graph worth mentioning. It's always nice to know how many steps are ahead.
Cons: It's a bit too complex for a recruitment landing page. It contains lots of buttons that drive the user away in some direction. Also, it's a bit too long. And if you include all those things they want users to click, it's something way too overwhelming and too dense for a recruitment landing page.
(Source: https://jobs.sephora.com/Europe)
Pros: The video at the beginning is short (bigger chance for people to watch the whole thing), job search offers advanced options, that allow people to enable filters.
Cons: If there are no job offers for your country, then the landing page has a video, a claim, "Join us in [country_name]" and… nothing more! Not even a "go back" button of some sort. Another issue with this landing page that there's no "search jobs" button in the upper part of it, only at the end.
No distractions, little amount of text, clear design and focus on goal – these are four ingredients of successful recruitment landing page.
(Source: https://slack.com/intl/en-pl/careers)
Pros: Straight-forward message "Work with us" followed by "View careers" button that says everything. Need more? Scroll down, but the essentials are right here under your nose. And – at last! – there's a button that actually scrolls down to a "Careers" section instead of opening (and loading) whole new website.
Cons: There's a bit too much of text here and there, making it hard to absorb all information and distinguish the crucial one from less important
(Source: https://www.spacex.com/careers)
Pros: Catchy headline. If the company starts with "Road to the Red Planet" then you know that they're up to something huge. The landing page has everything in order, and the most critical part – job offers – is arranged perfectly.
Cons: No videos or photos (just one picture that shows next to nothing), but apart from that the job section is almost perfect. Super simple, yet filled with the most crucial information.
(Source: https://spotifyjobs.com)
Pros: Spotify knows how to pass a consistent message – a "Join the band" headline is short, catchy and relevant. Are you looking for a job and job only? You can search for it at the top of the page, no need to scroll down, click through a several pages, just choose job category and/or location and go. I love the order of this landing page – everything seems to be placed precisely where it should.
Cons: I don't get the "Follow us" section – it should be a small button bar at the bottom of the page, but instead it takes a lot of space for no reason.
(Source: https://transferwise.com/jobs/)
Pros: Clear message and clear layout, job categories.
Cons: Too many links to other pages, that may distract users. No clear, primary CTA.
(Source: https://www.ubisoft.com/en-us/careers/experience.aspx)
Pros: This page is not too long and contains some vital information. A slider with jobs categories is readable, but it could be designed a little better.
Cons: The "Go" button should scroll to the jobs section instead of redirecting to another page with another jobs form. It feels a little weird that choosing one of the job areas opens a popup, that contains a link to the career search page. It's three steps instead of one, which makes it not very intuitive.
Enough examples – Create one!
Now, when you have already seen some recruitment landing page examples, it's time to build your own. Although this may look like a difficult task, it's not that bad at all… at least, if you have proper tools for it.
One of these tools is called Landingi. It's an easy drag & drop editor, that allows you to create a landing page from scratch or using one of over 200 templates. Check out free 14-day trial to see if the platform meets your expectations.
With a landing page builder like this, creating your own recruitment page gets super easy – pick a template, drag and drop elements you want to include, upload your own logos and pictures, edit form, change colour of buttons and icons et voilà – it's ready to recruit! And who knows – maybe your landing page will soon serve as a good example for other recruiters?
Click the button below to start your journey with Landingi!