Generate More Leads, Drive Revenue Growth
Design landing pages and pop-ups that can easily capture visitor information and help convert more into customers, on any campaign.
14-day free trial. Cancel anytime.
Keep your funnel full, from the top all the way through
Build landing pages that integrate with your marketing stack to optimize and learn from your campaigns, so the leads keep coming.
Lead Generation that Fits Your Vision
Our drag and drop editor lets you build landing pages, pop-ups, and "thank you" pages that will help you generate and drive more high-quality leads through:
Growing your email list
Delivering lead gen magnets, like ebooks and webinars
Gathering and tracking all leads in one place
Customize for Your Leads
Not a web developer? Not a problem. Choose from over 400 landing page and pop-up templates to build exactly what you need. Personalize your forms to get the information you need from your leads.
Choose the number of fields you want
Experiment with fonts and images
Fit them to your brand and campaigns
"Quick and easy to create, design and launch landing pages and has helped to increase conversion rates on our sites. "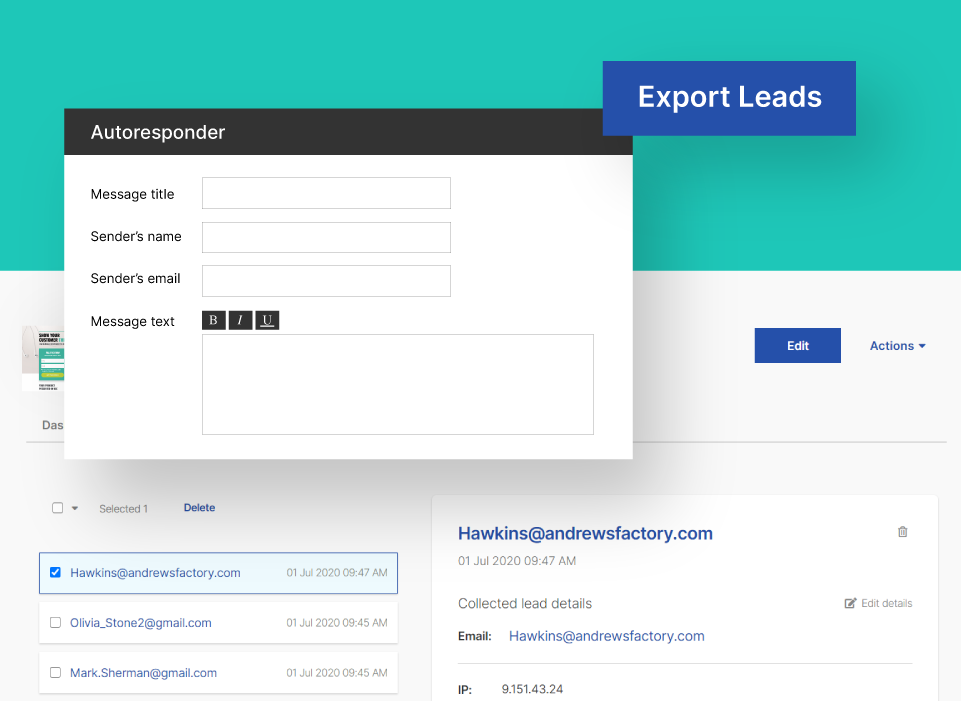 Never Lose a Lead
Once you've done the hard work to generate those leads, don't let them get away. Our tools such as Autoresponder, Lead Inbox, and Lead Export help make sure you can target leads and analyze your lead generation strategy.
Lead Generation That Works for You
When it comes to getting every campaign set up perfectly and guiding those leads through the funnel, Landingi has a few extra tools to make it that much easier.
Intuitive Interface that allows you to build your own designs for landing pages and pop-ups without coding.
Easy Publication, where you can make landing pages and pop-ups live with just a few clicks. You can use our test domain or assign your own.
400+ Templates for landing pages and pop-ups, so you don't have to start from scratch and can save time getting started.
A/B/X Testing, so you can try different variations of your lead gen forms and choose which works best for your campaign.
Campaign Scheduler to set a date and time for your campaign's launch and end.
Advanced Marketing Integrations and lead tracking tools to optimize your workflow and analyze the results from your lead generation campaigns.