Email integration (lead notification with form details)
Email integration (lead notification with form details)
Last updated: June 7, 2022
In this guide, you will learn how to integrate your form to receive leads that include the data submitted by users. With this integration, you can define the recipient of the email (it doesn't have to be your account email).
If you want to get notifications to your account email about a new form entry without the details of the form – read How to enable lead notifications (without form details).
Email integration
1.  Log in to the Landingi platform and go to the editor of your landing page.
2. On the left side of the editor, find the Form widget, then drag and drop it into the active area of your landing page.
3. Click on the form to start editing. Go to Settings from the context menu or toolbar on the right side of the editor.
4. You can choose one of two integrations:
If you want to connect a form on a landing page with an email address and another in-app integration, you can use a separate Email Integration for the form. Go to the Email integration tab.
(1) Use the toggle to turn on the integration.
(2) Enter the email address that will receive the form data. You can add more addresses separated by commas. Leave this field empty if you want the data to be sent to your account email. You can also enter the email title.
If you only want to link your form using the email address integration, you can go to the Integrations tab (1) and select Send the form to an email address (2).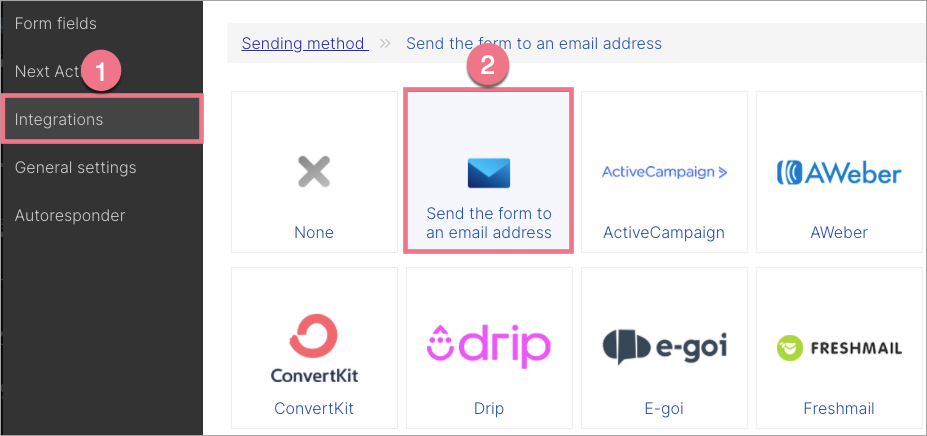 When you select integration with an email address, the messages with the lead data will be sent to the default email address connected to your Landingi account.
If you want to send the leads to a different address, type in the email and title. You can add more email addresses in the last box, such as your co-workers' email addresses.
Click Save and close.
Removing the integration
If you do not want to receive emails with your leads, go to the Integrations tab and select None. Then Save and close.
Message delivery time
The leads are sent by an external system, and usually, emails are delivered immediately or within minutes; however, we cannot guarantee that 100% of leads will be delivered without delays. Keep this in mind as you plan your campaign.
Browse all integrations in our Integrations Catalog to see tools you can connect Landingi with.