LinkedIn Insight Tag
LinkedIn Insight Tag
Last updated: June 2, 2022
LinkedIn Insight Tag is a code that you add to your landing page to use LinkedIn features like website retargeting, conversion tracking and website demographics. It helps you to boost the relevance of your LinkedIn ads to your audience. It works similar to a Facebook pixel.
LinkedIn Insight Tag is necessary when you want to track LinkedIn event-based conversions with Google Tag Manager.
Get your Insight Tag code
1. Sign in to your LinkedIn Campaign Manager. 
2. If you do not own a LinkedIn ad account, start one and click Agree & Create an account.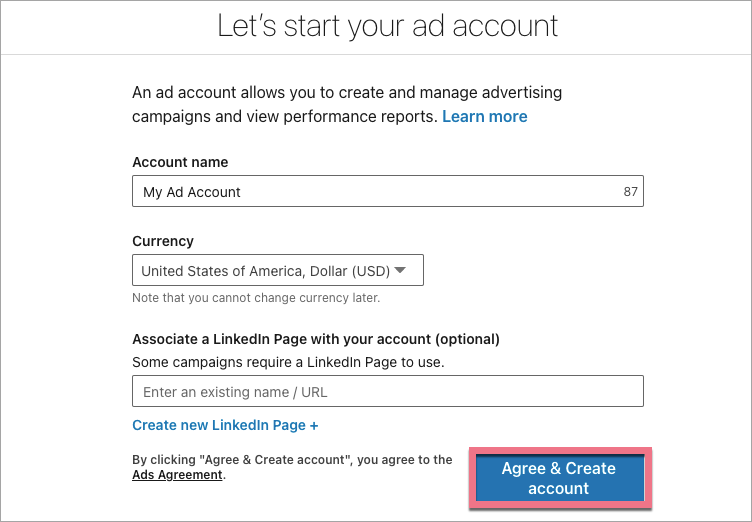 3. Navigate to the Account Assets tab and click Insight Tag.
4. Click Install my Insight Tag.
5. Choose how to install the tag. Select I will install the tag myself.
6. Copy the code.
7. Do not close this browser tab.
Install the tag in Landingi
1. Log in to your Landingi account and navigate to the Dashboard of your landing page.

2. Go to the JavaScript Code tab and click Add script.
3. Name the script, paste the tag and choose the Body bottom position on the Main page. Save by clicking Add.
4. Go back to LinkedIn Campaign Manager, scroll down and click Agree & Continue.
In a couple of minutes, you will see your landing page on a Website Tracking list.
NOTE: Keep in mind that LinkedIn is a third-party solution and is continually being developed. We do our best to keep this guide updated, but if you come across any changes in the set-up process, let us know.
Browse all integrations in our Integrations Catalog to see tools you can connect Landingi with.