The best software for marketing in 2020
The best software for marketing in 2020
Last updated: October 18, 2021
8min read
The year 2020 is said to be focused primarily on providing consumers with unique and engaging experience. Marketing software will surely act as a catalyst in order to put this idea into life. Which marketing and advertising software will dominate in 2020 and is absolutely essential?
Once you read this article, you will know:
Does marketing software equal advertising software?
Advertising is frequently colluded with marketing, but the truth is that advertising is only a small field in marketing, as it focuses on advertisement distribution exclusively.
The marketing definition states it is an overall of activities aiming at promoting, purchasing and selling products or services. In other words, it includes more actions than advertising.
There is certain software that will assist you in general marketing actions while only some of the tools listed in the article below refer to advertisement distribution.
What is the most essential software for marketing and advertising?
Advertising and marketing database software
The primary focus of a marketing database is to generate highly personalized communication aimed at promoting products or services. Therefore, when you choose a software to implement, you should take into consideration whether it features promoting personalization, or enables campaign measurement.
Recommendable CRM platforms including such features are:
Statistical analysis tools
In order to continuously improve your website or landing page performance as well as your marketing campaigns, you need appropriate tools to analyze the traffic and users' behaviour so that you can optimize the site according to their needs. You may implement software for gathering data and for its visualization (in order to get around the collected information quickly and easily).
Gathering data
The most prominent and powerful software for gathering data about website users is, amongst others:
Data visualization
Data visualization software assists in better understanding and improving usability of complex information by taking advantage of graphs, bars, dots and lines. Using it enables you to get around the data quicker and more efficiently.
The top data visualization software for marketing purposes is, amongst others:
Email marketing software
Email marketing is said to be one of the most prominent digital marketing strategies, as it enables you to build relationships with your leads and easily inspire trust.
There is quite a significant number of email marketing platforms to choose from. The final decision depends on your business needs, as each option comes with different features, advantages and odds.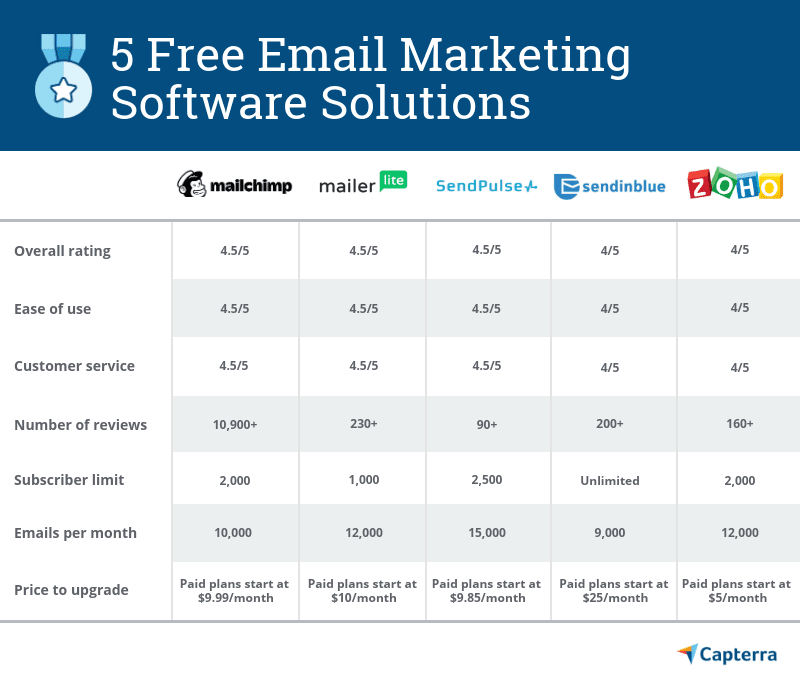 Source: https://blog.capterra.com/10-free-email-marketing-software-solutions-small-business-marketers/
Mailchimp turns out to be the most popular solution with the largest number of reviews. As you can see, it offers appealing features, especially for small businesses, such as sending up to 10,000 emails per month to 2,000 subscribers.
Nevertheless, more niche platforms like SendPulse are usually cheaper and have higher subscribers and emails monthly limits. On the other hand, ZOHO (another niche one) offers features similar to MailChimp, but has slightly worse ratings.
What are the 2020 trends in software for marketing and advertising?
These days, the most prominent marketing trends seem to be content and influencer marketing. Users especially love informative and nice infographics and engaging videos. Being aware of these trends, let's now see how you can use technology in order to help you with implementing high quality content marketing strategy and effective cooperation with influencers.
Influencer marketing research tools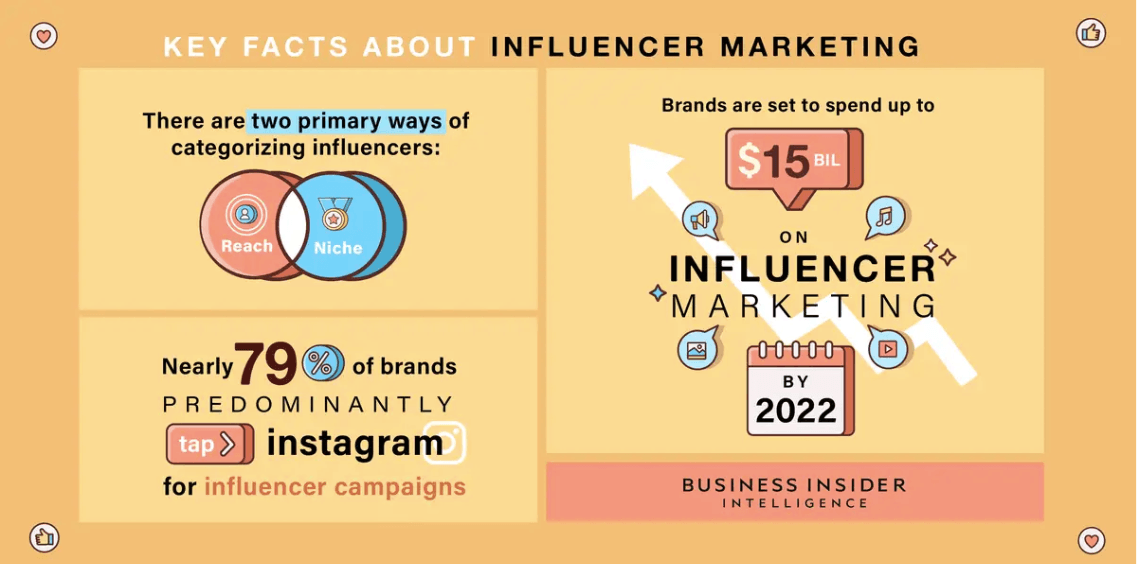 Source: https://www.businessinsider.com/influencer-marketing-report?IR=T
According to studies, "49% of consumers depend on influencer recommendations". The influencer importance stays on upward trend. It makes cooperation with influencers a highly prominent area to include in your marketing and advertising strategy, as it can significantly increase sales.
In order to find the right influencers for your marketing and advertising campaigns, you can use platforms such as:
Content creation and visual design
Content is still one of the most crucial elements of every digital marketing strategy. In order for it to be appealing for customers, it has to have attractive visual design, be meaningful and engaging for potential customers.
It is worth mentioning that when it comes to content, videos are becoming an essential part of content marketing strategy in 2020, and they should not be passed over.
To create high quality content you can use:
In order to make visual elements absolutely stellar, you can use:
For video editing you can implement:
SEO solutions
SEO is still an important part of every business strategy for boosting conversions. You should use proper software to become aware of what keywords to use on your website or landing page in order to reach new customers through search engines.
Apart from short two-word phrases, you can also check out long tail keywords which get less search traffic… but usually record higher conversion value.
The best software for SEO analysis is:
It is also worth mentioning that voice searches are becoming more and more important in 2020 and its usage is expected to grow in the nearest future, so it is advisable to have this trend in mind as well.
Display media advertising software
Display advertising software refers to the tools enabling users to purchase ads, manage them and put them on websites along with banners and pop ups. Display advertising is completely visually driven and spreads brand awareness around the Internet.
The most popular software intended for this use is:
Social media advertising software
According to studies, spendings on ads in social media will see an annual growth rate of 8.7% which makes such platforms absolutely essential places to run marketing campaigns and to advertise products or services.
The best social media advertising software allows users to purchase, manage, and place social ads on Facebook, LinkedIn or Twitter. The best tools include:
It is worth mentioning that once you run your marketing campaign on social media, it is crucial to specify where a given ad directs users when they click on it. In order to increase the effectiveness of your social media marketing campaigns, you should use a landing page specifically created for a given campaign.
Once you design such a page with utmost care and make it highly engaging, you increase chances of boosting conversions and making your marketing campaign absolutely successful.
Another useful marketing and advertising software
Another crucial trends for marketing and advertising include:
As you can see, there is a lot of marketing and advertising software to be implemented in your online business. These days, the competition in the digital market is fierce, which requires your marketing strategy to be well-planned and optimised. This is exactly what good marketing software assists you with.
Once you adopt appropriate methods and implement proper marketing and advertising software, you are able to outperform your competitors and significantly increase your sales, your brand awareness, and customer engagement.
How about landing page building software?