Running a conversion optimization process
Running a conversion optimization process
Last updated: November 17, 2023
Conversion optimization process (or conversion rate optimization – CRO)  is one of the most effective methodologies used for converting visitors of your business website or landing page. It can entail various tools and strategies, all of which have one common objective: converting the users of your sites into leads. And then, leads into customers.
Conversion rate optimization process implementation seems to be finally getting due attention as people are googling the phrase conversion rate optimization more than ever before. Nevertheless – it's not difficult to just google something. The challenge is to put a newly discovered concept into practice.
Even though CRO sounds scary, in the majority of cases it is all about implementing changes in marketing campaigns or on your landing pages directly.
Once you read this article, you will now:
What is conversion rate optimization?
To put it briefly, conversion rate optimization is a system aiming at increasing the percentage of website or landing page visitors taking a desired action on a website and, subsequently, becoming customers. 
There is a lot of misleading information about CRO widespread on the Internet. Some studies prove that using long-form landing pages can increase conversions, while others claim that only short-form landing pages are effective. Some studies show that navigation bars (used by the vast majority of landing pages) decrease conversions significantly, while others state exactly the opposite.
This conflicting information only emphasizes the need for looking into the CRO process deeper, and researching potential tools and strategies to significantly boost conversions on your site.
How does conversion rate optimization process look like?
The foundation of a proper conversion optimization process is based on valid and reliable data. In order to gather it, you can use any of the analytical tools you can find on the Internet. The most popular among them is Google Analytics.
If you use Google Analytics, you should integrate it with Google Ads and add UTMs (Urchin Tracking Modules) as well, especially if you direct traffic from other sources (adding UTMs enables you to check from what source exactly a given number of visitors came to your site).
Only after you have gathered proper data about the traffic on your site, about the characteristics of visitors and their preferences, and about the devices they use, you are able to optimize the conversion process. You should easily notice weak spots or actionable issues. For example, high bounce rate on mobiles in comparison to significantly lower rate on desktops may indicate that you have not adjusted your landing page for mobile devices properly.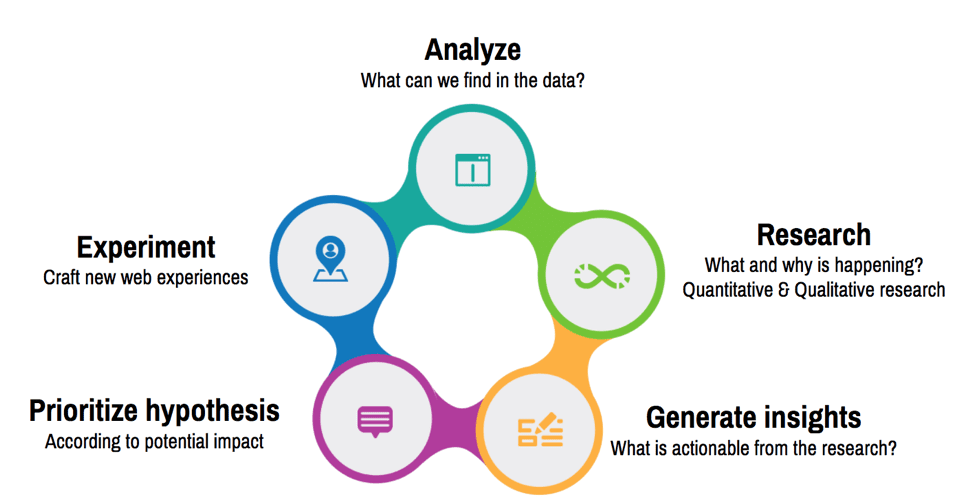 Source: https://www.smartinsights.com/conversion-optimisation/conversion-optimisation-strategy/run-healthy-conversion-rate-optimization-process
As you can see from the graph, conversion rate optimization is a continuous process. The best CRO practice would be to start from analyzing the data, then to move on to proper research and insights from it, then, to prioritize hypotheses and, finally, craft experiments. And then all over again.
What are the methods of conversion optimization process?
Content optimization
Content is one of the most crucial factors impacting individual pages performance in organic search and, consequently, conversion rates. If you create meaningful, high-quality content, you need to make sure you do the most out of it when it comes to SEO as well.
In order to facilitate users to find your business, you need to make yourself visible in search engines through organic search by analyzing keywords in your niche and using them properly (in your blog posts, on a homepage or a landing page).
However, remember not to fixate on volume – "high volume" keywords have higher CPC (cost per click), but sometimes these "low volume" with obvious intent can work better for your business. Moreover, they will probably be least used by other businesses, so you may have less competition in the search engines.
In order to analyze keywords, you can use tools such as Ahrefs (which is a highly sophisticated but costly tool) or Keywordtool (free of charge, with the most essential features only). Such analysis can significantly and positively influence your search marketing campaigns.
Search marketing campaigns optimization
Once you have checked which keywords associated with your business are searched most frequently, and what CPC they have, it is about time to adopt appropriate search marketing campaign strategy.
Not fixating exclusively on high volume keywords has already been mentioned. What you can also try is testing various approaches to search marketing campaigns. You can try out the following:
various campaigns types such as max CPC, max CPA (cost per acquisition) or max CPL (cost per lead),
various versions of advertisement texts and formats.
Social media campaigns optimization
In order to optimize conversions coming from social media platforms, you should also try to improve these campaigns by testing:
various sets of target groups – you can segment your target audience by age, gender, location or interest, and check which split enables you to personalize your social media marketing campaign most efficiently (bringing the best results),
various versions of ads pitch or visual design determining which ones are most appealing for your targets.
Landing page optimization
Landing page optimization may be another element of the conversion optimization process. Apart from using appropriate keywords that should direct to your site organic traffic, you can also take into consideration:
improving landing page copy and testing out which slogan works best – usually, clear, short sentences and words or simple structure turn out to be the most effective, but you should test which approach fits into your business,
testing various landing page designs – changing colours and images, CTA (call to action) button styles, lead generation forms (making it longer or shorter).
In order to test which landing page copy and design works best for your business, and which one your target audience fancy most, you can conduct A/B testing with various versions of landing pages.
Source:  https://www.hotel-reservation-bot.de/english/why-hotels-should-use-ab-testing-to-drive-direct-bookings/
To conduct an A/B test you can use Landingi functionalities or Google Optimize.
The key thing is, once you implement the conversion rate optimization process and test various methods (whether on social media or in search engines campaigns), you need to remember to use these methods one at the time.
When you make changes in your social media marketing campaign, don't change landing page design at the same moment, as you won't be able to tell which of the conversion optimization methods brought results. 
All in all, conversion optimization process is quite flexible and continuous. Testing diverse landing page designs, various types of content, different approaches to social media marketing campaigns or to search marketing campaigns – it all should always be in your agenda when it comes to conversion optimization process. There is only one way to check what types and features of each campaign work most effectively for your business – and its name is testing.
Ready to grow? Let's get started!
Join us and create the best-converting landing pages