Landingi Features
What can you use Landingi for? Learn more about our features and see what you can create in our platform. From designing a landing page to making sales – learn how to expand the platform's capabilities step by step.
Design
It all starts with our templates and your ideas. Combine them and create your new landing page. Landingi's intuitive and comprehensive editor will ease and speed up your work.
Landing Page Builder
Build unlimited landing pages that will help you present your products, services and special offers. Then, publish them and attract potential customers.
Drag & Drop Editor
There's no need for you to be a designer nor a programmer to make the best out of Landingi. All you need to do is pick an element in the editor and drag it on a landing page.
Templates
Start from one of over 300 landing page templates, which are already designed to work towards conversions. Each template is fully editable so you can modify as many of its elements as you'd like.
Smart Sections
Copy and paste the same sections onto numerous landing pages. Then, apply changes to all landing pages with your smart section at once to save time.
Responsive Web Design
Each template comes with a carefully-designed mobile view, which you can edit independently, to make the landing page accessible for mobile users.
Custom HTML/CSS
Create additional dynamic elements and expand the editor's possibilities by adding extra lines of HTML and CSS classes.
Duplication
Duplicate a landing page in just one click. This way, you can create a lot of similar pages differing in details and present each target group with a slightly different-looking site focusing on various benefits.
Free Images And Icons
Enter our image library and choose the proper visuals to enhance the look of your landing page. Add icons to highlight the crucial points of your offer.
Pop-Up Builder 
Create pop-ups in our editor and add them to your landing pages or other areas of your website. Focus the viewers' attention and gather more leads.
Publish
Choose the method of publication that suits you the best and let the world see your brand new landing page.
In Landingi, you can publish a new landing page within minutes!
Test Domain
Your landing page will be first available on our test domain, so that you can check how it looks online before you publish it under your own domain.
Publish On Your Domain
Publish landing pages on your own domain, assign them to permanent URLs and make them consistent with your brand.
Embed On Your Server
Generate a .php file and add it on your server via FTP client in order to embed the landing page on your server and to make it available under your domain.
Scheduler
Set up your campaign's start and end time so that you do not have to worry about activating and deactivating a landing page manually.
Connect
Connect the tools you're already familiar with to Landingi to create a perfect match for you and to simplify your work.
Browse all integrations in our Integrations Catalog to see tools you can connect Landingi with.
Email Marketing
Integrate Landingi with an external email marketing platform to manage your email campaigns and automate email exchange with your newly gathered subscribers.
CRM/Sales
Manage, verify and score your leads in an external platform and process them quickly to your sales or marketing teams, who will take care of lead nurturing later on.
Analytics Integrations
Connect Landingi with analytics and tracking tools (such as Google Analytics 4) to get more accurate reports on the number of visitors and their behavior, and to analyze which campaign generated the most valuable leads.
Payment Gateways
Enable payments on a landing page and make it easier for your visitors to decide on purchasing your products and services right away.
Callback/Chat
Embed callback widgets onto landing pages to show your visitors that you and your team are available for talks anytime.
Webhooks
Make use of advanced integration possibilities. With a little help from Webhooks, you can send HTTP requests every time a specific event occurs on your landing page and go towards more advanced integration and automation options.
Tracking
Get insights on user behavior and discover how users interact with your landing page to learn what works for them and what you can improve to convert more.
Zapier
Create zaps and build more integrations of your choice. Choose trigger events in Landingi and the next steps in different platforms to automate your work.
Social Media
Use your landing page as an extension to your social media profile to captivate your visitors' attention! Place a landing page URL in your Instagram bio or add social media share buttons to your landing page.
Optimize
Improve your landing pages to convert more and get better results every day. You can do this without leaving the Landingi platform! We're constantly developing optimization features, so you can expect more and more soon.
Basic Analytics
Enter a given landing page's dashboard to browse through all the settings and publication options in one place. View visits, leads, conversion rates and the number of sales.
Dynamic Content
Adjust landing pages to different target groups by using dynamic content. This way, the appearance of a landing page will differ every time to match the viewer's intention and expectations.
A/B/x Split Testing
Compare alternative versions of landing pages that differentiate in only one detail to gather data on which variant achieved better results. Then, choose this one as a winner, convince more visitors to take action.
PageInsider™
Get AI-based predictions on where your visitors will focus their attention before you press Publish.
Gain data-driven insights, make better decisions, and increase conversions.
Event Tracker
Event tracking will soon be possible inside the platform. Our Event Tracker feature will allow you to analyze events, including custom events, without adding any codes.
Convert
Take your leads further down the funnel. Sort and export the data gathered on landing pages to take care of what happens to your potential customers next.
The Landingi platform is made for conversions, as reflected in the capabilities of our tools.
Funnels
Join landing pages into a path that will help to navigate viewers from the first point of contact with your brand up to the purchase decision.
Autoresponder
Prepare a welcome email to be sent to your leads after they fill in the form. Connect with them as fast as possible and provide them with a valuable piece of content, a discount, or simply a sign-up confirmation. Autoresponder will help you automate your work and make sure that each subscriber gets an answer.
Anti-Spam Security
Add a reCAPTCHA to your form to decrease the risk of overflowing your inbox with leads coming from bots and not to waste your time on low-quality leads. In Landingi, you can apply the reCAPTCHA function globally.
Thank You Page
Create a post-conversion thank you page that displays after a form is submitted and let your potential future clients remember you better.
Lead Inbox
Use the lead inbox in the platform to gather all the leads in one place. You can browse through them all and edit the received information to organize the data.
Lead Export
Export the leads from a landing page to a .csv or .xlsx file and manage them in an external software of your choice to classify and sort them in the most efficient way for your business and goals.
Expand
Share access to Landingi to your team members or a client, expand the platform's possibilities, and scale your work. This allows you to organize your work even better and have everything under control.
Subaccounts
Create additional user accounts with appropriate permissions. Allow each of users to log in independently and turn Landingi into a platform that your whole company could use.
Customer Access
Treat Landingi platform as your own service, and give your clients access to a subaccount in the platform to let them create, edit and publish landing pages on their own.
Team Roles/Permissions
Assign roles to your team members or your clients and decide which user should manage accounts, edit landing pages, have access to leads or make payments – organize your teamwork and competencies.
Audit Logs
View the history of all the operations performed on subusers' accounts to track changes and have control over the actions they take.
Agency Gallery
As an owner of an agency account, you can create image galleries that will be available to all your subaccounts. This allows other team members or clients to use the same graphics.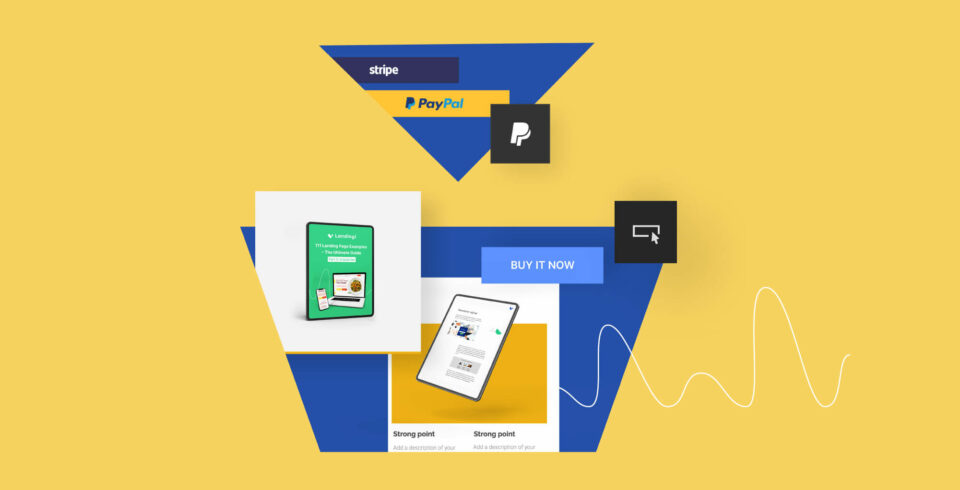 Sell
Showcase and sell your products and services on landing pages. Landing pages are the perfect place to promote and sell unique products, and it only takes a few clicks to rock it!
Payment Button
Create landing pages to present and sell your digital products: software, online courses, services, music, etc. Add a buy button to make the whole process smooth and simple.
Order Management
View orders made through a payment system on your landing pages. Manage their statuses and change them from "open" to "completed" or "cancelled".
External Integrations
You can also connect the landing page to other e-commerce tools, such as Stripe, Recurly, SendOwl, or Ecwid.