How to enhance landing page design and why?
How to enhance landing page design and why?
Last updated: June 29, 2023
20min read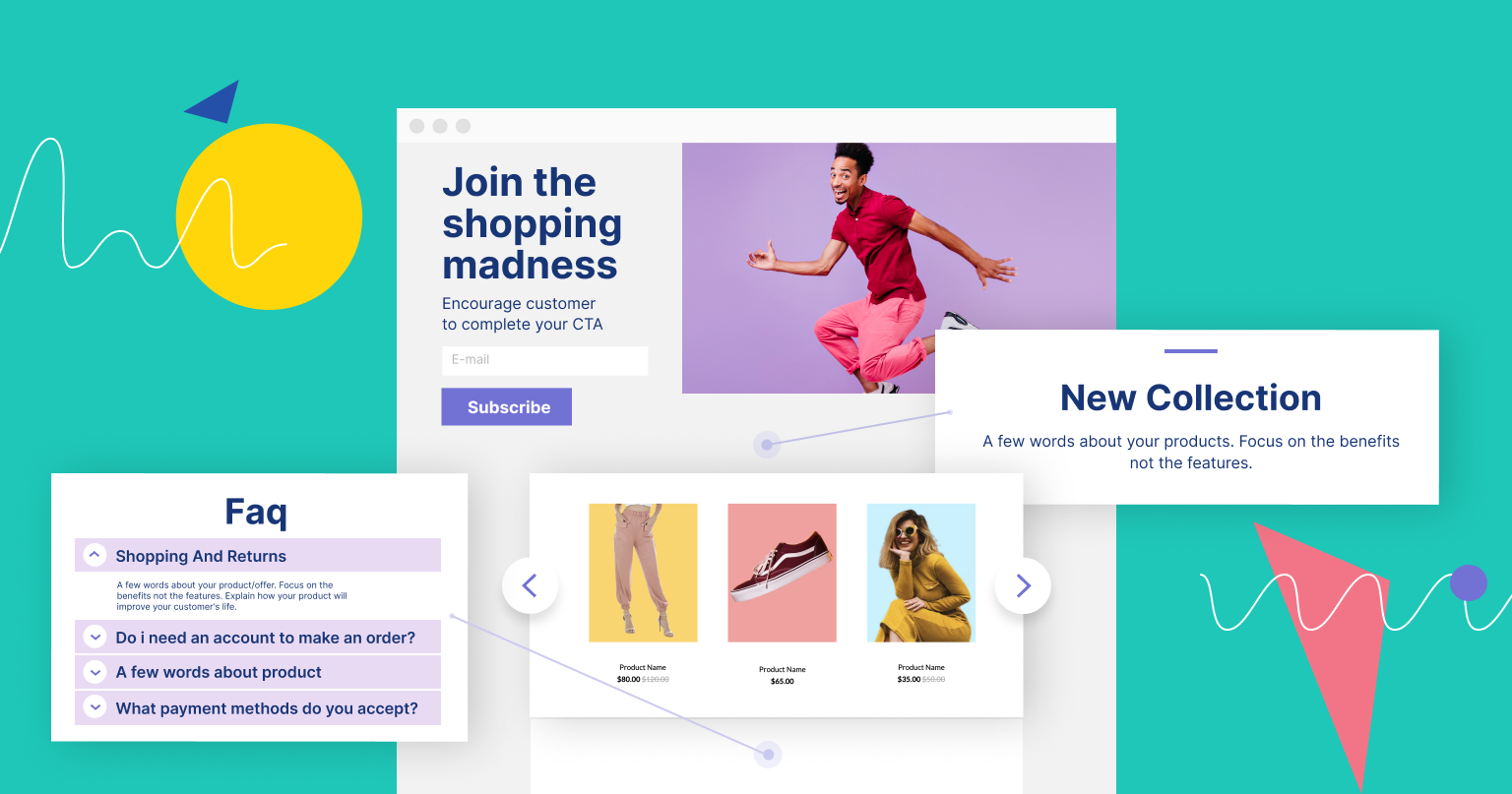 Less than 15 seconds. That is how long an average user initially views the landing page. That is all you have to catch one's interest and increase the time spent on the page to the massive… wait for it…. 52 seconds. This time is (almost) the most important reason for "Why should I enhance my landing page?". In a way, it is a make-or-break where the outcome of your campaign is considered.
In other words, the first part of the landing page is the most important, the most crucial one.
The CTA – call to action – and a clear message telling people about your offer or product is it. Let's say you have it. You got it all right, and many visitors do not need much more to follow through.
But what about the rest? What if more than the initial part is needed? What if your service or a product needs to give your visitors more information to heat them before the decision about the conversion is made?
Should you just write, write and write? Or put plenty of photographs? In the below article, I will explain why – in moderation – it makes sense to enhance your landing page design.
ADDITIONALLY: At the bottom of this article, you can find a YouTube video of my colleagues showing you "how to enhance your landing page design". Some of you may prefer to watch instructional videos, so here you are. Of course, as with all other Landingi features, you can also find detailed instructions in our excellent Help Center.
You may have noticed the expression "in moderation" I have used above. As with everything that you do, moderation is advised. It is pretty easy to overdo things. If you focus on, let's say, "fireworks" that you will add to your page, you may quickly lose the main goal that was the reason for you to build the landing page in the first place. As with all web pages, the content and the information it holds are the most important to your visitors. The enhancing "treatments" that you may add should only allow your visitors easier assimilation of the mentioned content and are not the key on their own.
The article below relies on features and functionalities available in the Landingi platform. However, you can use similar options elsewhere.
We start with a "Create a new landing page" button and a template that best suits your goal and needs. The templates are a fantastic thing and a massive advantage for advanced page builders over solutions like WordPress. Templates are already eye-catching and designed in a way that best displays and delivers all the vital information to your visitors. But, if needed, you can do a lot more! If you wish to know more, please take a look at our webinar – How to Create a Landing Page based on a Template – Good Practices.
Get 111
Landing Page
Examples – the
Ultimate Guide
for FREE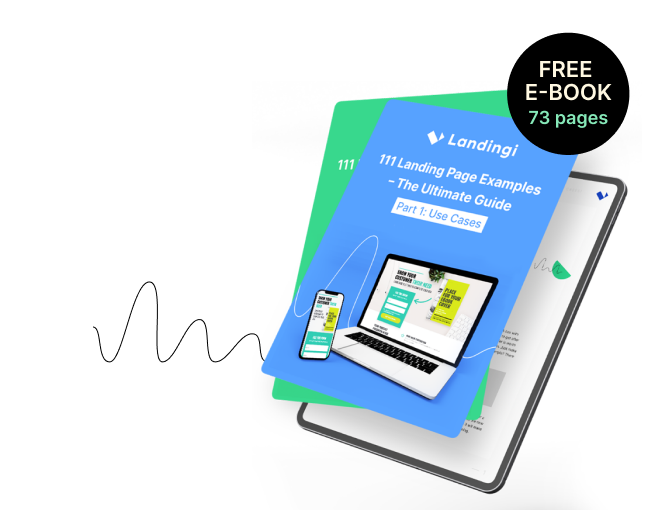 You may think this is obvious thing that the page needs headings and how important they are. However, this part was mainly overlooked during my work with clients, more often than I can count.
The headings should be large, quickly catch an eye and give the reader all the information about this next part. It would be best if you could combine two things. Make the heading informative and compelling to act at the same time. The best headings complement the CTA message. But, it may be hard to create a few different ones that will fully fulfill the task above. This is where subheadings come to play.
Your heading may be short. Three or four words, a catchphrase. But below, you can add a subheading. It will be slightly longer and written in a smaller font but easily distinguishable from the text paragraph below. These are a few examples of combining a heading with a subheading.
Make sure you use them on your page.
Once you have your headings ready, make sure you mark them as H1, H2, H3, and so on. It may impact the amount of money you will need to pay for your clicks, once your ad will win an auction. More on SEO here.
The unfolding section - let visitors discover more with a single click!
Suppose your offer may raise some important introductory questions. Some of these may be a make-or-break deal, and you will want to address them immediately and put your potential customers at ease. An example of such questions is quite often a so-called FAQ.
Will I get my money back? Do I need to pay for extras? How soon will I get the product? Can I return it? And so on.
Suppose that is just one or two questions with short answers, no problem. But if there are more of them and the explanations are more complex, you may end up with a large and long "wall of text". Not only may this look offputting, but it may also pull your clients away from your CTA.
This is the perfect example of using the "unfolding section feature".
For example, there will be a small heading with one of the frequently asked questions, but the answer and explanation will remain hidden from the viewer until the trigger is clicked.
This is what it may look like:
Image Gallery - because "A picture is worth a thousand words"
I do not need to tell you that you need pictures and photos on your landing page. But - we've all been there - almost all and any of us like to look at the things we are about to purchase carefully. In the case of services and offers, when we are almost ready to sign up, we may like to see what some additional details look like. Simply, what lies ahead, and what will we get?
If we are talking about a physical object in the shop, we can take it off the shelf and look at it from all angles for as long as we want. In the online world, things are a bit more tricky. We need to use pictures that will show the potential clients what we are offering.
But again, as with the FAQ section I talked about above. Putting ten or more pictures on top of each other may stretch your page, and instead of being an asset might become tedious and troublesome to scroll. People are not very keen on scrolling, and scrolling, and scrolling… endlessly.
Instead, using all those pictures in one place will be much better. With additional arrows, you give your clients complete control over how many of them they want to browse through. And it makes the look of the page more interesting.
Click if you wish to know how to enhance the landing page with an image gallery.
Slider - to make sure they will see the most important!
The gallery I discussed above puts the control in your customer's hands. But sometimes, you may want to be sure that your visitors see some particular images.
Again, you could do that by simply adding them to your page. But that will take more space than it should. More importantly, adding an animated bit might give your page a more dynamic feel.
If you wish to do so, use the slider. It will automatically scroll the images for your clients. Those can be simple images or, better yet, images with text in the form of headings/key points.
Using it in the top sections of your page may significantly and positively impact your conversion rate.
Click if you wish to know how to enhance the landing page with a slider.
Unsplash - don't waste time when searching for a perfect free image!
This may not be exactly an enhancing feature on its own, but since I talked about images, sliders, and galleries, it is definitely worth mentioning. If you are using WordPress, you may already have encountered this problem. "Ok, I need an image. I do not have my own. Where do I get one free?". On the other hand, if you are in the market for a web page-building service, it is worth checking before subscribing. Easy access to a large number of free-to-use images. Landingi customers can use the Unsplash gallery. Thousands of shots waiting for your right there, in the editor. And since images can significantly enhance your page, why would you want to waste time looking for a perfect one all over the internet?
Lightbox - additional info can pop out but not pop up
I am sure you are familiar with pop ups. Despite how annoying they can be on some pages on landing pages, they do work, increasing the conversion rate. But those can only be used to enhance your CTA message.
There is, however, a similar feature to pop ups, but not as annoying - its display will solely depend on the user's action - and that can massively boost the information available to your customers.
Let's say you are offering a product with more complex functionality or a few features.
Instead of adding sections or parts of the page describing them (again, you may end up with a very, very long page), you can present those with icons and lightboxes.
An icon will present a specific functionality of your product or service. When clicked on, an additional box will appear with graphics and text giving your potential customer important information.
Trust me. It works really well. It enhances page design and functionality, keeping the landing page compact.
Click if you wish to know how to enhance the landing page with a lightbox.
PageInsider - make sure you didn't go too far…
Above, I mentioned a few ways that enhance your landing page and make it stand out. But as I mentioned above, moderation is advised. It is very easy to get sucked into adding more and more "fireworks". The outcome will be counterproductive and offputting. Your CTA and the information will become lost between all those cool features, images, animations, etc. Your visitors will get lost, and the really important parts of the message may be overlooked.
Is there a way to check if the page design is well-balanced and things you feel are important will not get lost?
Yes, there is!
We call it a PageInsider. It is an AI-based feature created through algorithms using machine learning. With a single click of a button, it will analyze your page design and show you an overall clarity score, which elements are the ones catching the attention, and with what percentage.
Ready to grow? Let's get started!
Join us and create the best-converting landing pages