Event Marketing: Turning Your Events Into Powerful Marketing Tools
Event Marketing: Turning Your Events Into Powerful Marketing Tools
Last updated: September 8, 2023
19min read
Event marketing is more than just hosting an event; it's about creating memorable experiences that resonate with attendees and further brand objectives.
It's easier said than done, though! Thus, I've prepared a brief introduction in the form of a best practices list along with some additional insights.
Let's get to it!
Why are events important to your brand and marketing goals?
Events are not only an opportunity to meet customers face to face, but also a powerful tool for branding and achieving marketing goals. Why is the organization of events so important for shaping a positive image of the company and the effective promotion of products and services? This question has many answers! They...
Engage. Events allow direct interaction between a brand and its audience. It's a unique opportunity to make a personal connection, which builds trust and loyalty.
Create memories. Unforgettable events leave lasting impressions and positive memories in attendees' minds. This helps build a positive brand image.
Provide value. Through events, a brand can provide added value to its audience, such as knowledge, entertainment, inspiration or new experiences.
Create identity. Events provide an opportunity to expose a brand's unique identity, values and mission in an interactive way.
Generate collaborations. Events are an excellent opportunity to establish relationships with partners, suppliers, influencers and other major industry players.
Increase awareness. An effectively organized event can attract media attention and online audiences, helping to increase brand recognition.
Support sales. Events can boost sales through the ability to directly showcase products or services and offer exclusive promotions.
Test the market. Events provide an opportunity to gain direct feedback from attendees, which can help adjust marketing strategy.
Create communities. Successful events can focus a community of loyal customers around a brand, which generates additional support and recommendations.
Are trend-creators! Innovative and creative events can become a source of new trends in an industry, which attracts attention and differentiates the brand.
How can businesses leverage events as potential marketing tools?
1. Set Clear Objectives
Before any major event, it's crucial to define clear marketing objectives.
Apple's product launch keynotes are masterclasses in setting and achieving objectives. They aim to introduce a product, highlight its features, and generate buzz. Such clarity ensures the event's messaging and activities align with the intended outcome.
Having a clear roadmap from the outset ensures that all event components work in harmony. It also provides a benchmark against which the event's success can be measured.
2. Know Your Audience
Understanding your target audience is paramount. Ask yourself who exactly you'd like to reach with your event. For example, Adobe's MAX conference is tailored for creative professionals.
By aligning content with audience needs, events ensure high engagement levels. A deep understanding of audience preferences can also guide event format choices, from session topics to guest speakers.
Additionally, tailoring every aspect of the event to the audience ensures a more personalized and impactful experience.
3. Leverage Social Media
Promotion is key. TED conferences create significant buzz on social media using engaging content and hashtags like #TEDTalks.
This approach encourages potential attendees to share and engage. Social media also offers real-time feedback, allowing organizers to gauge audience reactions and adjust accordingly.
Platforms such as Instagram and Twitter can also be used to provide live coverage, so that people who are not attending the event can be kept up to date. This is especially important when the target audience is young people, such as those interested in the Pol'and'Rock festival – on concert days, the event's Instagram profile is bustling with activity.
It's wise to combine social media with a page created to promote the event – check out how to build a landing page for Instagram, for example.
4. Offer Exclusive Content
Exclusivity can be a powerful draw. Offering content that attendees can't find elsewhere makes the event indispensable. It also creates anticipation as attendees look forward to exclusive reveals or announcements.
Events like Gamescom reveal exclusive game trailers or demos. Such content garners attention and ensures high engagement.
If you are to arrange an online event like a webinar or a course, a smart idea is to grant participants access to some unique knowledge or resources (that is gated for the absent). By the way, take a look to your left and join our exclusive Landing Page Academy, which is full of valuable insight and tips for landing pages' world newcomers and pros as well.
5. Engage with Interactive Elements
Interactivity enhances engagement. At CES, brands set up interactive booths for attendees. This hands-on experience leaves a lasting impression. Another amazing example is Gamescom. This four-day event centered around video games embraces an array of topics, spanning from advanced hardware to revolutionary video game engines. Last year (2022), participants had an opportunity to talk to a Lego robot.
Interactive elements can also be digital, like live polls or chat functions. These tools foster real-time engagement, making attendees active participants rather than passive observers.
6. Collaborate with Influencers
Influencers amplify an event's reach. During New York Fashion Week, designers collaborate with fashion influencers for live coverage. This partnership extends reach and taps into new audiences. Influencers bring their unique voice and perspective, adding a fresh dimension to the event. Their endorsement can also enhance the event's credibility and appeal.
Moreover, influencer collaborations facilitate an organic and interactive promotion process. Influencers can generate anticipation through teaser posts, live coverage, and behind-the-scenes glimpses, engaging their audience in real time. This engagement fosters a sense of participation and excitement, encouraging followers to not only attend but also share their own experiences, generating valuable user-generated content that further amplifies the event's impact and extends its promotional life cycle.
7. Utilize Multi-Channel Promotion
Diverse promotional channels ensure broad reach.
Comic-Con promotions span from email newsletters to blog posts. Using a multi-channel approach ensures that potential attendees receive information through various touchpoints.
By utilizing different channels such as social media, email, and websites, you can cater to the preferences of different demographic segments, enhancing the likelihood of attracting a larger and more engaged audience. This approach also reinforces brand consistency and messaging, leaving a stronger and lasting impression on potential attendees.
Learn why and how to boost your marketing efforts with omnichannel customer journey mapping.
8. Offer Post-Event Content
Extending the event's lifespan is key. After Google I/O, attendees receive session recordings. This content serves as a reference, allowing attendees to revisit key insights. It also caters to those who couldn't attend in real-time, broadening the event's reach and impact.
Get 111
Landing Page
Examples – the
Ultimate Guide
for FREE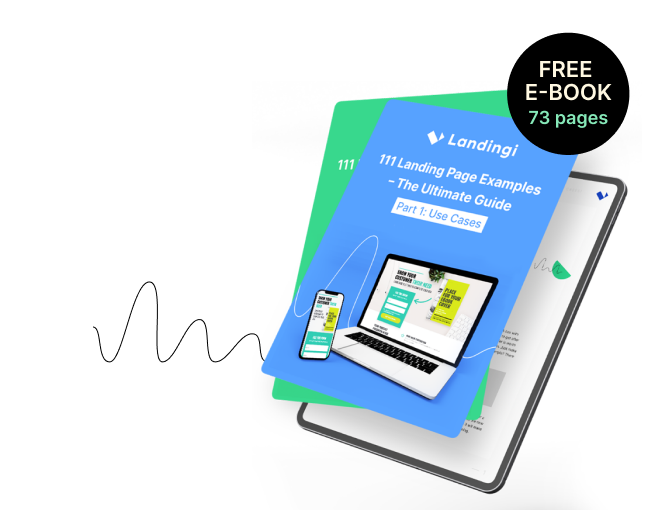 9. Measure and Analyze Results
Also, a post-event analysis is crucial. After Salesforce's Dreamforce conference, organizers analyze metrics like attendee numbers.
Understanding these metrics provides insights for future strategies. Regular analysis can also identify trends, guiding long-term event planning and marketing strategies.
At present, the tracking and analysis of microconversions are becoming particularly important.
10. Leverage Technology
Incorporating technology elevates an event. At the Auto Expo, brands use augmented reality for attendees.
Emerging technologies, from virtual reality to AI chatbots, can be integrated to enhance the attendee experience. Staying abreast of tech trends ensures that events remain cutting-edge and relevant.
11. Create Networking Opportunities
Networking adds immense value. LinkedIn's Talent Connect conference provides dedicated networking zones. These spaces foster community, allowing attendees to share insights and collaborate on future projects.
Networking can also lead to business partnerships, amplifying the event's long-term value. By fostering an environment where connections can flourish, event marketing transforms into a platform not just for immediate engagement, but also for building a network that continues to yield dividends long after the event concludes.
12. Gather and Utilize Feedback
Feedback is invaluable. After the Web Summit, organizers send out feedback forms. This direct input shapes future events.
Feedback can highlight areas of improvement, from logistical issues to content gaps. Addressing these concerns demonstrates that organizers value attendee input, fostering trust and loyalty.
13. Incorporate Branding Consistently
Consistent branding reinforces identity. Events like Spotify's Wrapped ensure cohesive branding. This consistency fosters brand recognition, making events a seamless extension of broader marketing campaigns. It also instills a sense of professionalism and trust among attendees.
To effectively integrate branding, ensure that your event materials, from tickets, invitations and registration pages to signage and digital assets, align with your brand's visual elements, colors, and messaging. This not only reinforces your brand's values but also creates a cohesive experience that resonates with attendees long after the event ends.
14. Plan for Follow-Up Engagement
Post-event engagement strengthens relationships.
After HubSpot's INBOUND conference, attendees receive follow-up emails. These communications keep the brand top-of-mind, fostering ongoing engagement.
Regular follow-ups can also drive post-event sales or sign-ups, maximizing the event's ROI.
15. Consider Hybrid Events
Flexibility is the future. Events like the Sundance Film Festival have adopted hybrid formats. This approach caters to global audiences, ensuring wider participation.
Hybrid events also offer contingency plans, ensuring that events can proceed even if unforeseen challenges arise.
16. Build a Landing Page for Your Event
A well-designed landing page can drive registrations, provide essential event details, and offer a platform for post-event content. It also serves as a hub for all event-related communications, streamlining attendee interactions.
Landing page platforms offer a wide range of tools to create visually appealing and functional event landing pages.
In Landingi you can build up your event pages from scratch or make use of a variety of ready-to-use templates dedicated to different industries or goals. To visualize, here are two exemplary templates for event sign-up:
Need an online calendar to allow event participants to register or book a place? Or maybe a map to guide them to the point where your event is to take place? No problem! Use Landingi's Calendly and Google Maps integrations.
Conclusion
Event marketing, when executed with precision and creativity, can be a game-changer for brands. Via integrating these strategies, enriched with real-world examples, businesses can elevate their events from mere gatherings to powerful marketing endeavors.
Ready to grow? Let's get started!
Join us and create the best-converting landing pages