Discover our WordPress Plugin for Landing Pages
Discover our WordPress Plugin for Landing Pages
Last updated: November 17, 2023
10min read
If you're selling a product or a service, landing pages should play a key role in your marketing strategy. Directing traffic to your landing page increases the chance of getting a customer. Discover a solution for publishing landing pages on WordPress that gives you full control, without compromises. Improve your work through our landing pages WordPress plugin.
Why it's worth using WordPress for building websites?
WordPress will be 15 this year. Over time it became the most popular platform for making websites. On a daily basis, it's used by the world's most recognizable brands as well as small entrepreneurs, bloggers or startups. Almost 30% of all Internet pages are based on WordPress CMS.
Acording to Builtwith.com, 9 out of 10 bloggers, or 97% of bloggers, when deciding on starting a blog, choose WordPress. What are the reasons behind the extreme popularity of this tool and the advantage over other solutions available on the market?
Discover 3 reasons why users choose WordPress to make websites:
WordPress is easy to use
A lot of hosting companies guarantee seamless configuration of this CMS on their server. By using templates, the user can create a page that will host his commercial offer or blog.
Active community and support
WordPress has a strong user community. In many countries, including Poland as the birthplace of Landingi, there are yearly conferences dedicated to WordPress development and growth. There are also countless social media groups and online forums hosting hundreds of people, who are willing to help when a problem arises within a community.
Thousands of plugins, integrations and dedicated solutions
All of them are available when developing a website. There are great SEO plugins, for example, that allow optimization of content in relation to widely used search engines. Another category of plugins allows integration with analytical tools.
All the reasons above, plus the fact that WordPress is an open-source solution (available for free) makes for a great number of users that utilize the system for managing the content of their websites.
Try the Landingi WordPress plugin!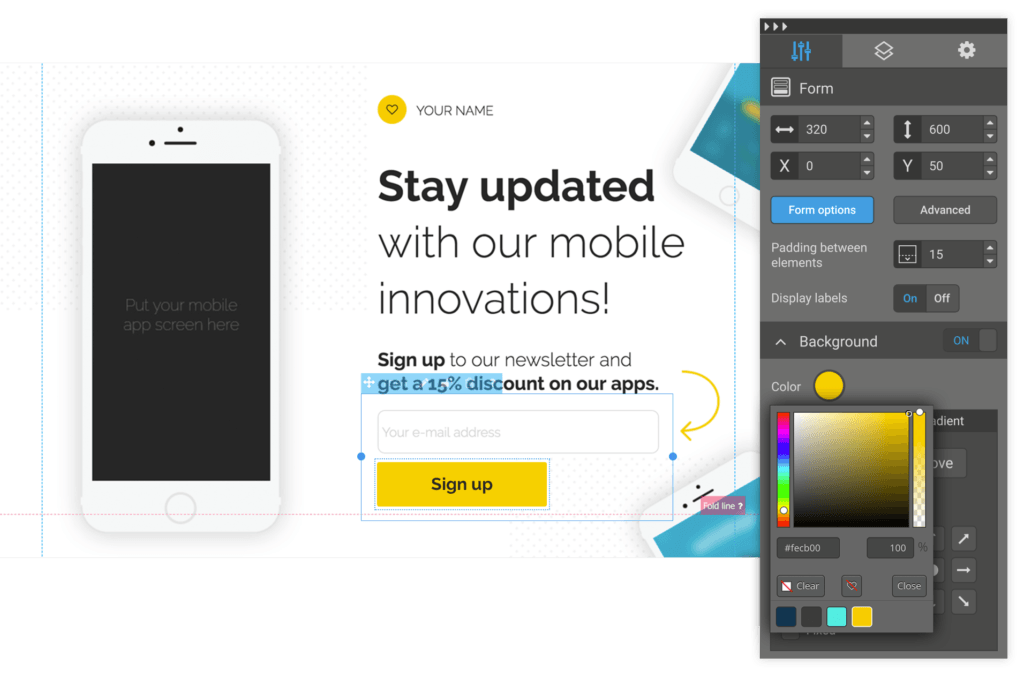 Create an account and try Landingi for free. If you're already a Landingi user, it's only a matter of installing the plugin. You're liberated from subdomain and forwarding creation. Focus on designing the landing page. That way you have control over the entire process of creation, and you're saving time, which can be spent on reaching the target group.
Create the landing page yourself or use one of +100 templates!
You don't have to be a professional who can design and implement the page, while simultaneously creating content and preparing the integration with other marketing tools. We're giving you over 100 templates, which you can easily edit and adapt to your needs. Every template has been designed for the sole purpose of conversion optimization. Our designers have over 6 years of experience in landing page design. They are creating templates optimized for achieving higher conversion rates.
Integration with proven tools
You can extend the usage of your landing pages by adding integrations with tried and true marketing tools. That way the funnel will encompass all your marketing goals. One of the most basic integrations is an e-mail automation tool. By using our WordPress plugin, you have a ready-to-use integration that will make your job easier and expand the functionality of your landing pages.
Choose from our list of integrations:
E-mail marketing, e.g: Active Campaign, GetResponse, MailChimp, Sare,
CRMs, e.g: SalesForce, ZOHO, SalesFlare, HubSpot,
Communication: CallPage, Intercom, LiveChat, Zendesk Chat
Marketing Automation, e.g: SALESmanago,
Analytics and tracking, e.g: Google Analytics, Facebook Pixel,
Online payments: PayU.
If you haven't found the integration in question, use Zapier, which allows you to connect our editor (and leads too!) with almost anything out there.
Our developers and Product Development Managers constantly monitor user needs. That way our platform is up-to-date with all the functions you may find useful in your daily work. A recent important step was making a plugin for WordPress integration.
'While making a WordPress plugin, we had one goal in mind – allowing our customers to focus on the lead generation process. At this moment, the majority of companies use WordPress CMS for company website and blog creation. At the end of 2017, we released a plugin that allows users to publish landing pages on WordPress websites seamlessly. All you need to publish your funnel is to install our plugin and you can use it under your WordPress domain without using a DNS forwarder. Our solution makes the job easier for both marketers and developers alike.'
Paweł Sałajczyk, Head of Product
How to install Landingi plugin for WordPress?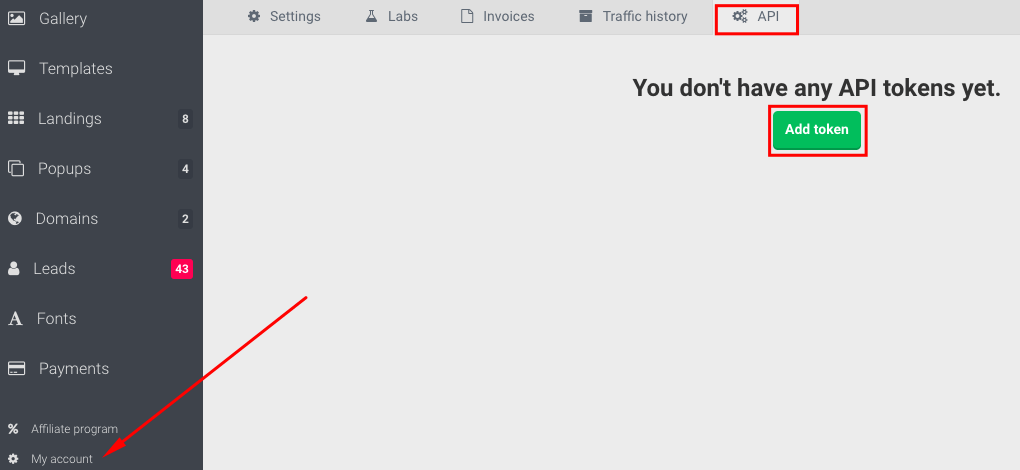 While logged in, click on My Account, then on the API bookmark, which will provide you with a token. Copy and paste it into your WordPress plugin settings page.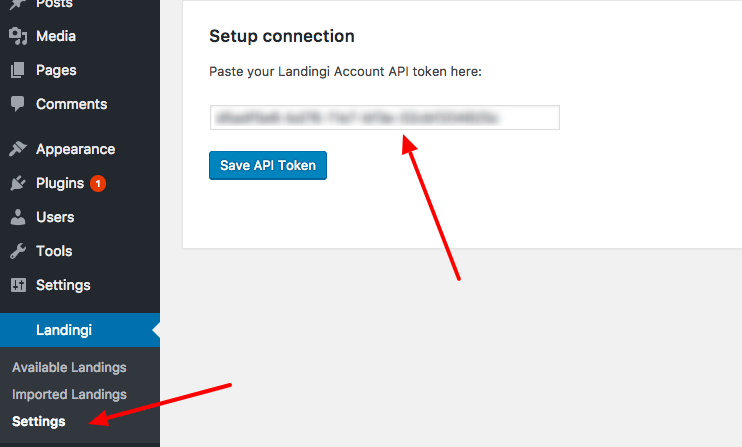 After you paste the token, you will have the option to import any landing pages from your account. All landing pages can be put under the path of your website's domain.

Detailed instructions on plugin installation can be found in our Knowledge Base.
If you haven't used the plugin for landing pages in WordPress, you can do it right away. All you need is to download it from the WordPress plugins catalog and install it.
Ready to grow? Let's get started!
Join us and create the best-converting landing pages