What Is Programmatic SEO? (+ How To Build Pages At Scale)
What Is Programmatic SEO? (+ How To Build Pages At Scale)
Last updated: August 17, 2023
24min read
Writing high-quality long-form content for your website is an excellent strategy for ranking high in Google.
Yet, creating content at scale can be a massive drain on your time, budget, and resources. One way to create content that can have a big impact on your search traffic is by using programmatic SEO.
In short, programmatic SEO involves the process of using a database to mass-produce content for similarly-structured long-tail keywords.
This guide will cover an in-depth look at what programmatic SEO is, show it in practice, and teach you how to get started. Let's get to it!

What Is Programmatic SEO?
Programmatic SEO is a strategy for automatically generating a large number of pages using specialized code, which pulls information from a datasheet.
That datasheet contains two key elements:
Head terms: General high-volume competitive keywords (e.g., Graphic design tools…).
Modifiers: Secondary terms that, when combined with the head terms, form specific, long-tail keywords (e.g., Graphic design tools for Instagram).
Programmatic SEO then uses page templates to mass-produce pages for each head term and modifier combination.
Here are a few more examples of head terms and modifiers:
Head Term
Modifiers
Keyword Combinations
Social media software

Social media software for TikTok
Affordable social media software
Affordable social media software for TikTok

Ford SUVs

7-seater
In Chicago
Under $30,000

7-seater Ford SUVs
7-seater Ford SUVs in Chicago
Ford SUVs in Chicago under $30,000

Luggage bags

For women
With wheels
Leather

Leather luggage bags
Leather luggage bags for women
Leather luggage bags with wheels
Programmatic SEO Benefits
1. Scalability
Programmatic SEO reduces the need to manually produce content for each specific long-tail keyword you want to target. Instead, you generate pages at a scale using the elements mentioned above.
This is a significant advantage for those seeking to quickly create numerous pages targeting long-tail keywords.
2. Search visibility
Programmatic pages target low-volume long-tail keywords. Although this strategy might seem counter-intuitive, focusing on low-volume keywords also typically means you'll encounter less competition.
Consequently, you stand a better chance of ranking highly for your target keyword(s).
3. Increased conversions
Since programmatic SEO involves creating a large number of pages, you'll naturally extend your reach and attract more traffic — the more traffic you have, the more conversions you may generate (considering your conversion rate stays consistent with traffic growth).
Moreover, targeting specific long-tail keywords can attract quality, high-intent traffic (e.g., users who already show an interest in the products/services you offer and are more likely to convert).
Long tail keywords such as "Affordable social media software for Tik Tok" may have less search traffic than more general social media marketing-related keywords, but this search clearly shows someone in the buying stage (as they are currently evaluating software solutions).


Get 111
Landing Page
Examples – the
Ultimate Guide
for FREE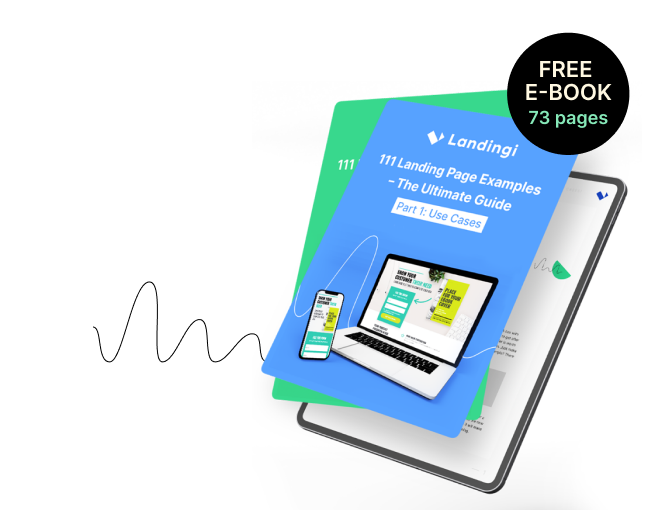 Programmatic SEO Drawbacks
1. Indexing
Since this practice involves creating thousands of pages, Google's search crawlers may have trouble indexing them all.
This is because of Google's crawl budget, which represents the number of web pages search engine bots will crawl within a specific timeframe. A website's crawl budget typically varies based on the number of its pages and health (e.g., the number of URL timeouts or server errors your website encounters).
As such, a website with a multitude of pages and errors will exhaust the crawl budget, potentially leaving pages unindexed.
You can combat this by building an XML Sitemap, backlinks, emphasizing internal linking, and reducing errors — these help crawlers navigate your website easier.
2. Duplicate Content
Programmatic SEO reuses data across web pages. Therefore, your content may be similar from one page to the other (e.g., copy that is word-for-word identical on multiple pages or slightly rewritten).
Google prefers unique content. If two or more web pages happen to share similar content, Google may have trouble identifying the original source and determining which page to prioritize in ranking.
Thus, all pages sharing the same information may face ranking difficulties. Additionally, duplicate content wastes the crawling budget, potentially leaving other important pages unindexed.
In other words, make sure your content is unique. You can either rewrite it manually or use AI-powered tools.
3. Keyword Cannibalization
Using modifiers can help differentiate keyword variations (e.g., luggage bags for men, luggage bags for women).
However, similar to duplicate content, you may risk accidentally targeting identical, or near-identical keywords that fulfill the same intent across multiple pages (e.g., affordable luggage bags and cheap luggage bags or how to tackle keyword cannibalization and solving keyword cannibalization).
Building separate content for these search terms will lead to keyword cannibalization. This will confuse search crawlers about which page to rank. Consequently, your pages may rank lower, or even one page variant may stay unindexed.
If both content pieces are similar, it's best to merge them to create one complete resource.
Programmatic SEO Examples
Zapier
Zapier uses programmatic SEO to generate and rank pages for the integrations it offers. The platform targets keywords based on the following formula: <App Name> Integrations.
<App Name> is the modifier, while Integrations represents the head term.
Some examples include:
Google Sheets integrations
HubSpot integrations
Landingi integrations
Each Zapier page that targets the specified formula follows the same template and looks similar.
The only difference is that the copy and logo for each integration page are altered depending on the modifier to match the users' search queries and the app name.
Payscale
Payscale generates and ranks pages that display the average salary for specific job titles. The website targets keywords using the following formula: <Job Title> Salary.
Similar to Zapier, Payscale automatically alters the copy based on the modifier to match the users' search queries. For example:
Average Marketing Manager Salary
Average Digital Marketing Manager Salary
Average Social Media Marketing Manager Salary
However, the salary data also changes based on the searched job title. The salary data can be pulled from publicly available databases.
Tripadvisor
Tripadvisor uses programmatic SEO to show visitors accommodations relevant to their search queries. The website uses keywords based on the following formula: <City Name> Hotel Deals.
Each page's headline, map, and hotel deals change depending on the modifier.
Mentorcruise
Mentorcruise helps users find mentors for various activities, including marketing, programming, and more.
The website displays pages relevant to the users' search queries based on the following formula: <Activity> Mentor.
Like in the Zapier example, each programmatic page changes its copy in the headline, supporting copy, and CTA depending on the modifier.
However, the website displays different mentors based on the search query below the fold.
G2
G2 uses programmatic SEO to rank and generate software comparison pages. The platform used the following keyword formula: <App Name> vs. <App Name>.
In contrast to the other examples above, G2's changes between programmatic pages are more extensive.
Aside from swapping the products' names in the copy to match users' queries, the platform also pulls and displays data from each specific software review to offer a side-by-side comparison.
Programmatic SEO Strategies
Now that we've covered what programmatic SEO is and seen some examples, let's take a look at the type of strategies you can employ using this tactic.
Community forums
Community forums like Reddit or Quora are excellent for programmatic SEO.
Each topic page can be automatically generated using an existing page template. Moreover, content creation isn't an issue, as community members will write posts consistently.
Additionally, community pages often rank high in the SERP.
They usually experience significantly higher levels of engagement than traditional pages, while community members' questions within a given topic page can correspond to popular keywords.
Consequently, community pages can occupy the top positions in the SERP and even rank for featured snippets.
Two-sided marketplaces
Two-sided marketplaces like Amazon, are places where buyers and sellers interact through an intermediary platform.
Similar to community websites, two-sided marketplace pages can easily be generated by using the same template. The page content is created by sellers who list their products, write product descriptions, and include images. Buyers can also contribute by leaving reviews.
Again, ranking for specific keywords comes naturally. Users can find your pages by searching for products your sellers offer.
eBay is another example here.
E-commerce pages
E-commerce pages work on the same principle as two-sided marketplaces. However, you'll have to create the content for each programmatic page (e.g., product listings, descriptions, images, etc.), as well as ranking for keywords.
You can add a dash of uniqueness by enabling product reviews on your product pages.
Landing Pages
Programmatic SEO in landing pages can take the form of dynamic pages. A dynamic page can alter part of its content (e.g., copy, CTA, and imagery) while keeping its layout and structure unchanged.
Dynamic pages modify their content based on users' search queries. For instance, the screenshot shown above is BrandMention's landing page for the keyword: "Social Media Listening Tool"
If users type "Social Media Monitoring Tools" instead, they'll find this:
The headline changed to match the user's search query, while the page's layout remains the same.
Popular Tools For Programmatic SEO
Webflow
Webflow is a no-code website builder perfect for programmatic SEO. The platform offers a built-in CMS, 2,000+ templates, and a pixel-perfect drag-and-drop editor.
The platform also covers integrations with tools like AirTable — ideal for pulling scraped data from a datasheet and plugging it into the CMS.
Landingi
Landingi is an excellent platform for building landing pages at scale. This tool offers section templates and Smart Sections. You can modify a page section and the changes will apply to all landing pages containing that specific section.
Additionally, you can create dynamic landing pages through dynamic text replacement.
Ahrefs
Ahrefs helps you find low-competition keywords for your programmatic site. The platform's Keyword Explorer uses a database containing over seven billion keywords and allows you to measure the keyword difficulty for each.
Moreover, Ahrefs provides keyword suggestions and allows you to save/segment keyword lists.
Google Sheets
Google Sheets is excellent for setting up a programmatic SEO database (which includes your head terms, modifiers, and any other dynamic elements for your page templates). You can add custom menus and create automated functions via AppsScipt to improve productivity.
Airtable
Airtable is the more complex alternative to Google Sheets. The platform includes more customization features and integrations, which can be handy when connecting your spreadsheets to a data scraper.
However, the free version is limited to 1,200 records per database. In contrast, Google Sheets allows for up to 10 million.
ScrapingBee
ScrapingBee is an API-based data scraping tool. This tool helps collect large amounts of publicly available data from various sites and import it into your database. You can then display this data on your programmatic pages.
For instance, data scraping is useful for price comparison sites. They can use a scraping tool to pull pricing information from multiple E-commerce stores and then display and compare the prices on a programmatic page.
Data Fetcher
Data Fetcher is a scraping tool that allows you to collect data and import it to your Airtable database.
The platform can import data from Google Analytics, Stripe, Product Hunt, and more. You can also import data through custom APIs.
Place ID
Google Place ID is a unique textual identifier that helps identify a place (e.g., business location, landmark, etc.) on Google Maps and the Google Places database. You can use the retrieved ID to embed a map containing business locations, like in the Tripadvisor example shown above.
Notion
Notion allows you to create documents that can be published as web pages. The platform allows you to easily duplicate documents and templates — perfect for programmatic SEO.
You can then use tools like Feather to specify merge tags. These tags can be dynamically replaced with properties within your Notion database, allowing for dynamic pages.
ScrapeHero
ScrapeHero allows you to collect data from any website. You can do this via the platform's hands-off scraping service, or custom API and AI-based solutions.
The platform can scrape data from E-commerce sites, real estate listings, travel sites, stock markets, and more.
Whalesync
Whalesync allows you to connect multiple apps, so you can streamline the programmatic SEO process.
For instance, you can connect Airtable with WordPress or Webflow. This helps synchronize information between your database and page builders, allowing you to quickly generate a large number of web pages for your programmatic site.
How To Get Started Building Programmatic SEO Landing Pages At Scale
1. Keyword research
Keyword research for your programmatic pages involves three essential steps:
Identify the main topic your pages will cover and find your head terms
Identify modifiers and related search terms to the specific topic
Combine head terms with modifiers and prioritize long-tail keywords
Your head terms should be general, yet specific. For instance, if you're in the car selling/renting business, the keyword car is too broad. You should instead go for more detailed search terms, like car rental, rent a car, or car dealer, for instance.
The next step involves finding your modifiers. These aim to narrow down your primary topic and help you rank for low-competition keywords.
There are two types of modifiers:
Primary modifiers: They create a separate category related to your head term (e.g., SUV car rental, rent a Mercedes, car rental in [location]).
Secondary modifiers: They describe your head term (e.g., cheap car rental, rent a car long-term, or rent a car from [insert price]).
Prioritize long-tail keywords (three to five words). Although they have lower search volumes, they attract highly qualified traffic. Coupled with many pages and targeted keywords, you'll attract a high volume of qualified traffic.
You can combine your head terms with the primary and secondary modifiers, like cheap SUV car rental or rent a Mercedes long-term, for instance.
2. Create templates
The second step is to build your page templates.
Your pages must provide value. The G2 example shown above is excellent. The platform offers value by touching the consumers' pain points — offering pricing comparisons to help visitors identify affordable options.
Its software comparisons also go in-depth, covering each platform's key features, pros, cons, etc. Despite the content's complexity, G2 has a straightforward page template that's easy to replicate.
When picking a template, make sure it aligns with your goal. For instance, you should follow a blog-based format if you'll emphasize content. If you're selling products/services, your templates should follow a landing page or product page format.
Build your templates with dynamic elements in mind. Your programmatic pages should differ depending on the targeted keywords, but maintain a similar structure.
Otherwise, your pages will be repetitive and your content risks getting flagged as duplicate. Your template should include at least dynamic text and images.
You can use tools like Webflow or Landingi to quickly set up conversion-oriented landing pages.
3. Optional: Use AI to generate content
Although not necessary, AI can be helpful for generating/rewriting content for your pages — especially for blog-based ones.
There are also AI-powered platforms that will automatically generate templates.
Tools like Copysmith, Contentbot.ai, or Sitekick will automatically generate landing page templates and written content to aid you in programmatic SEO.
4. Plug content into template
The last step is to connect the content within your database with your template.
The database can take the form of a CSV export to government data sources or the data scrapers mentioned above. It can also include variable content for your programmatic pages.
You can connect your database content with your landing page template with tools like Whalesync, for instance.
What's Next?
After publishing your programmatic pages, work is far from over — you'll need to optimize the pages to maximize your results.
Consider creating an internal linking strategy — making sure you are internally linking whenever possible between your blog posts, main web pages, and programmatic SEO pages.
Similarly, focus on sitemaps. Since you'll have a large number of pages, consider building multiple sitemaps. A robots.txt sitemap can hold around 50,000 URLs — anything that surpasses that will require additional sitemaps.
Additionally, having multiple sitemaps helps divide your site structure into various groups of pages that tackle different subjects, making your site more organized and improving crawlability.
Lastly, using a landing page builder like Landingi can help speed up your content creation and programmatic SEO efforts. With Landingi's section templates and Smart Sections, you can quickly build and modify pages at scale. You'll also have access to over 400 fully customizable templates, a pixel-perfect editor, and more!
Ready to grow? Let's get started!
Join us and create the best-converting landing pages