21+ Google Optimize Alternatives: The Definitive 2023 List
21+ Google Optimize Alternatives: The Definitive 2023 List
Last updated: March 13, 2023
19min read
Google Optimize, the web analytics and optimization tool will sunset on September 30th, 2023. That said, businesses will no longer be able to test, measure, and optimize their websites with Google's platform after the specified date. 
Google Optimize isn't the only available option for A/B testing, though. This guide will cover the best Google Optimize alternatives to consider today. We'll highlight each tool's stand-out features, cover pricing, and more. 
So let's get to it!
1. Landingi
Landingi is an easy-to-use landing page builder with various features for creating web pages quickly and at scale. Some of these functionalities include Smart Sections, a pixel-perfect editor, 400+ fully-customizable templates, and more.
Additionally, Landingi's A/B testing allows you to assess entire landing pages simultaneously or get into more details, like specifically testing CTAs, headlines, backgrounds, colors, and more.
With A/B tests in Landingi, you can compare different versions of your landing page but also test two completely different landing pages and check which one converts better (ie., brings in more leads). 
You can view and analyze several metrics, including:
Traffic split

– The percentage split in visitors each variant page will receive. 

Visits

– The number of unique visits.

Leads

– The number of conversions (ie., form submissions, button clicks, etc.). 

Conversion rate

– A value that indicates what percentage of users converted.
Thanks to A/B testing, you can optimize your landing pages and increase the conversion rate. Landingi also supports Google Analytics 4 reporting so you don't have to worry about being compatible with upcoming changes.

The cherry on top, you can easily import existing web pages to Landingi start building with one of Landingi's 300+ landing page templates  — no need to start from scratch. As for pricing, you can get started with Landingi for free! Landingi's free plan allows you to have one published landing page, unlimited conversions, and 30 days of data retention. Paid plans start at just $49/month for unlimited landing pages, real-time data sync, custom branding, and more! Sign up here!
2. Convertize
Convertize is a straightforward A/B testing tool that allows you to easily modify web page content and measure its performance. One of the platform's most notable features is its AutoPilot functionality. This feature automates A/B tests by identifying which testing variant brings in more conversions and sends more traffic to the winning variant. 
As for analytics, Convertize merges Frequentist and Bayesian statistics to deliver faster and more accurate data. 
As such, the platform estimates how much longer you need to run the test until it brings relevant data. It also delivers ponderate conversion rates and measures your test's confidence level (how many times a specific test will deliver the same results). 
Other features include the ability to create and test geo-target ads and web notifications, edit content via a drag-and-drop interface, etc.
The platform starts from $49/month (annually) with a 14-day free trial available. 
3. Zoho
Another Google Optimize alternative, Zoho PageSense is Zoho's dedicated conversion optimization and personalization platform. It allows you to edit and test web pages across multiple viewports (tablets, phones, and desktops). 
PageSense prioritizes ease of use. You can create multiple variations of a webpage via an intuitive drag-and-drop interface — no coding required! 
As for features, Zoho allows you to deploy tests to multiple audience segments, generate various heatmaps (regular, scroll maps, and attention maps), and gather detailed reports/forecasts. 
The platform also records visitor sessions so you can better understand user behavior and identify key areas of optimization. 
Pricing starts from $12/month (annually) with a 15-day free trial available.
4. SplitHero
SplitHero is a WordPress-specific A/B testing tool. You can deploy various split tests based on specific use cases. For instance, you can deploy tests for page conversions (e.g., form submissions), button conversions (e.g., clicking on an affiliate link), and shortcode conversions. 
SplitHero also with WooCommerce for measuring and optimizing product pages. Other functionalities include campaign scheduling, team/client accounts, custom branding/subdomains, and customizable reports. 
Pricing starts at $49/month (monthly) with a 14-day free trial available.     
5. Convert
Convert is an enterprise-oriented A/B testing solution with a broad set of advanced features. Besides regular A/B testing, the platform allows you to test entire websites and sales funnels. 
You can link multiple pages together to optimize them simultaneously and get a comprehensive overview of your website's performance. Convert includes a visual editor and code editor for full customization control.
The platform's analytics reveal data like the number of new/recurring viewers, the browsers and devices they use, their location, the traffic sources they came from, and much more. 
Pricing starts at $99/month (monthly) with a 15-day free trial available.  
6. Optimizely
Optimizely is a digital experience platform. It covers the tools necessary to create top-notch customer experiences — from creating and managing content marketing campaigns to optimizing every customer interaction and deploying eCommerce experiences. 
Optimizely's optimization tool is part of the software's Web Experimentation solution. It facilitates A/B and multi-page testing, audience targeting, omnichannel experimentation, etc. The platform offers a visual editor and program management, which provides various collaboration/ideation tools. 
Pricing is not disclosed. You'll need to contact the sales team to get a customized quote. 
7. VWO
VWO is an experimentation platform for scaling businesses. This solution facilitates web, app development, and server-side experimentation tools. 
In terms of the web testing platform, VWO includes A/B, mobile web, split URL, multivariate testing (testing multiple variables simultaneously), and multi-browser quality assurance. 
It offers both a visual and a code editor. You can deploy tests on specific audience segments while the platform will monitor the time users spend on a page, the buttons they click, how far down they scroll, etc. 
You can then segment your reports through a wide variety of filters including traffic by source/device, location, time, and new/recurring visitors.
There's a free version available. Paid plans start at $200/month (annually).
8. Unbounce 
Unbounce is a landing page builder that leverages AI technology to create high-converting landing pages within minutes. 
The platform's Smart Builder automatically generates templates based on your requirements — simply specify the type of landing page you want to build and its purpose, and Unbounce will handle the rest.  
Moreover, there's the Smart Traffic functionality. It tests multiple web page variations and automatically identifies the best-performing one. Unbounce also includes standard A/B testing. 
The entry-level plan costs $74/month (annually) and includes the Smart Traffic functionality. You'll need to upgrade to the Optimize plan for A/B testing, costing $109/month (annually). There's a 14-day free trial available. 
9. Crazy Egg 
Crazy Egg is a straightforward testing platform covering A/B testing, heatmaps, session recording, traffic analysis, and a feedback survey builder. The platform also notifies you of any errors that users encounter when browsing your website. 
A handy functionality is its Snapshots. This feature tracks user behavior and generates various reports, including heatmaps and scrollmaps, as well as overlay, confetti, and list reports. 
Pricing is not disclosed, but there's a 30-day free trial available.  
10. AB Tasty
AB Tasty packs experimentation, personalization, release management tools, and much more into a single platform. As for experimentation features, AB Tasty offers A/B/n tests (testing more than two variants of a web page simultaneously), multivariate testing, a visual code editor, etc.  
Meanwhile, some of the personalization tools include campaign triggers, scheduling, and the ability to segment and target specific audiences. 
Pricing is not disclosed, but you can schedule a free demo. 
11. Kameleoon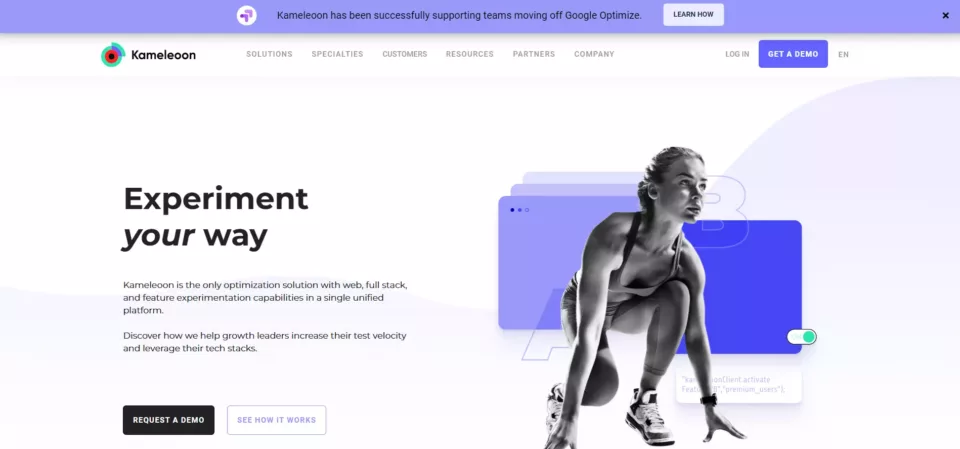 Kameleoon covers web, full-stack, and feature experimentation tools. The web experimentation features allow for unlimited A/B/multivariate testing and include both a visual and code editor.  
Additionally, the platform's AI-backed functionalities determine visitors' purchase intent. You can then segment your audience with pre-defined criteria, while the Kameleoon will automatically send personalized content relevant to different user bases. 
Pricing is upon request. You can schedule a free demo. 
12. Monetate
Monetate is an eCommerce-specific personalization platform. This solution brings all the features necessary to create tailored customer experiences through personalized product recommendations, displaying search results based on user behavior, and more.
The platform facilitates A/B, A/B/n, and multivariate testing, as well as server/client-side and hybrid testing. Each test provides real-time data for accurate information within an instant. 
Pricing is not disclosed, but you can request a demo. 
13. SiteSpect 
SiteSpect is an optimization and personalization platform suitable for marketing, web/app development, and product management. This tool carries out A/B/n, multivariate, and client/server-side tests across multiple domains, viewports, and marketing channels. 
Sitespect includes a straightforward visual editor and other quality-of-life improvements. For instance, the Find and Replace feature allows you to easily modify source code or other page elements across all testing variants simultaneously. 
Other features include auto-optimization, custom analytics variables, and more. 
Pricing is not disclosed, but you can request a demo. 
14. Mouseflow
Mouseflow handles behavior analytics and is designed to unify your marketing, product development, CRO, analytics, and design efforts. 
The platform covers A/B testing, session recording, six types of website heatmaps (click, scroll, movement, attention, live, geo), and spots web form elements causing users to bail. 
Mouseflow also offers funnel analytics to pinpoint where users back off during the conversion process. You can use Mouseflow for free. Paid plans start at $31/month (annually). 
15. Adobe Target
Adobe Target is a comprehensive A/B testing and personalization platform with powerful automation tools for streamlining workflows and increasing conversions faster. 
Adobe automatically distributes the best testing variant to visitors, sends out personalized offers and product recommendations, etc. As for experimentation, this solution covers multi-variate testing. It also allows you to A/B test images, copy, UI layouts, emails, and more. 
You'll need to contact the sales team to get a personalized quote. 
16. LaunchDarkly
LaunchDarkly is a software development-specific feature management tool. Companies can quickly enable/disable certain features of their software without modifying the source code. 
This gives developers additional control over what functionalities end-users see and the ability to run tests without much hassle. 
LaunchDarkly offers multi-variate testing and an intuitive experiment builder to easily create and deploy tests at a scale. Other features include real-time updates, traffic allocation, custom feature workflows, and more. 
Although pricing is not disclosed, you can schedule a free demo. 
17. Omniconvert
Omniconvert is an all-in-one eCommerce platform that offers CRO, analytics, and customer survey solutions. The Explore CRO tool handles A/B/n testing, audience segmentation, and personalization features. 
It runs A/B tests across multiple viewports and domains simultaneously. The platform includes a straightforward visual editor as well as a code-based one for full customization capabilities. 
Omniconvert uses Frequentist and Bayesian statistical algorithms, so you have more choices in data interpretation. 
Another stand-out is its broad selection of segmentation/targeting options. It contains 40+ criteria, including traffic sources, user behavior, location, and even weather.
Explore's pricing starts at $273/month (annually) with a 30-day free trial available.  
18. Dynamic Yield
Dynamic Yield is perfect for marketers. This personalization solution offers the tools to identify and analyze audience segments, send targeted content across multiple channels, and perform A/B tests. 
The platform's testing capabilities allow users to conduct A/B/n tests on websites, apps, emails, and more. It also handles server-side testing. 
One of the platform's standouts is its Predictive Targeting system. It leverages AI to analyze A/B tests and identify personalization opportunities. It offers personalization suggestions for different segments. 
Pricing is not disclosed, but you can schedule a free demo. 
19. Yieldify 
Yieldify is an all-in-one eCommerce personalization solution with highly capable testing abilities. The platform uses AI and Machine Learning to automatically detect high-performing testing variants, turn complex analytics into easy-to-digest reports, offer suggestions, and more. 
You can also benchmark your performance against other competitors to see how your business stacks up. You will need to book a demo to learn about pricing.
20. OptinMonster 
OptinMonster is an easy-to-use lead generation platform perfect for building and optimizing forms. 
It handles floating bars, lightbox popups, timed forms, fullscreen welcome mats, and much more through an intuitive drag-and-drop builder and a wide variety of templates.
Its A/B testing tool allows you to quickly set up multiple variations through and test headlines, campaign triggers, etc. 
OptinMonster notifies you whenever your campaign's performance is sub-par or up to standards, while its Conversion Analytics tool will provide more in-depth insights. 
OptinMonster's A/B testing is available in the Plus plan, costing $19/month (annually).  
21. HubSpot 
HubSpot is an all-in-one solution that handles sales, marketing, customer service, and more — ideal for those seeking a highly scalable platform. 
Its A/B testing capabilities are available within the Marketing Hub, which also includes a landing page builder, omnichannel marketing automation tools, SEO analytics, and much more. You can A/B test both landing pages and emails. 
You can identify top-performing subject lines and email content while testing landing pages reveals the most effective CTAs and layouts. 
The Marketing Hub is available for free. Paid plans start at $800/month (annually).
22. FigPii
FigPii is a conversion analytics platform useful for understanding visitor behavior and running A/B tests. This solution covers session recordings, various heatmaps, and web surveys/polls.  
As for its A/B testing capabilities, FigPii relies on Bayesian algorithms for faster results, while you can run test both on single or multiple pages simultaneously. 
Most noteworthy, the platform uses visitor data to automatically offer suggestions on improving your website. After applying these changes, FigPii will keep analyzing user behavior and further identify optimization opportunities. 
You can use the platform for free, while paid plans start from $99/month (monthly). 
Conclusion 
And there you have it — the top Google Optimize alternatives you should look out for this year!
Note that some of these alternatives are more than just A/B testing and analytics platforms. So make sure to take that into account if you're looking for a tool with extra functionalities. 
For instance, besides its AI-powered analytics and A/B testing tools, Landingi also allows you to create landing pages, pop-up forms, and conversion funnels. The platform offers an intuitive builder and access to 400+ templates, so you can build pages in no time. 
Ready to grow? Let's get started!
Join us and create the best-converting landing pages