A Customer Value Proposition Template
A Customer Value Proposition Template
Last updated: February 14, 2022
7min read
These days competition on the online market is getting fiercer on a regular basis. Hence, if you have your own digital business you should always look for effective ways to outperform your competitors and prove to your potential customers that your product is of better quality than any other on the market. You have probably already have created a high-quality landing page for your business but there is another method to grab customer's attention which is creating a unique value proposition.
A unique value proposition serves as a powerful foundation for all marketing messages you address your leads and the strategies you adopt to get new ones. If you have never heard before of a value proposition let me familiarise you with the concept and show you how you can implement it for your online business.
Once you read this article you will know:
What is a value proposition?
The most adequate value proposition definition that can be given is referring to it as a promise of value that you provide your customers with. This value is something that differentiates you from your competitors.
Your unique value proposition (UVP) is just the unique element of your business that helps to solve a problem that your competitors cannot. Therefore, it makes the customers choose you over the others and it makes UVP one of the most crucial conversion factors.
However, UVP is neither a slogan nor a tagline. A value proposition is a relevant statement explaining clearly how your product or service improves customer's well-being, what benefits can be expected and why they should purchase from you instead of someone else.
Types of value propositions
There are two types of value propositions such as:
an employee value proposition,
a customer value proposition.
In this article, we will focus only on a customer value proposition which aims at increasing conversions among your potential leads. However, it is worth knowing there is also an employee value proposition that focuses on attracting valuable stuff that is supposed to assist you in delivering value to your customers.
Elements of a value proposition
There is no universal value proposition template but it is usually a block of text consisting of certain elements such as:
a headline clearly describing the end benefit you provide your customers with. It should be attention-grabbing (almost like pop-ups are),
a subheadline or a paragraph explaining in details what you offer, to whom and why it is useful,
bullet points proving the value coming with your product,
a visual element such as a video or an image-enhancing your message.
All of the above elements put together make up a value proposition. Treat them just like landing page templates – like basic guidelines adjustable to your own needs. In order to create a value proposition that will make your potential customers think "oh, that's the thing I've been looking for", putting all the crucial elements is not enough. You also need to get to know the process of creating a value proposition.
How to write a customer value proposition?
The process of creating a customer value proposition does take some time and effort as a customer value proposition (CVP) is far more than a simple statement or a tagline. If you use a landing page builder, you may have noticed there is usually a field named "put your CVP here". But... how to come up with a proper one? In order to create a meaningful CVP you need to know well both your customers, your market and be able to fit your product into current consumer-driven digital world. The process can be divided into steps that prevent you from skipping any important feature of it.
Step 1: Identifying all the benefits your product or solution offers.
Step 2: Describing the value of the benefits.
Step 3: Identifying the main issue of your customer.
Step 4: Linking the issue with the value.
Step 5: Differentiating yourself as the best provider of this value.
Your value proposition should be the core of your competitive advantage and clearly prove the customers they should purchase from you instead of the competition. Once you find something unique of your solution it will be easier for you to outperform the competitors and make your offer outstand.
What makes a powerful value proposition?
The key role of a value proposition is to differentiate your offer from the competitors. Consumers always check out 4-5 different providers before they purchase. Hence, it is crucial to create a truly outstanding value proposition that makes the customers absolutely certain they can peacefully stop searching as they have found the one.
As mentioned, writing a customer value proposition requires self-reflection and knowledge about your customers and the market your business operates in. However, there are also several features that are crucial for every value proposition of high quality:
clear and easy to understand – you should not play in riddles or puzzles with your customers, be straightforward
outlining specific benefits coming with your solution,
explaining how your solution is different from the others on the market and what makes it the best option,
being understandable and short enough to be read in less than 5 seconds.
If your value proposition is all of the above it may really make a difference for your conversions. You should also remember not to overthink this – you don't need to be unique to the whole world but you need to be unique for your customers' minds. Once you take it into consideration you know what to write in your proposition. And once you have your value proposition thought over, you can include it everywhere: on your WordPress landing pages, Facebook ads or in your newsletter's banners.
Three good value proposition examples
It is difficult to find an impeccable value proposition example as it is not a piece of cake to create a great one. However, there are some good examples to be looked at if you still don't know how to produce yours.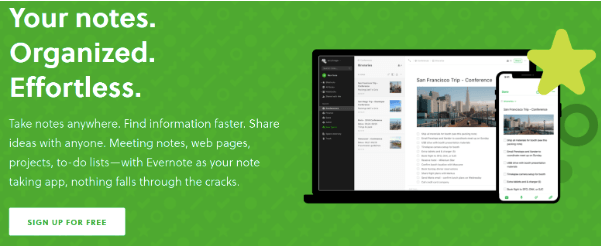 Image source: evernote.com
Evernote's value proposition is very clear and consists of all necessary elements. It outlines what the solution is for, the benefits and what makes it great. All the advantages are quoted in the subheadline and there is a relevant image what makes it look neat.
Kissmetrics

Image source: kissmetricshq.com
Soundcloud

Image source: soundcloud.com
SoundCloud's value proposition is short and catchy. The headline is an attention-grabber and the subheadline clearly outlines the most crucial pros and the essence of the product. The image is relevant and connected to the solution.
Conclusion
As you can see a customer value proposition is a great tool enabling you to unambiguously communicate to your visitors why you are the best option and why they should purchase from you instead of the competition. If you think it through well, concentrate on clarity of your message and use all the elements of CVP accordingly to their function you are able to increase your conversions and let your business enter the next level. Once you use the concept wisely you can quickly notice the difference in your business performance.