How to Write a Biography and Build a Landing Page for It
How to Write a Biography and Build a Landing Page for It
Last updated: September 8, 2023
18min read
Your online persona is your new "first impression." Whether you're a freelancer, a corporate executive, or an artist, a well-crafted biography can serve as a passport to your professional world. But why stop at just a bio? Imagine coupling it with a sleek, dedicated landing page. The result? A powerful combination that not only tells your story but also showcases it in the best light possible. Let's dive into how you can make this happen.
The Anatomy of a Great Biography
Why Write a Biography?
A biography is more than a narrative of your life. It's a tool for personal branding. It helps you connect with like-minded professionals and opens doors to opportunities you might not have thought possible. When you're job hunting, a compelling bio can make your application stand out, offering recruiters a glimpse into your professional journey.
The Building Blocks of a Bio
Introduction: Outline who you are and what you do.
Career Highlights: Summarize your professional experience.
Achievements and Credentials: List your significant milestones.
Personal Interests: Add a touch of personality.
Contact Information: Always include how people can reach you.
Your biography should be a blend of professional accomplishments and personal interests. It serves as a snapshot of who you are, both professionally and personally. For example, in this template below, you can use parts of your biography as UVP:
The Art of Writing
You need three basic things here:
Perspective: Choose between first-person and third-person.
Tone: Match the tone to your field—formal or relaxed.
Length: Vary the length based on the platform—short for social media, long for websites.
Writing style matters. The perspective, tone, and length should all be carefully considered to align with your goals and audience.
Crafting Your Masterpiece
Research and Preparation
Before you put pen to paper, or fingers to keyboard, take a step back and immerse yourself in the process of self-discovery. Reflect deeply on your career path, significant milestones you've achieved, and the ambitions that drive you forward. Your biography should be a mirror reflecting your personal and professional journey, so gaining clarity on these aspects is paramount.
Understanding your audience is another critical facet of this preparatory phase. Delve into the minds of your readers or visitors to your landing page. What are their interests? What do they seek when they land on your page? Knowing your audience intimately will guide the content and tone of your biography, ensuring it resonates with them effectively.
Once you've gathered your thoughts, emotions, and all the relevant materials, you're ready to start the writing process.
Writing Your Bio
Start with a hook – a sentence that grabs attention. Use storytelling to make your bio engaging. This hook should encapsulate the essence of your story and leave your audience eager to delve deeper. Consider it your literary handshake, the initial point of connection between you and your readers.
To create an engaging biography, leverage the power of storytelling. Weave your experiences, challenges, and triumphs into a narrative that captivates your audience. Storytelling allows you to breathe life into dry facts and figures, making your biography relatable and memorable.
Cut out any unnecessary details or extraneous information that may dilute the impact of your narrative.
Lastly, pay meticulous attention to detail. Sometimes, even a single Hi! yet highlighted (using e.g., a different colour) brings a lot of attention first-hand. Check this template:
The devil is in the details, and an error-riddled biography can tarnish your credibility. Proofread your biography thoroughly, checking for grammar, spelling, and punctuation. Consider seeking a second pair of eyes for a fresh perspective.
Need Inspiration?
If you're stuck, look for biographies that resonate with you. There are also templates available that can serve as a structural guide.
Why a Landing Page is Your Biography's Best Friend
What's a Landing Page?
Think of a landing page as a digital business card. It's a standalone web page, designed for a specific purpose—in this case, to showcase your biography.
The Perks of Having One
Having a dedicated landing page for your biography offers a multitude of benefits that go beyond just looking professional. Here are some key advantages:
Enhanced Online Visibility: A well-optimized landing page can rank higher in search engine results, making you more visible to a broader audience.
SEO Benefits: Landing pages are designed to be SEO-friendly. Proper use of keywords, meta descriptions, and high-quality content can improve your page's SEO, attracting more organic traffic. Moreover, some builders can do the SEO job instead of you.
Professional Credibility: A sleek, well-designed landing page adds a layer of professionalism that a simple social media profile or a resume can't offer. It shows you've invested time and effort into building your personal brand.
Control Over Content: Unlike social media platforms, which have layout restrictions, a landing page gives you complete control over content and design, allowing you to present your biography the way you want.
Focused User Experience: A landing page eliminates distractions by focusing solely on your biography and related content, making it easier for visitors to engage with your story.
Analytics and Tracking: With a landing page, you can use various tools to analyse user behavior, time spent on the page, and conversion rates, providing valuable insights into how your biography is performing.
Call-to-Action Opportunities: You can include specific calls-to-action (CTAs), like contacting you, downloading your resume, or viewing your portfolio, guiding the visitor on what steps to take next.
Integration with Other Marketing Tools: Landing pages can easily be integrated with other marketing tools and platforms, allowing you to capture leads, add subscribers to your mailing list, or even launch a targeted marketing campaign.
Get 111
Landing Page
Examples – the
Ultimate Guide
for FREE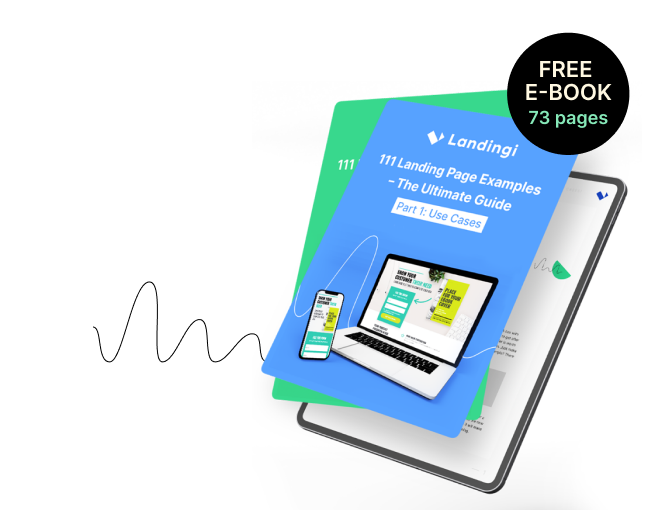 Building Your Biography Landing Page
Choosing Your Platform
You've got options. Website builders like Wix, Landingi or Squarespace are user-friendly and require no coding skills. WordPress offers more customization but might require some technical know-how. If you're looking for something unique, custom development is the way to go.
Ensure your builder allows you to easily personalize every piece of your work, as details matter.
Decide which elements you'd like to include prior to choosing your tool, as all the platforms have unique features. Need a calendar to enable users to schedule a meeting? Double-check if the feature is incorporated before you pay a subscription.
Designing Your Page
The design should be an extension of your biography. Choose a layout and color scheme that aligns with your personal or professional brand.
You will need a bunch of visuals to make your page attractive and readable. For example, if you'd like to include your skillset overview, you may illustrate each of them with a proper icon or image. In Landingi you can make use of in-built Unsplash gallery and choose the ones that fit you the most from an almost endless universe of visual content.
Typography matters too – opt for fonts that are easy on the eyes. You can use fonts pre-installed on your platform or even add a custom font.
The Cherry on Top
Consider adding a portfolio section to showcase your work. Whether you're a designer, writer, marketer, or any other professional, potential clients or employers want to see what you can do. Your portfolio allows you to showcase your best work, instantly impressing visitors and confirming your skills and expertise.
Also, testimonials can add a layer of trust. They stand as living proof of the subject's profound influence on others, breathing authenticity into the narrative. Place testimonials strategically on your landing page with no distractions around. Ensure they are impossible to overlook.
And don't forget a call-to-action (CTA), guiding your visitors on what to do next – whether it's contacting you, viewing your portfolio, or downloading your resume.
Keep It Fresh
Think of your bio and landing page as a living document, one that should evolve and adapt alongside your growth. Regular updates are not merely a suggestion; they are an essential element of maintaining a relevant and impactful online presence.
Just like a website with outdated content can deter visitors, a stagnant bio can leave your audience disengaged. Frequent updates show that you are actively engaged with your online community and that you are committed to staying relevant.
Measure and Tweak
Use analytics to track how people interact with your landing page. Make informed decisions by turning insights gained from this data into user experience development tips for optimization.
Don't think How to Write a Biography: Start With Yours Today
Your biography is a powerful tool for personal and professional development, and a dedicated landing page can take it to the next level. Together, they form a dynamic duo that can significantly elevate your online presence. So why wait? Start crafting your compelling biography and landing page today!
Ready to grow? Let's get started!

Join us and create the best-converting landing pages