Customers acquisition starts with the marketing team. Your mission as a marketer is to generate leads, move them through the conversion path and turn them into satisfied customers.
Whether you do it through email marketing, social media, events, or anything else, there are crucial elements of lead generation, and the lead nurturing process, that you should be mindful of in order to succeed and welcome happy customers on board.
This 2-part guide will show what to focus on in order to generate quality leads and how to turn them into loyal customers. First, let's look at the essential steps to lead generation.
1. Develop Buyer Personas
To nurture potential customers for your business's products or services you need to identify them first. Before you think of any lead generation techniques ask yourself this question: Who is my customer?
Do a solid research on who are these people, what content are they looking for and where they are looking for it. Based on this, create buyer personas – semi-fictional characters which represent your potential customers.
They will reveal insights about your buyers' decisions and will help you determine how to attract valuable visitors to your website and generate quality leads.

2. Prepare your lead magnets
According to HubSpot, 54% more leads are generated by inbound tactics than by traditional paid marketing. It means that you really should focus on creating great content in order to generate leads effectively.
After you've discovered the needs, wants and pain-points of your potential customers and translated them into buyer personas, it's time to offer them a helping hand and invite them into their buyer's journey with you.
The ability to generate good leads lies in your ability to give away something of value that is relevant. This will be your lead magnet. How to design a good lead magnet?
Follow the PAS formula. The PAS formula captures the basics of content creation in every format:
P – problem: identify the problem (challenges, wants, aspirations, etc.) among your leads.
A – agitate: agitate the scale of the problem and show the consequences of not resolving it.
S – solution: provide a solution to the problem.
If your goal is to attract new users to your ecommerce platform a relevant lead magnet would be a 14-days trial or an industry report showing the latest ecommerce challenges.
If your goal is to attract fashion geeks who love shopping and new trends to buy in your estore a relevant lead magnet would be a discount coupon or an ebook with fashion emerging trends.
After your potential leads realize the value of your offer they are willing to give something in return. And you just started building a bond of trust by:
giving away valuable content in exchange for potential customer's email address,
Then using email marketing at every stage of sales funnel
This approach will help you to convert a sizeable part of those who subscribed into happy customers.
3. Capture these leads
Email marketing came in as the first most effective online tactic for lead generation in Ascend2's report.
Why? Because it's effective, it drives high ROI and has a potential to really foster relationships with subscribers to the point they become happy customers. However there is a little chance that someone will ever give their email address to a brand just because they see a sign-up form online.
What is the most effective lead generation tactic? According to Adestra survey, email specific landing pages and content downloads are the most effective list building tactics available.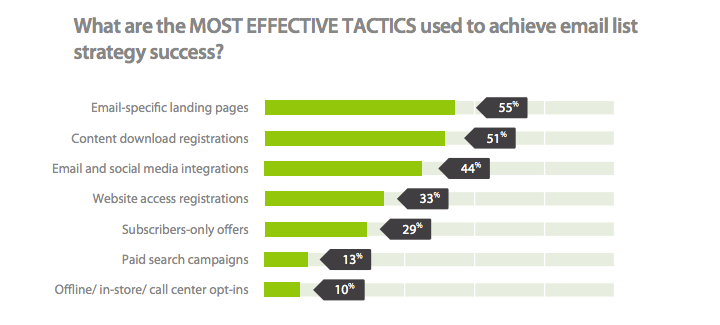 Valuable content and landing page optimized for SEO should be in the long run your go-to strategy. Other lead gen tactics will in the end work together for your advantage. Note that you will be able to send visitors from ads, social media, cold emails or blog posts to targeted pages with one clear goal – email sign-up.
Build email specific landing page
How to build email specific landing pages that converts? Keep It Simple, Stupid. The more choices you offer people, the longer they take to make a decision. And you want them just to do one thing – join your email list.
To maximize conversion, make sure to:
Define one goal of your landing page and focus on it
Write killer copy and convey a consistent marketing message
Highlight the value of your lead magnet
Prepare CTA that clearly says visitors what they should do
Remember that painless sign-up process is crucial
Collecting data about your subscribers is important, but at the same time, the more fields you require people to fill, the lower the conversion is.
At first, try collecting only their email addresses and their names. Like on the example below:
Pay attention where you place your sign-up form
Your sign-up form in the most prominent place on your landing page. Even the most well designed sign-up forms don't get results if you place it somewhere where no one can see it. There are a few important focal areas on the page. The one on the right is called the terminal area and this is usually the place where you can expect the highest conversion.
Ask for permission
Collecting email addresses using the double opt-in model is a basic method of receiving consent to send newsletters to subscribers. This means that every sign-up must be followed by an activation email sent on the inbox of the person who wishes to subscribe. Double opt-in method guarantees you better list quality. Only interested leads make an effort to confirm their opt-in. You're also protected from spam traps and robots which can join your list with fake email addresses if you'd not obey permission marketing rules.
Double opt-in method guarantees you better list quality. Only interested leads make an effort to confirm their opt-in. You're also protected from spam traps and robots which can join your list with fake email addresses if you'd not obey permission marketing rules.
Wrap up
By 2020, customers will manage 85% of their relationship without talking to a human and brands have to focus on delivering relevant consumer experiences with their digital presence. I'll tell you more about this in the second part of the guide covering tactics for lead nurturing.
Stay tuned!