Scale your agency faster
Impress your customers with more options, rapid project turnaround, and streamlined campaigns that are optimized for success.
Used by
Your success depends on delivering a great ROI
Landingi makes it easy to build and personalize landing pages as well as measure performance and activity at all levels of the funnel, so you can deliver high-performing campaigns for your clients without spending hours on coding.
Create in a Snap
Create landing pages that match client branding and messaging using our drag-and-drop builder, or get started even faster with one of our 400+ landing page and pop-up templates.
Launch With a Click, Scale as Needed
Launching your landing pages has never been easier. Preview them on test domains, schedule their launch, or publish them on your domain.
If you have a lot of landing pages to edit, Smart Sections will help you do it faster. Modify a section of content only once, and every landing page with that content will be updated.
Test and Adjust
With A/B split tests, you can easily see just how well your landing pages are performing. Measure visits, leads, and conversion rates, then make adjustments to pages as needed so your agency can deliver the best possible ROI to your clients.
Stay Organized With Integrations
Landingi supports integrations with other sales, management, marketing, and email software. Create landing pages, and then track and nurture new leads as they move through their customer journey.
"We build, launch, analyze and integrate our landing pages with multiple tools from our marketing stack. Our clients have been satisfied with the time of delivery, the quality and the results. "
Streamline Your Client Management
Make client and campaign management easier for you by staying in control of portfolios, projects, and reporting.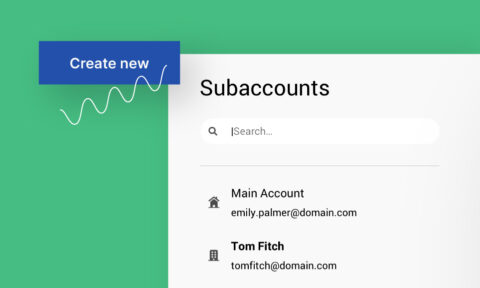 Subaccounts
Stay organized by adding subaccounts, keeping different clients separate and organized. They'll each have their own workspace, but you can keep client project and campaign management on one central platform.
Track All Pages
With greater transparency, keep an eye on all of your landing pages. See which ones have been published or edited, and who has logged into the platform. Audit logs also monitor problems and progress.
Boost Conversions
Overlay pop-ups can be launched on any landing page, and our platform offers built-in monitoring and reporting functions that make lead tracking a breeze.
Flaunt Your Brand
Personalize your Landingi platform with your own company branding, on the domain of your choice. Save time and resources, and put your best professional foot forward with your clients.
Built-In Security
Landingi is SSL ready, meaning you can keep your peace of mind. All Landingi landing pages are secured with an SSL certificate, and our platform will always be up-to-date with the latest and most advanced encryption technology. You and your clients will be protected 24/7.
Support When You Need It
It's critical that your agency can receive the support it needs, both for you and for your clients. Our package for agencies ensures that you have dedicated support, whenever you need it.
See How Social Tigers Agency Used Landingi to Generate Thousands of Leads
One agency created and launched a landing page through Landingi that ultimately led to their generating 4,200 leads in just 30 days. Read their story.