What is a landing page and how can you benefit from it?
Great landing pages will lead you to target audience and they're gonna be a part of successful marketing campaign which brings you more website visitors.
If you are wondering how to create landing pages and how you can actually make it by website builder then watch the video to understand how landing pages work and why they are so beneficial.
Learn more about landing pages and create your own custom domain!
Use your knowledge in practice – most landing page builders don't have as many design elements and additional features as Landingi. Thanks to our free plan you will achieve new website with the best first impression to your customers. Effective landing page builder it's your key to good marketing campaign so create your free account and check what else other free tools on Landingi can get you!
What is a landing page?
Landing page definition is simple – it's a specific webpage designed to grab the visitor's attention, present them with a specific product or service, and then encourage them to take a desired action.
Landing pages can be used to gather webinar audience, announce a new product launch or pre-sale, or offer a discount. Also, sometimes it is not about selling a product but getting a specific message across.
A crucial element to every landing page is a call to action button navigating towards a particular activity. With drag and drop editor you have an occasion to create a simple landing pages which are gonna be clearly useful for website visitors. 
How is it different from a homepage?
While a homepage presents a visitor with a whole range of options and products, a landing page definition states it is far more efficient when it comes to collecting leads – visitors' contact information.
Of course, you can publish your website and a landing page when you connect a custom domain to keep your brand image consistent.
However landing page is a form of standalone web which you can develop anytime you want with the cheapest paid plan – it perfectly match for advanced features.
What's more, a landing page lacks a standard website navigation menu. It's all about simple layout, eye-catching design, and concise copy focusing on one, single message or goal.
When should I use landing pages?
Landing pages are usually either built for marketing campaigns when you present your latest release, or they can serve as a lead magnet where you present your visitors with evergreen content they can download in exchange for their contact information.
In both cases, it is all about lead generation. When you create a free landing page, you'll be pleasantly surprised how powerful platform you can make thanks to Landingi.
Our online builder makes it fully customizable which is so useful in social media, specially if you want to grow your business and make it professional looking from the very beginning. 
How to build a landing page?
Start with asking some basic questions: who will be the recipient of your landing page (and a whole campaign)? What is the purpose of the page you're going to create?
One single landing page can change for the better conversion rates and drive traffic by using developer tools and responsive templates in it.
You can also easily make mobile friendly landing page thanks to smart lead generation forms and other multi step forms which will call to action your customers.
Each element of a landing page should lead visitors to clicking a button or filling the form. Landing pages are bound to be simple, yet effective. Make sure to include only crucial content and construct the form so that it contains just enough fields to fill.
To build a landing page, you can make use of a drag and drop visual builder. We offer a 14-day free trial in our platform so that you can catch a glimpse of what this is all about.
What goes after?
Landing pages are still objects of testing for many marketers who raise conversion rates and apply the gained know-how in the next steps through constant testing.
The Landingi platform allows you to compare created landing pages in two ways: by using A/B tests and multivariate tests.
Test and optimize top features on your landing page to increase conversions which your visitor will catch from the first glance. It is the best option among other paid plans which are not a strong contender compared to Landingi.
You can also integrate your landing page with 3rd party tools you use every day: email marketing software, mobile app, google analytics, CRMs, payment systems, social media managers, and other analytical tools.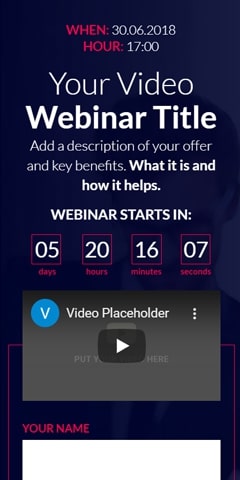 You now have just one step to choose the most functional and clear templates that will make your website break through in the search results to the first place. See which template will match your personal visual and practical ideas!
How else can I use landing pages?
Lead magnets
Typically, in order to gather a lead, you need to share free resources in exchange for the visitor's contact information.
You can offer an informative PDF file, a discount for one of your products or a trial of your service. The content you share is called a lead magnet.
Statistics show that more visitors will be willing to give you their contact details if you offer them something valuable.
So, if you're thinking about growing your client list, consider sharing valuable content on your landing page. 
Then you'll immediately see how many people are interested in your offer. Simple steps will lead you to the new valuable email addresses, so don't wait – get started!
Funnels
After capturing the visitors interest, you need to channel it towards the conversion – turning your visitors into clients.
You may wish to connect forms from multiple landing pages and create a path for your visitors (from making them aware of your brand to convincing them to purchase from you).
This is where marketing funnels come in handy, as they allow you to transfer data on leads from one landing page to another.
Consider that many site visitors use web browsers on the phone. That's why it's so important to have a good mobile friendly landing page. 
Duplication
If you run marketing campaigns regularly, it's possible that you use some elements or functionalities more often than others.
Duplicate your landing page so that you can both save time and keep a consistent brand image whenever you publish a new landing page.
This is useful for maintaining proper harmony and aesthetics between the sites. This will make your content clear to potential customers.
It will be easier for them to use identical templates than those that are clearly different from each other. Maintain consistency in creating your pages and make them blend well with each other!