How to pause the subscription
How to pause the subscription
Last updated: October 17, 2022
To temporarily stop using the Landingi platform, you can pause your subscription at any moment and come back after 30, 60, or 90 days.
During the subscription pause, all your landing pages, pop-ups, and lightboxes will be temporarily turned off (they will stop displaying but will be kept on your account). After the pause, your plan and account will be renewed, and you will get access to our platform and editor again.
At any time, you can also downgrade or upgrade your plan or cancel the subscription.
Subscription pause terms:
Your subscription has to be active.
There are less than 30 days to the next charge date (the subscription renewal date, not the account expiration date).
Cost of keeping your account on pause: 4.99$/mo.
To extend the period of the subscription suspension during the pause, please contact our support.
Pause the subscription
1. Log in to your Landingi account.
2. In a topbar, unfold the drop-down menu and click Plan & Billing.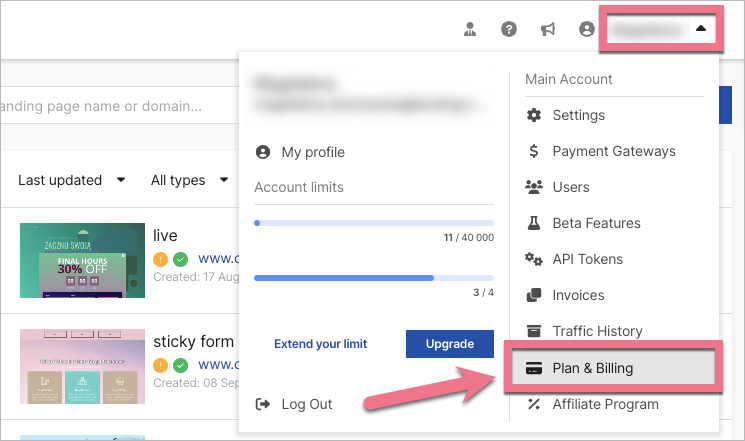 3. In the Subscription Summary section, click Cancel subscription.
4. Select the pause period (30, 60, or 90 days) and click Pause subscription.
NOTE: Your pause will start the day before the subscription renewal date. After the pause, your account will be automatically assigned to a plan from before the pause.
5. Confirm by clicking Pause subscription.
From now, in your account Settings, you will see information about the scheduled pause.